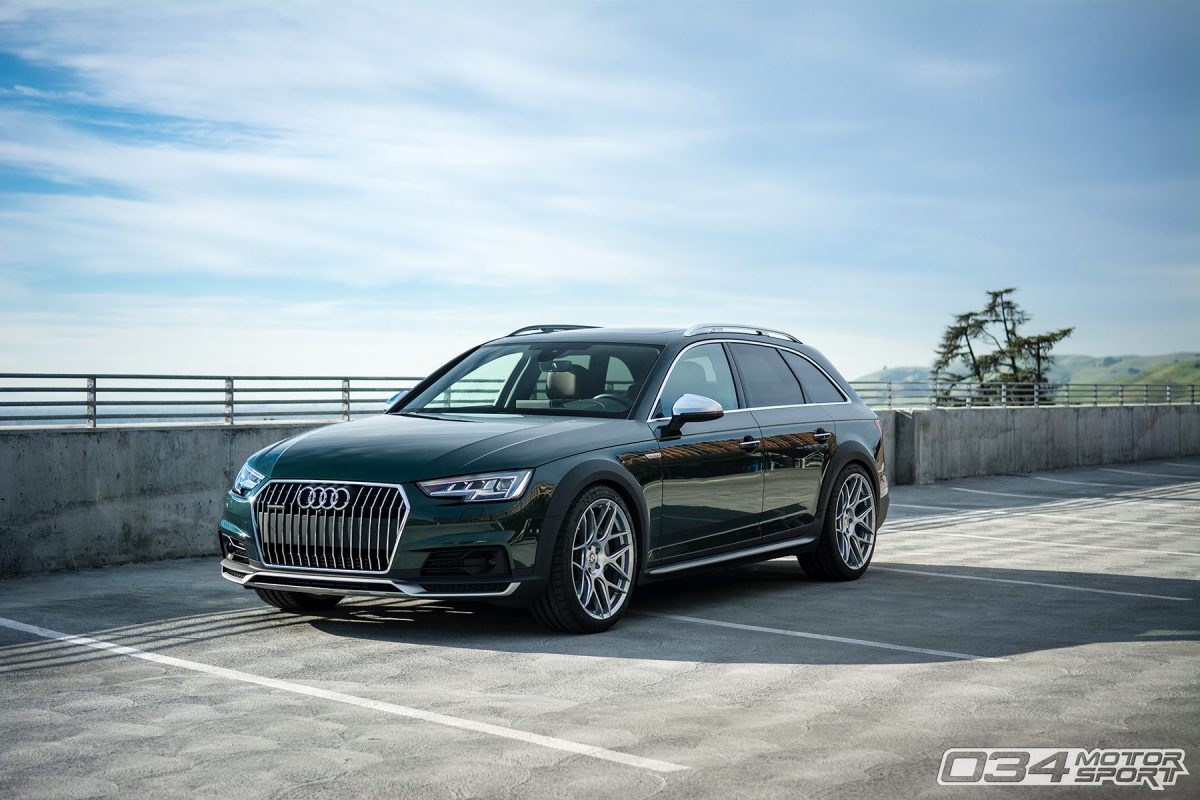 Audi has a history of short changing us North American customers when it comes to high performance models and cutting-edge features on their newest cars. For one reason or another, we're typically left drooling over the cars our European counterparts own and drive. So what do you do when the exact car you want isn't available for sale in your country? For Jaron, he started with the best example of a 2017 Audi Allroad 2.0 TFSI he could find stateside, and has been bringing it up to his tasteful, OEM+ standards since the day he brought it home in December, 2016. He had his sights on subtle, tasteful modifications in the spirit of upgraded lighting, technology, and convenience features based on Audi factory options available in the rest of the world. Of course, a bump in performance and aesthetics would be necessary as well.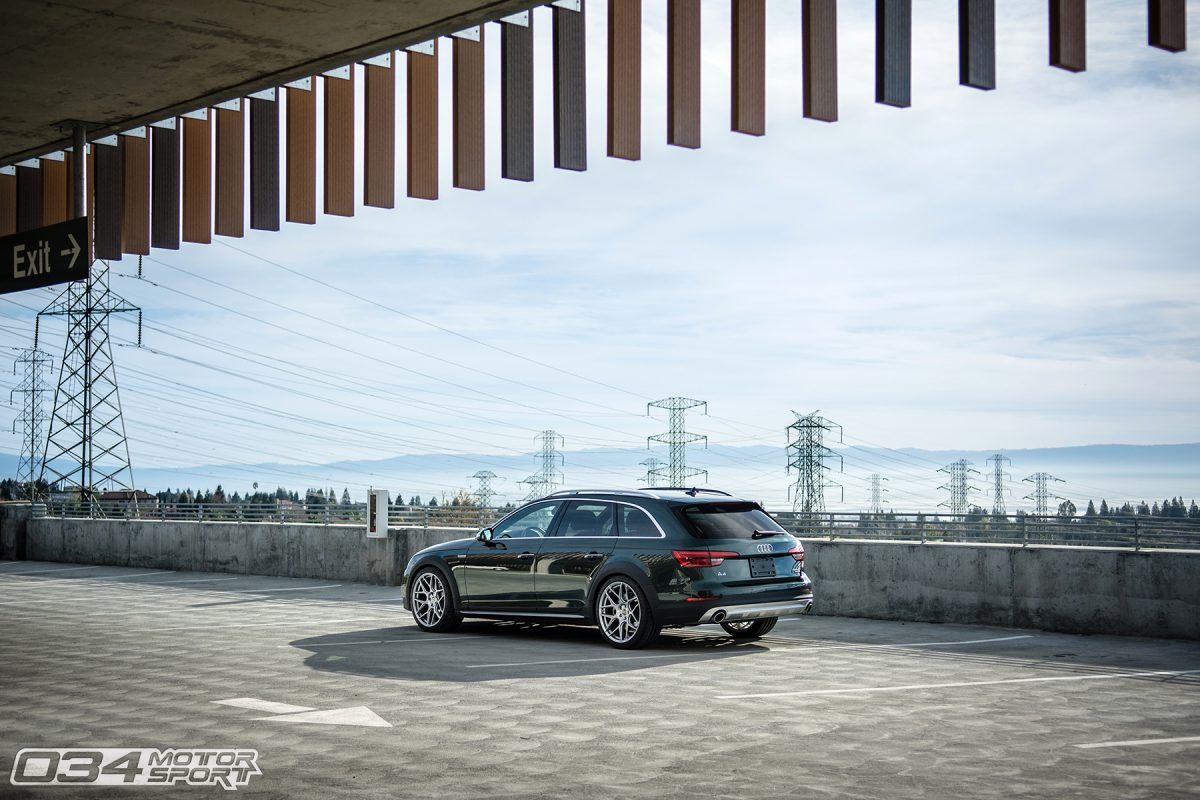 Jaron's Allroad replaced his MkVII Volkswagen Golf R in favor of additional space (for people, cargo, corgis, etc), Audi's Virtual Cockpit, aggressive body lines, and the potential for added technology and safety features. He planned to retrofit a selection of factory Audi European convenience options and build his ideal B9 that wasn't attainable through Audi of North America. After picking through the OEM parts bin in the motherland and physically flying home with a handful of factory components, Jaron's first wave of upgrades included European taillights, rear headrests, and label-less sun visors.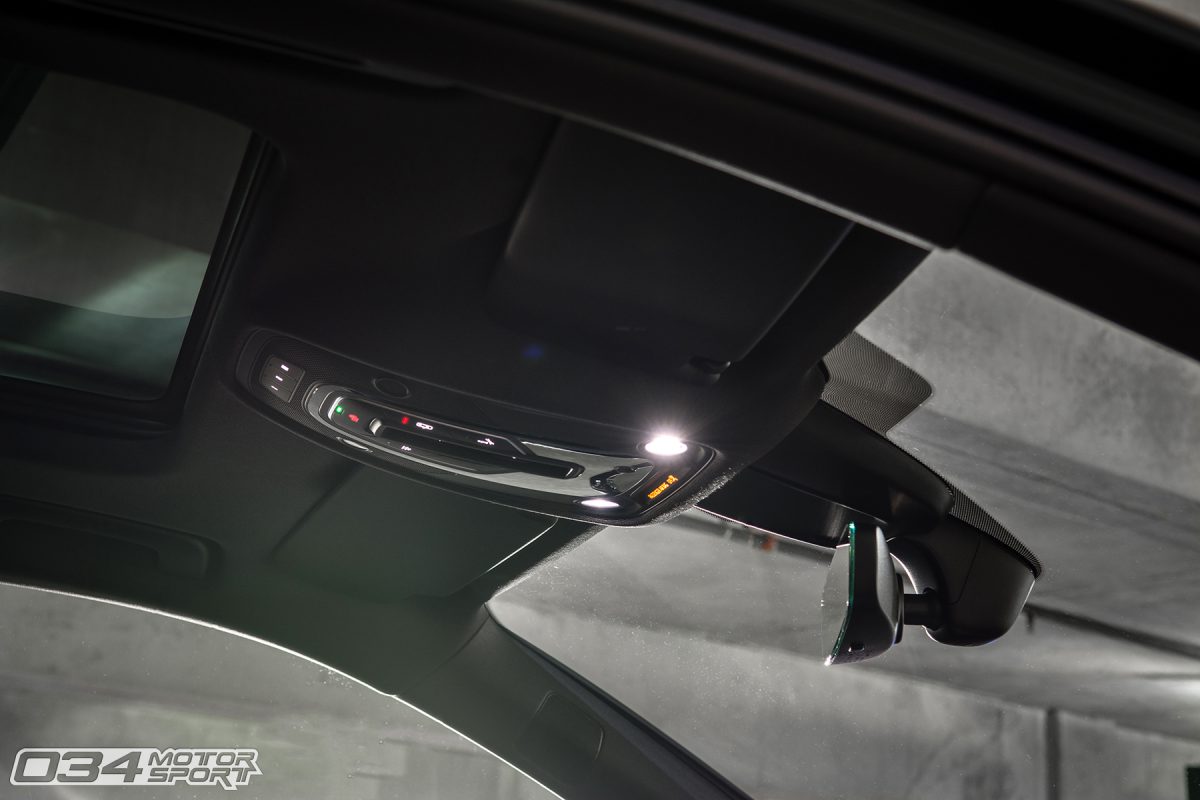 The subtlety and attention to detail Jaron gives his car inside and out is second to none. Walk around this Gotland Green Allroad for a few minutes, and I guarantee you'll still miss some of the changes he's made. For example, the warning label-less sun visors. A passerby would likely never think twice about the sun visors, but the level of care and detail combed through this car work to create a very complete and polished look throughout. This, among other small upgrades, is a simple nod to the true OEM+ mindset Jaron exemplifies when building cars to his taste.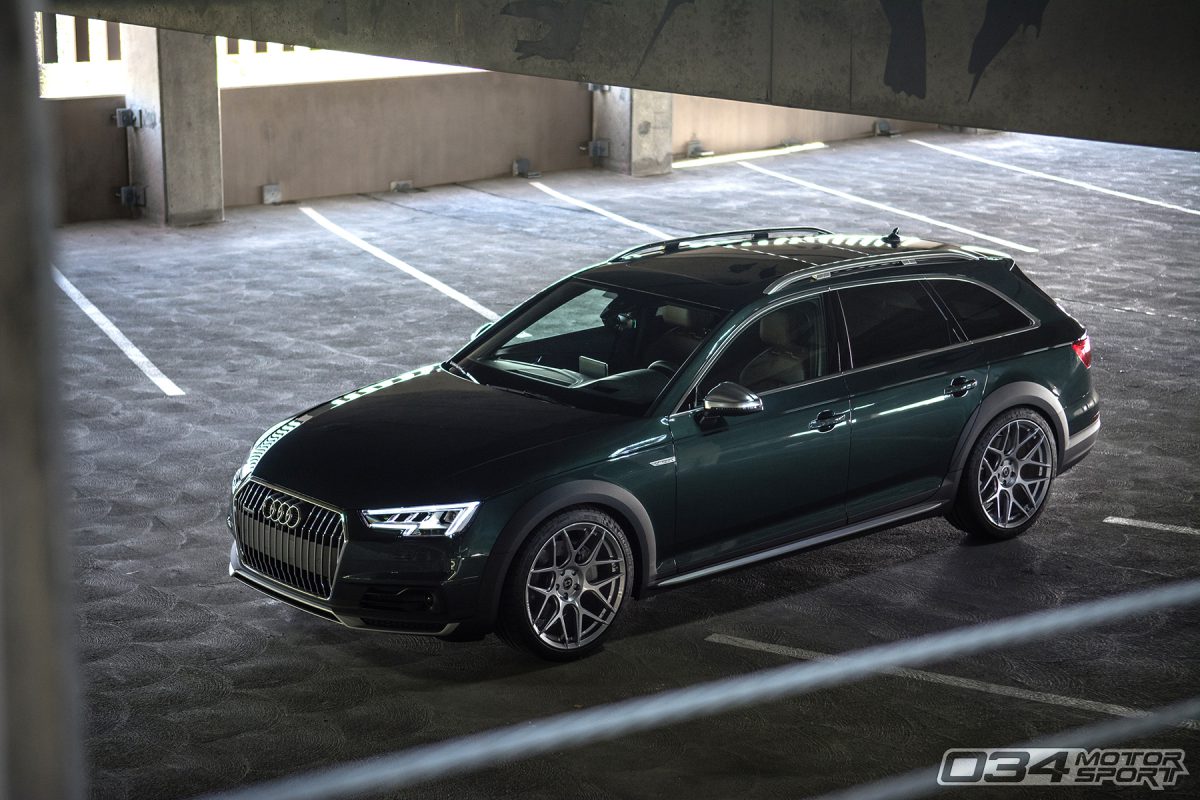 Next up was improving the handling performance and driving characteristics of Audi's new road trip warrior. A B9 Transmission Mount Insert was installed, "eliminating a lot of drivetrain slop and providing more predictable power with tighter shifts" based on Jaron's experience afterward. In order to further tighten up the car, a 034Motorsport Billet Aluminum Front Strut Brace was then fitted and helped in "dialing in the steering with noticeably less flex."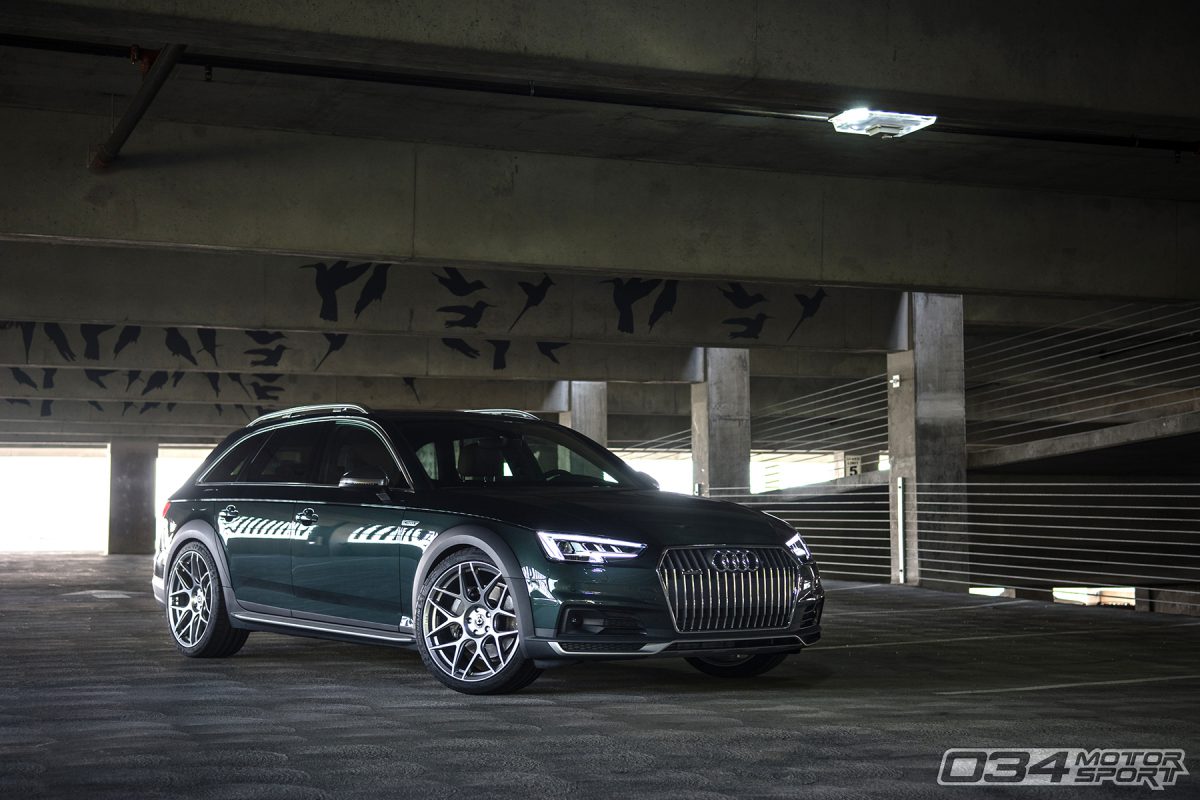 Finally, a set of 034Motorsport Dynamic+ Lowering Springs were added to provide the perfect drop in ride height and offer OEM+ comfort levels for his daily commute and extended road trips. 20x9" HRE FlowForm FF01 wheels in Liquid Silver round out the aggressive stance and complement the body lines of the B9 chassis nicely. Michelin Pilot Super Sports in 255/35ZR20 fill out the wheel arches and give substantial confidence behind the wheel and work in unison with the rest of the 034Motorsport suspension and chassis upgrades.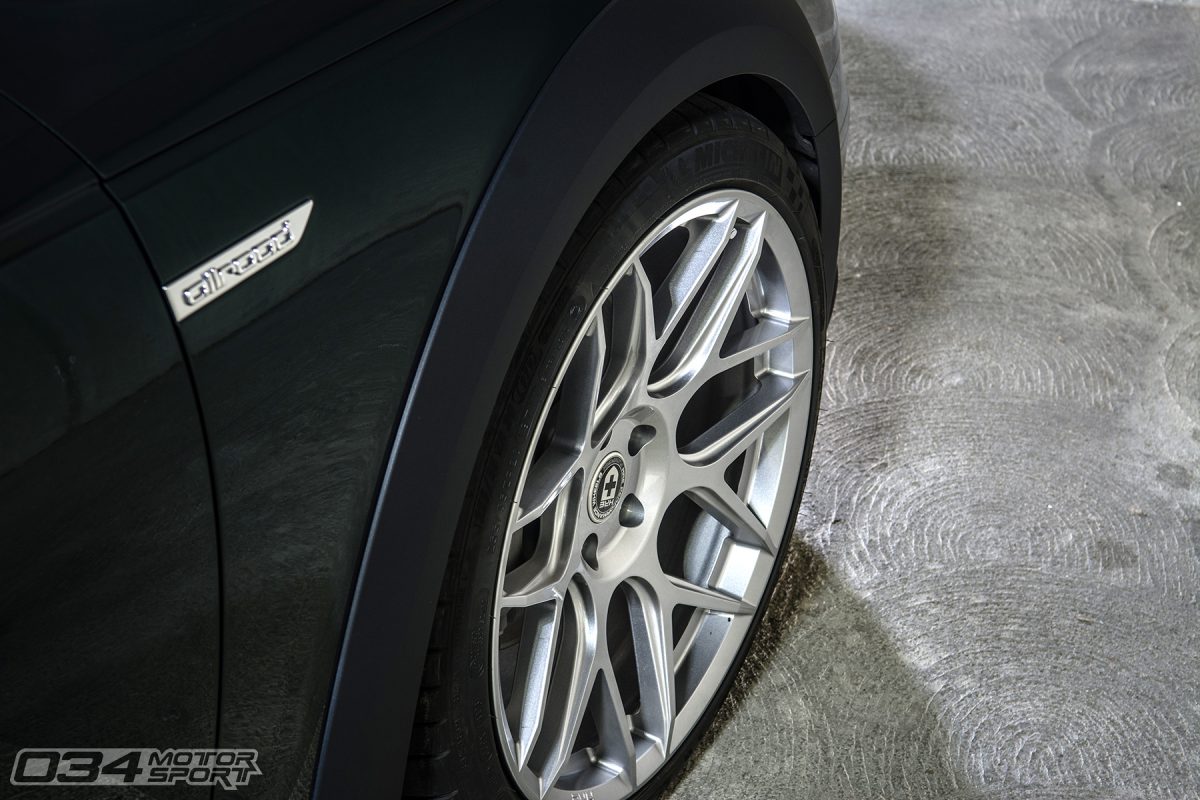 The most recent upgrade completed on Jaron's Allroad is the B9 Matrix LED headlight conversion, carrying the high-tech, angular theme forward to the front of the car. It's the world's first known fully-functioning Matrix LED conversion on the B9 chassis, and boy is it an impressive upgrade! "I'd stop at nothing to retrofit the Matrix headlights, and while silly to some, I absolutely love how they make the car look," Jaron recalls. Beyond the incredible looks of the Matrix LED headlights, watching them work their magic, and cut off light that would otherwise shine directly onto oncoming vehicles in real time is uncanny. With Audi's Matrix LED system, you get a fully illuminated road without blinding other drivers. Now this, is the future!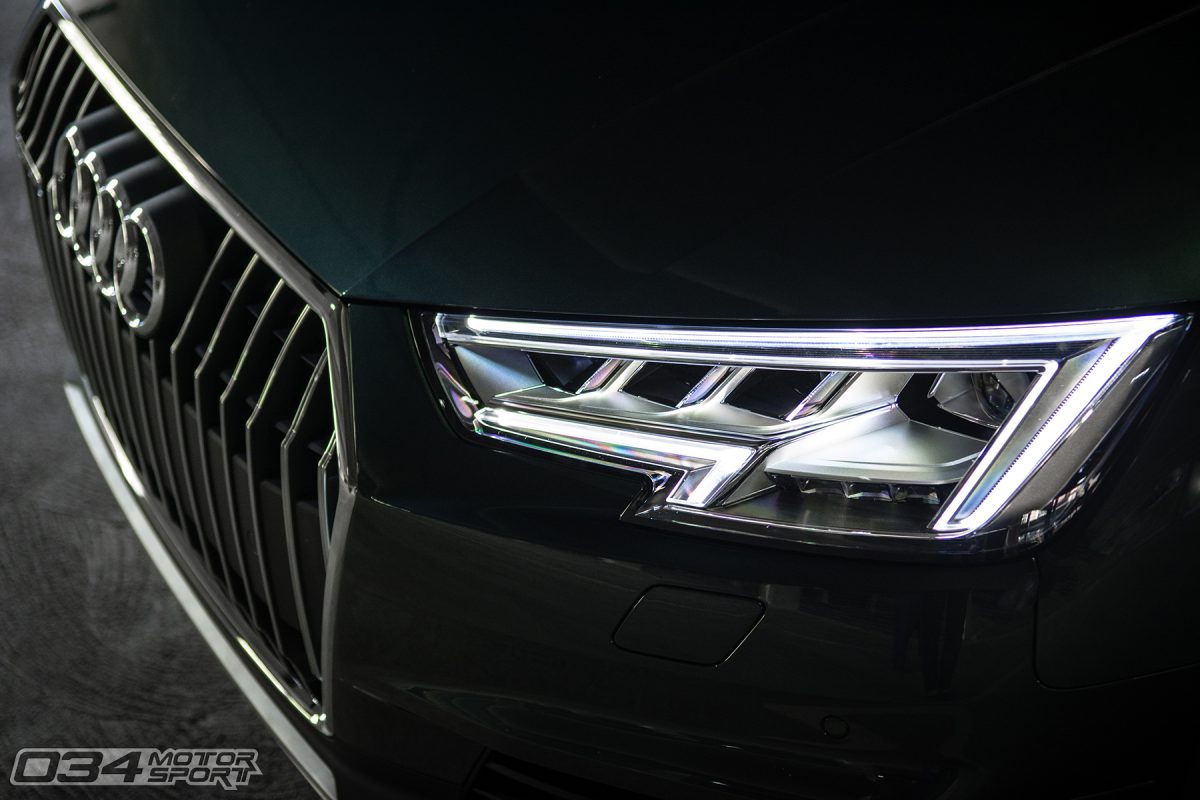 In his four months of ownership with the Allroad, Jaron has been busy bringing his US-spec car up to European and RoW standards. He's improved upon every aspect of the car from interior, exterior, performance, and safety. Looking at his Gotland Green Metallic example however, the modifications have been so seamless that it's hard to imagine the car any other way. I believe this speaks to how detail-oriented Jaron is regarding his vision and goals for the Allroad. We at 034Motorsport are happy to have played a part in his comprehensive build and improved the handling performance and driving characteristics of this stunning B9 Allroad.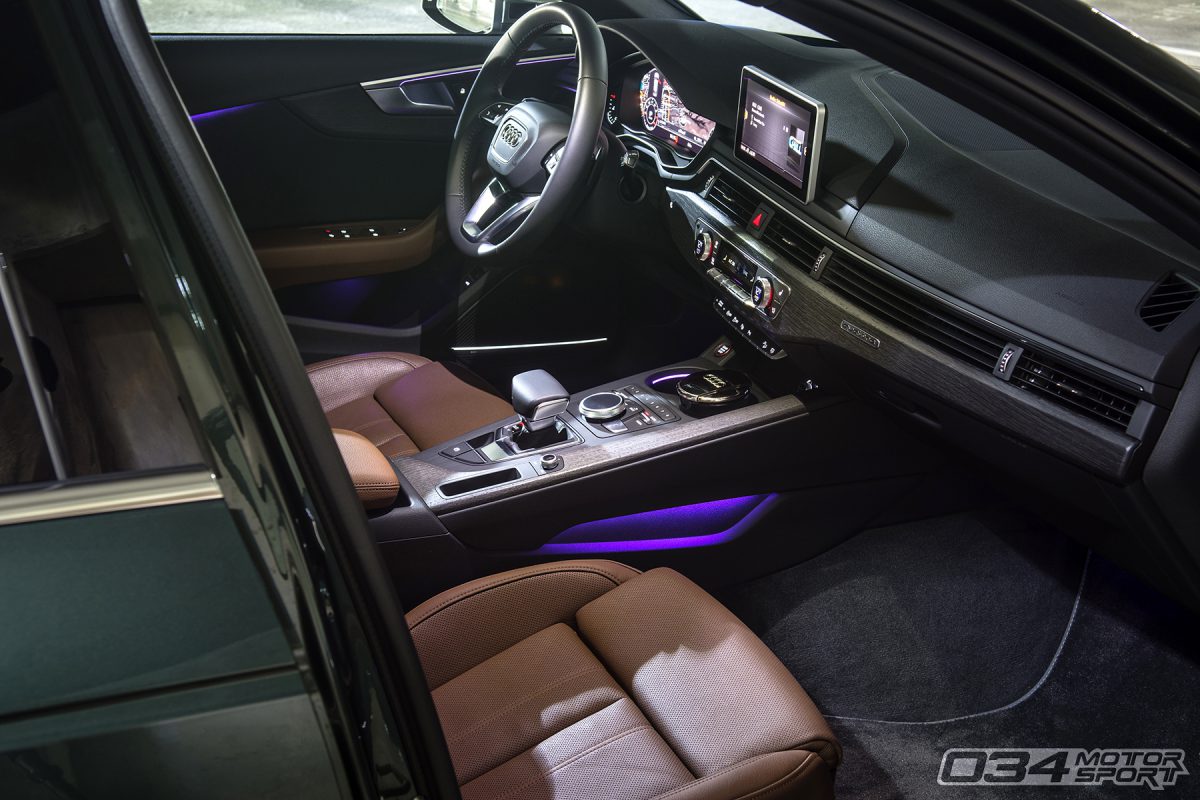 Jaron has a few more plans for his car in the future including a flat-bottom steering wheel, stitched center console, and alcantara inserts for the doors. He's also keen to see what other performance pieces we have up our sleeve for the B9 chassis and ready to build upon his Allroad's capable performance.
Look out for his Gotland Green Allroad at some of this year's events across the west coast, and see if you can pick out some of the OEM+ upgrades that make this particular B9 Allroad so special.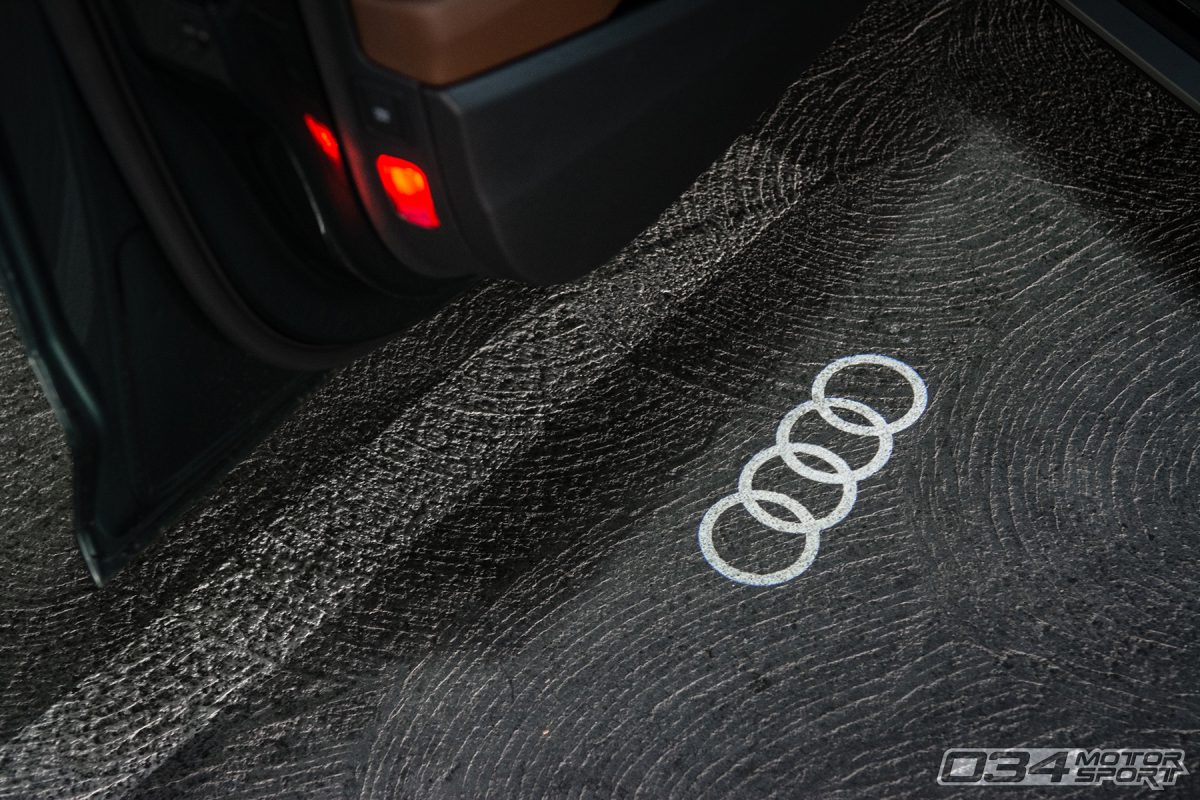 Featured Products | Jaron's Gotland Green B9 Audi Allroad
HRE FlowForm FF01 20x9" Wheels in Liquid Silver