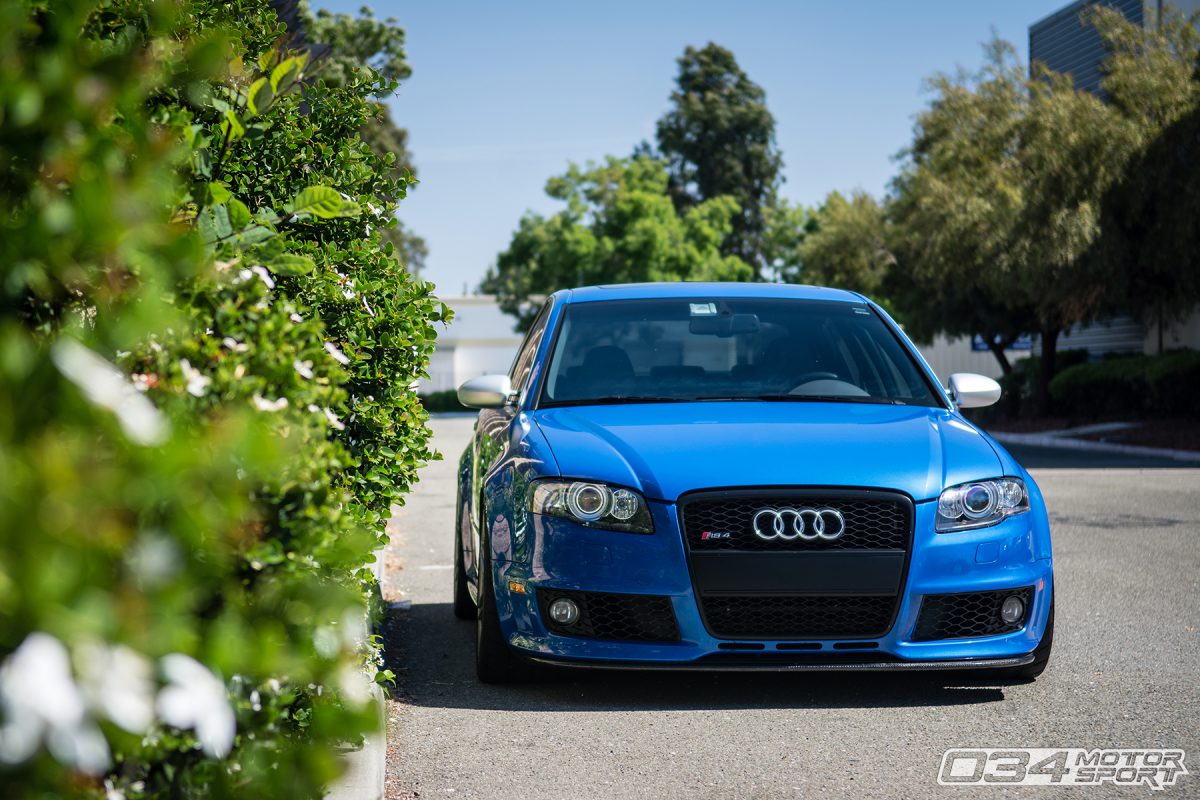 Arturo has been a customer of 034Motorsport for some years now, and unlike many others, he isn't shy when it comes to the Audi 4.2L V8. Before purchasing his B7 RS4 seen before you, Arturo owned a B6 S4 Avant and was bit by the "avant bug" like almost any other Audi wagon owner across the world. Thus, when it came time to find the replacement for his B6, Arturo lusted after a B7 RS4 Avant. We can likely all agree that a V8-bellowing, factory widebody wagon is one of the end-all, be-all cars to own! Thanks to Audi of America however, we never experienced the glory that is a B7 RS4 Avant here in the United States.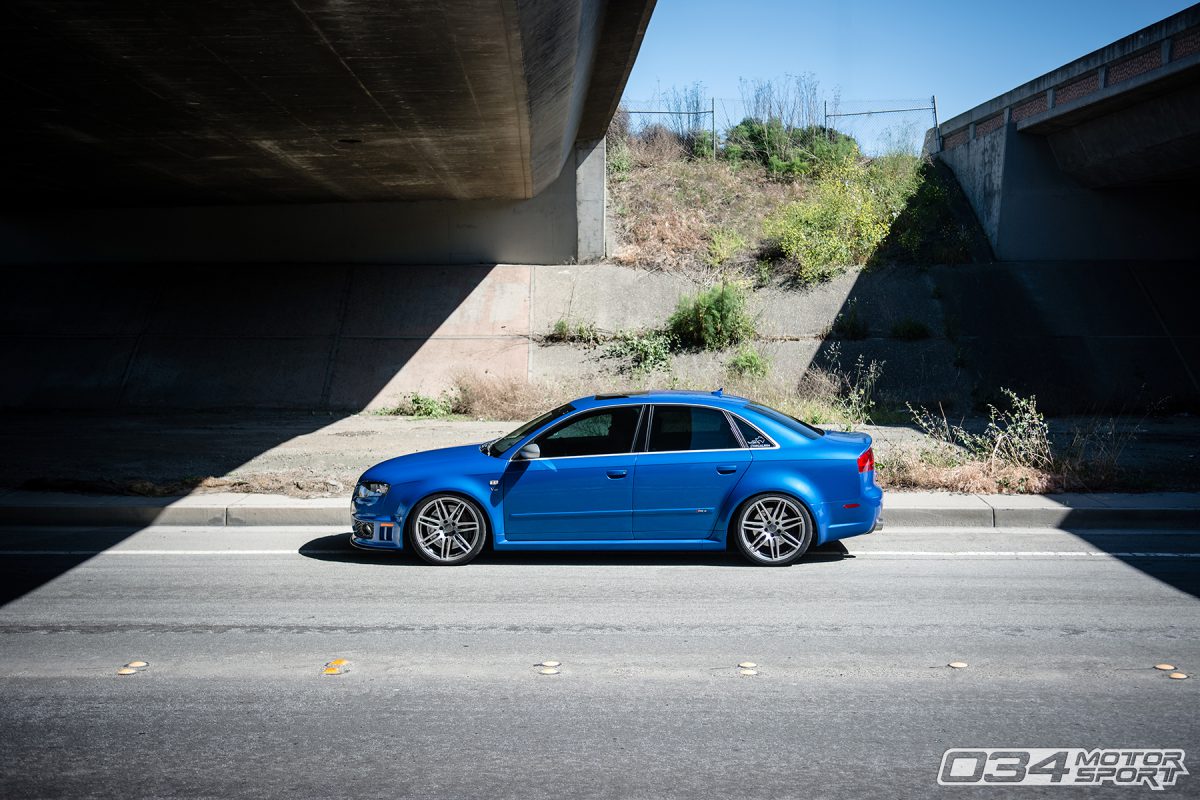 Arturo knew a B7 RS4 Avant wasn't realistic, but what good is life without dreaming a little, right? Beyond the wagon factor, the second most important criteria was a car equipped with a proper engine. You know, a V8. He entertained the idea of going to the darkside (a.k.a. BMW) for an E90 M3, but couldn't break the spell that the hips of the RS4 had put on him. Finally, Arturo found the right RS4 for him, and landed this beautiful, low-mileage 2007 B7 Audi RS4 wearing Sprint Blue.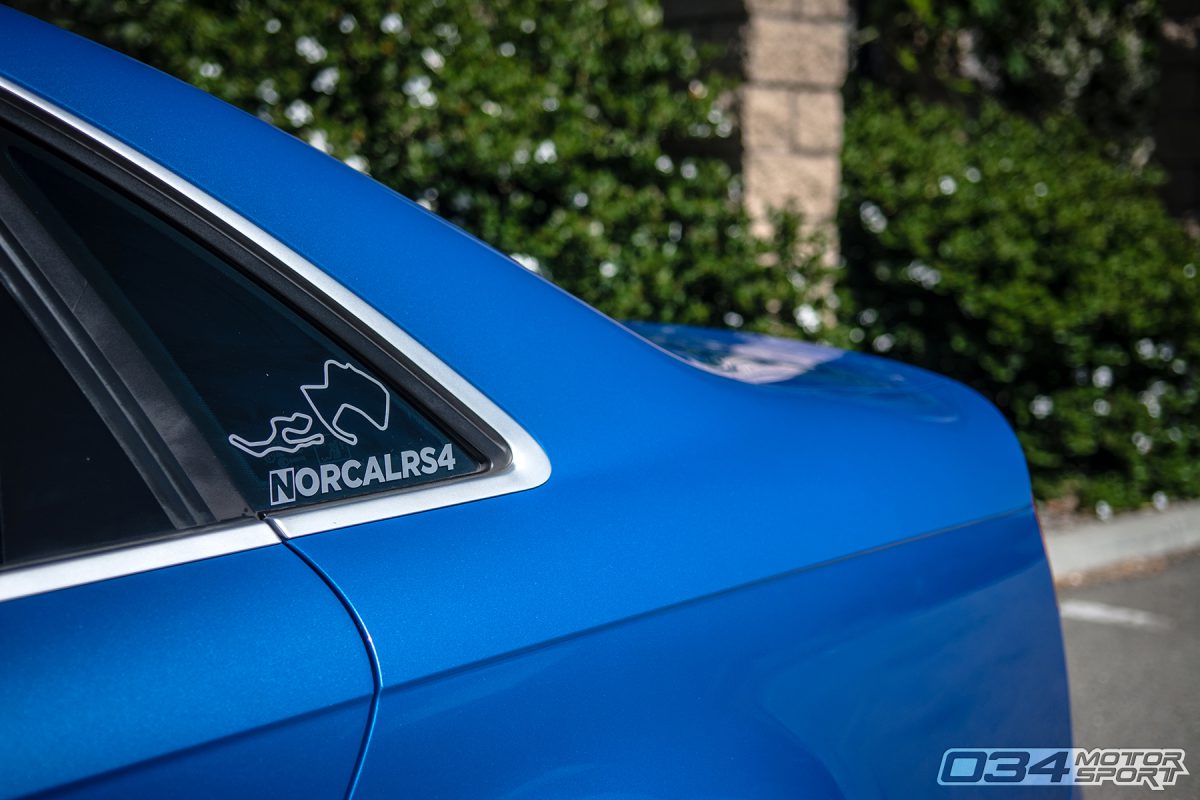 When designed by quattro GmbH, the B7 RS4 was the first RS car to be powered by a naturally aspirated motor, and produced a potent 414 HP and 317 LB-FT with a spine-tingling 8,000 RPM redline. Couple the 4.2L FSI V8 with Audi's legendary Quattro drivetrain (tweaked slightly to allow for additional rear bias) and you have the recipe for a phenomenal family sedan, or as we like to call it, a "super saloon."
The B7 RS4 is an incredible car from the factory, but we found it still has room for improvement at 034Motorsport. For starters, these cars have a tendency to understeer when pushed to their limit due to the big V8 hanging over the front axle. Arturo was also well aware of this, and opted for our Adjustable Solid Rear Sway Bar and Spherical Rear End Links to reel in the handling of his RS4 when driving on the track and twisty mountain roads. 034Motorsport's rear sway bar is constructed from solid spring steel for maximum rigidity, and when set to the "soft" setting is twice as stiff as the factory RS4 rear sway bar. This added stiffness to the rear end helps pivot the car better through corners, making it feel more nimble and reducing body roll.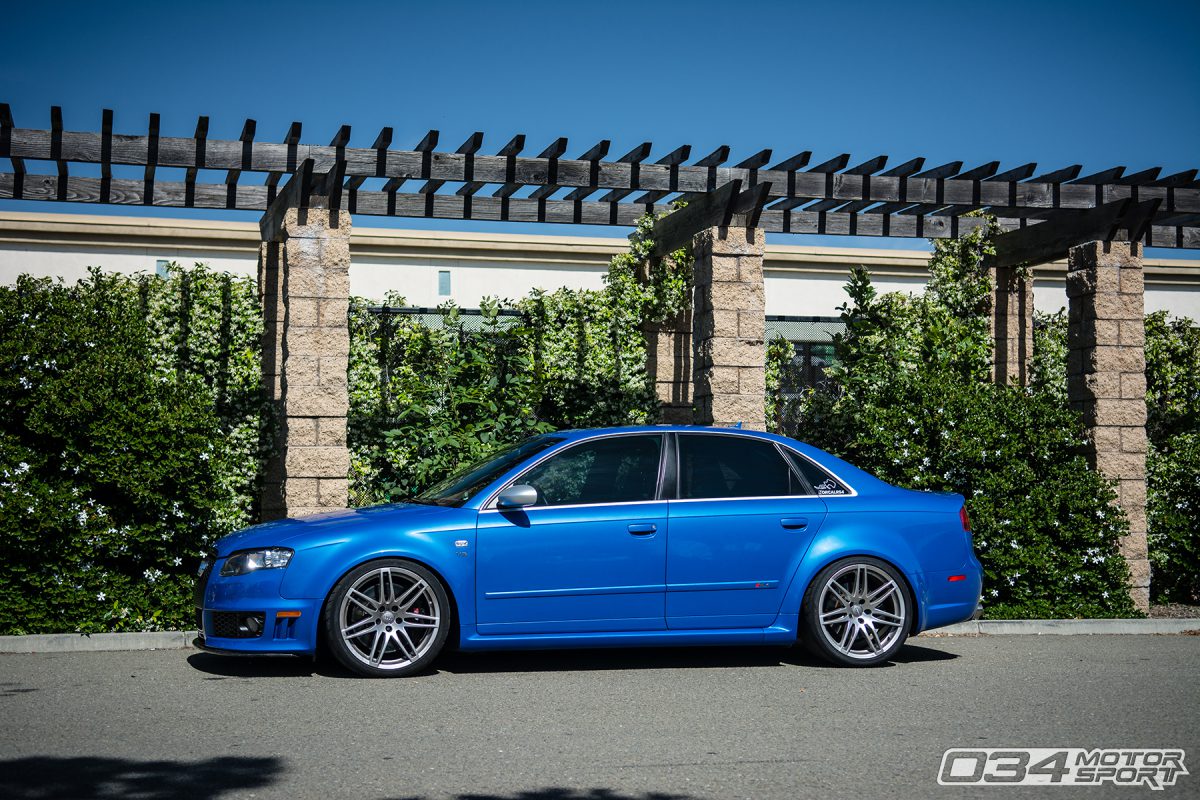 Next, Arturo installed 034Motorsport Adjustable Upper Control Arms to dial in the perfect alignment for his track days and spirited back road driving needs. The higher durometer rubber bushings and Aurora spherical bearings installed in the CNC-machined billet aluminum arms ensure precise handling at all times, and no unnecessary deflection under load.


Once the car was rotating better through corners and gripping the road as it should, Arturo aimed to lock down his drivetrain with a combination of 034Motorsport Density Line Mounts. These included Motor Mounts, Transmission Mount, and Snub Mount. All 034Motorsport Density Line rubber mounts are solid filled, and feature a higher durometer rubber compound compared to the factory mounts in an effort to drastically reduce unwanted drivetrain movement without adding too much noise, vibration, and harshness inside the cabin. That makes these the perfect upgrade for street driven cars that see some occasional track time as well.
Additionally, a set of 034Motorsport Billet Aluminum Rear Differential Carrier Mount Inserts were installed to provide smoother shifting and seamless throttle transitions. By limiting movement from the rear end, this creates a much more predictable and consistent car and becomes increasingly noticeable when pushing a car to the limit on-track.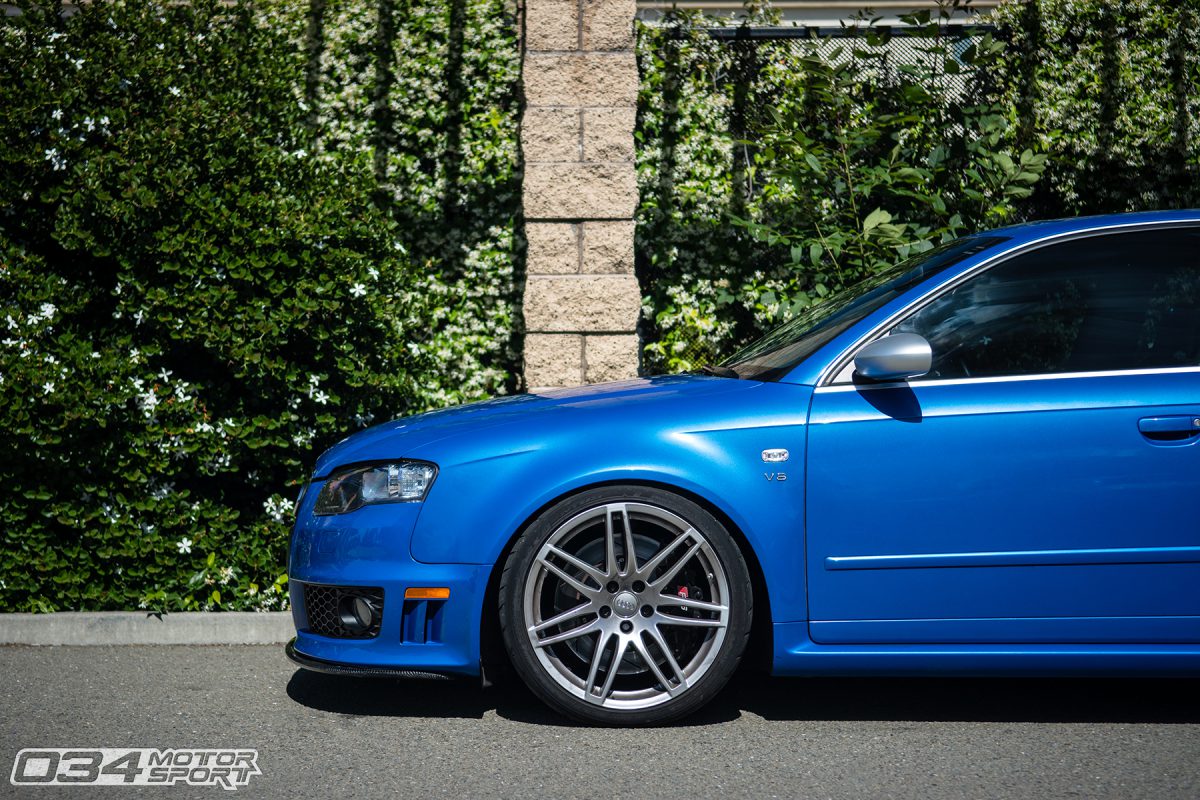 Arturo's goal with his RS4 is to drive the car as it was designed and intended to be driven. Thank goodness! Beyond that, he also wants his car to look good of course. In light of that, he has followed the mantra of OEM+ aesthetics to perfection, including the European RS4 Recaro seats that adorn the interior. And while they look incredible, more importantly the seats serve a purpose of better supporting Arturo mid-corner during one of his many track days.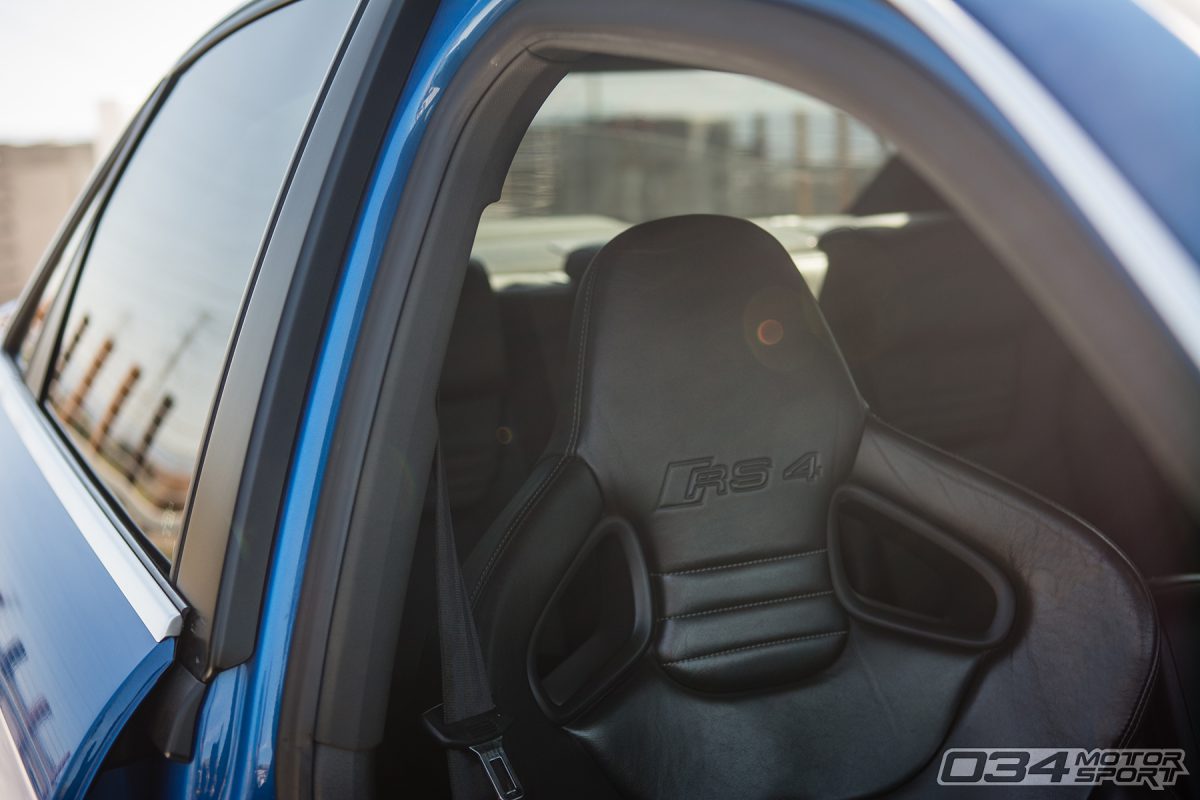 For now, he plans to keep the car into the foreseeable future and continue enjoying it. After all you really can't go wrong with a V8 super sedan! Forced induction may be in the car's future, but until we know more we can simply drool over this fine example of Audi's first naturally aspirated RS car.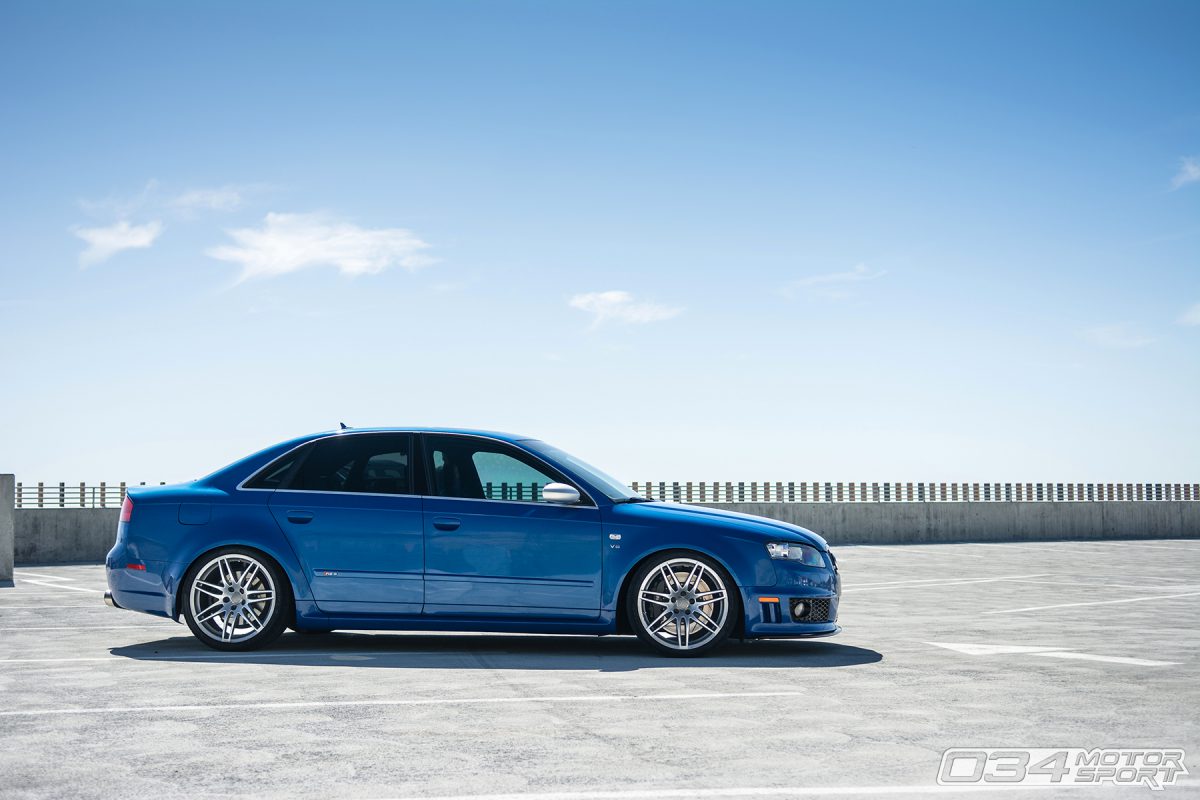 Featured Products | Arturo's Sprint Blue B7 Audi RS4