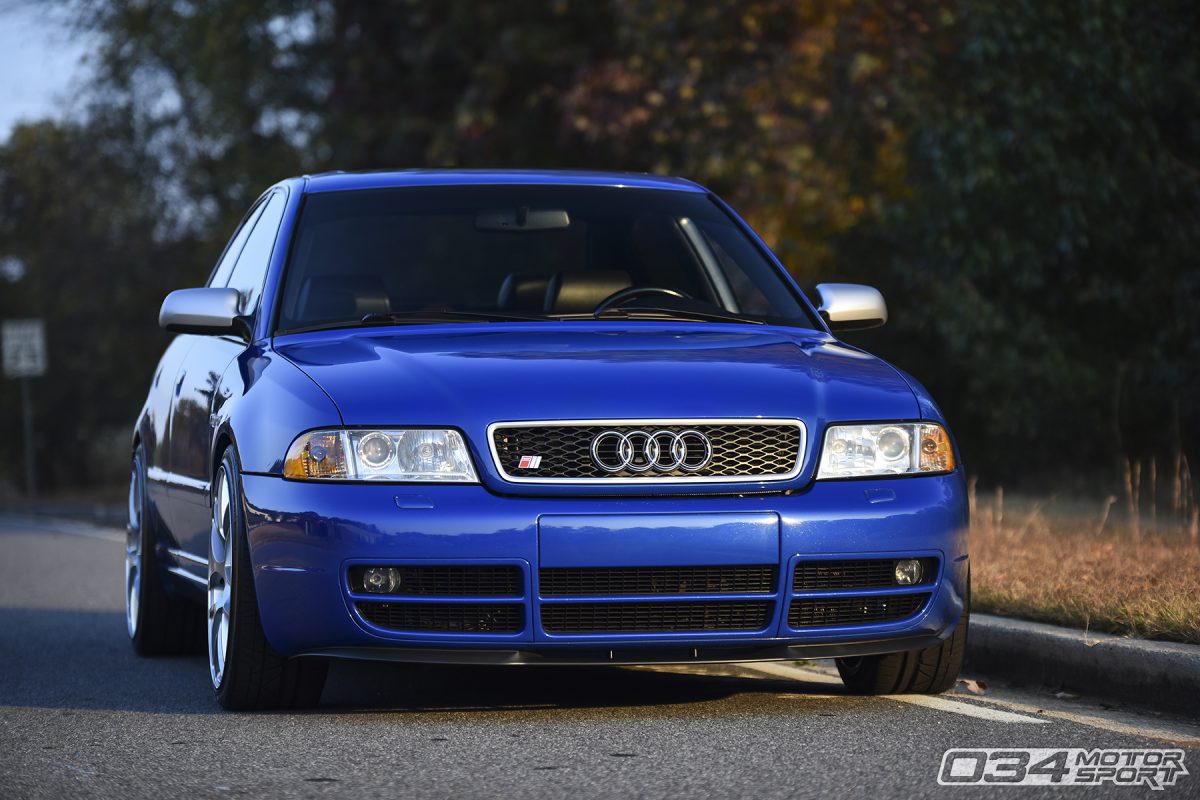 Keith is no stranger to 034Motorsport nor the Audi B5 chassis. He began his journey into the B5 world when he purchased a 1996 A4 2.8L 5-Speed Quattro wearing Pearl White paint. The color and styling of the B5 struck a chord with him, and once the S4 became available stateside in the year 2000 he was hooked on the idea of owning one. Keith recounts, "besides the looks and motor was seeing the car in action via Michael Galati and his Champion Audi S4 at Road Atlanta. I was hooked at that moment hearing the turbos spool up as they came rushing up turn 1 into the esses." Furthermore, he knew he was destined for an S4 after discovering Nogaro Blue as a color option and a sort of homage to its RS2 predecessor.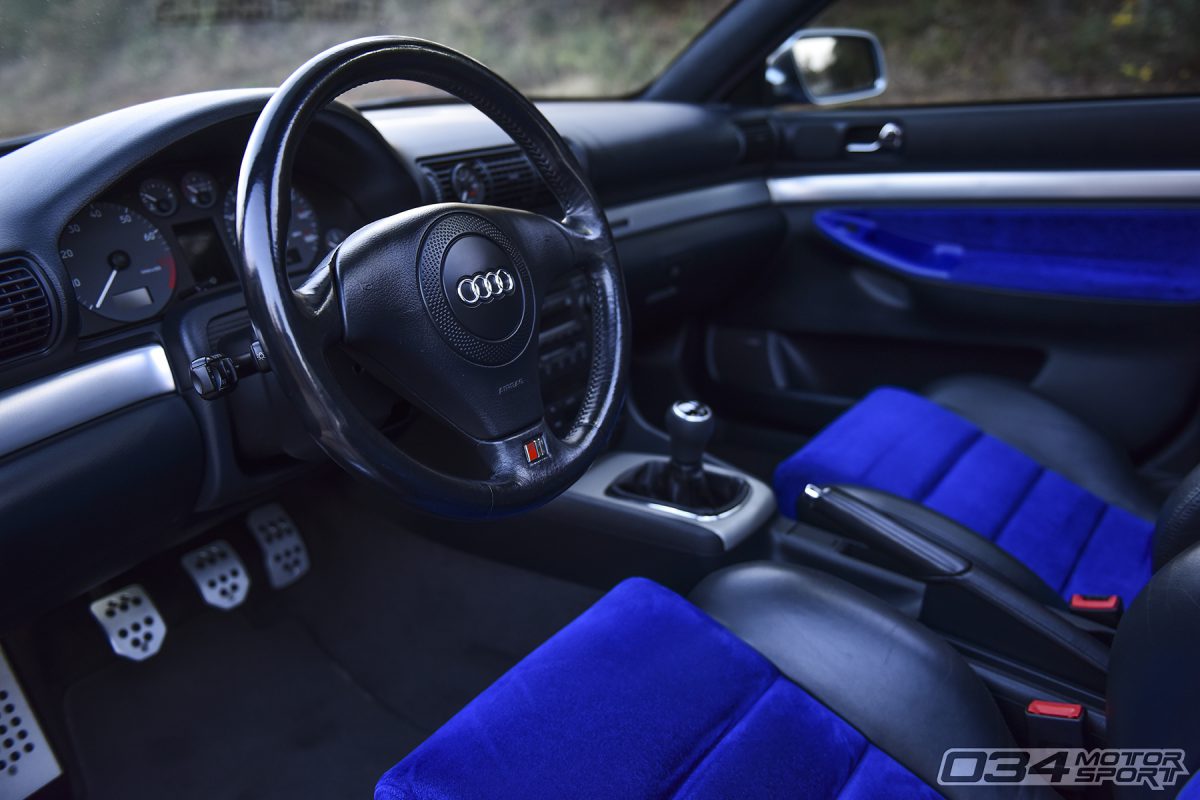 Flash forward a few more years to 2004, and the stars had aligned for Keith to find his perfect S4. The chariot of choice? A one-owner, Nogaro Blue S4 6-Speed with factory sport package and blue alcantara interior. As much as he loved the car the way it sat, he knew there was more performance to be squeezed from the 2.7T and intended to do so. The goal was to build the car himself into his image of what the factory should have produced when the car was new.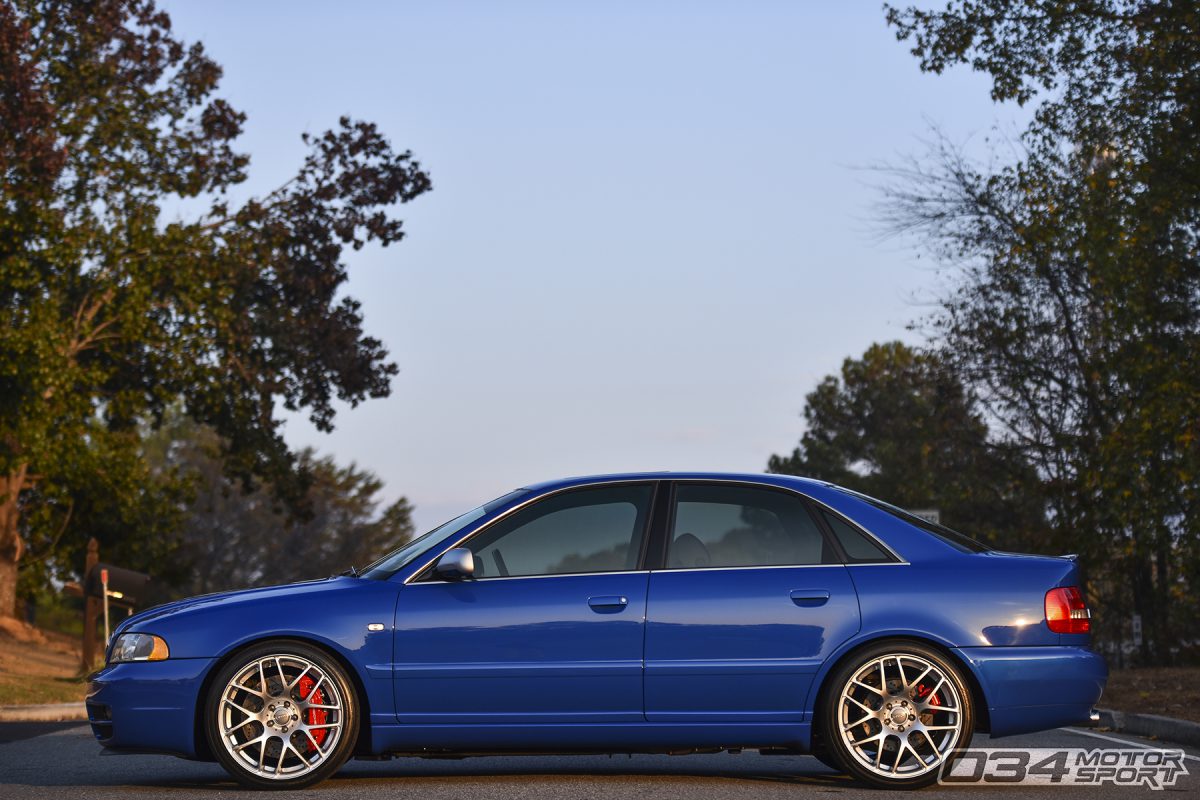 Appearance was left mostly stock, as we know Keith was already a fan of the body lines and Nogaro Blue color throughout. Staying true to his OEM+ goal, minor alterations to the cosmetics of the car include a set of 19x8.5" VMR 710 wheels, Cupra R front lip, RS4 grille, and matte aluminum mirror caps. The engine bay received Porsche 991 oil and coolant caps for some added flair, along with all new factory plastic covers. Sit down in the cockpit and you'll find the warmth of black alcantara covering the headliner, rear shelf, and all pillars. Add all of these subtle modifications up and you have a comprehensively clean S4 inside and out.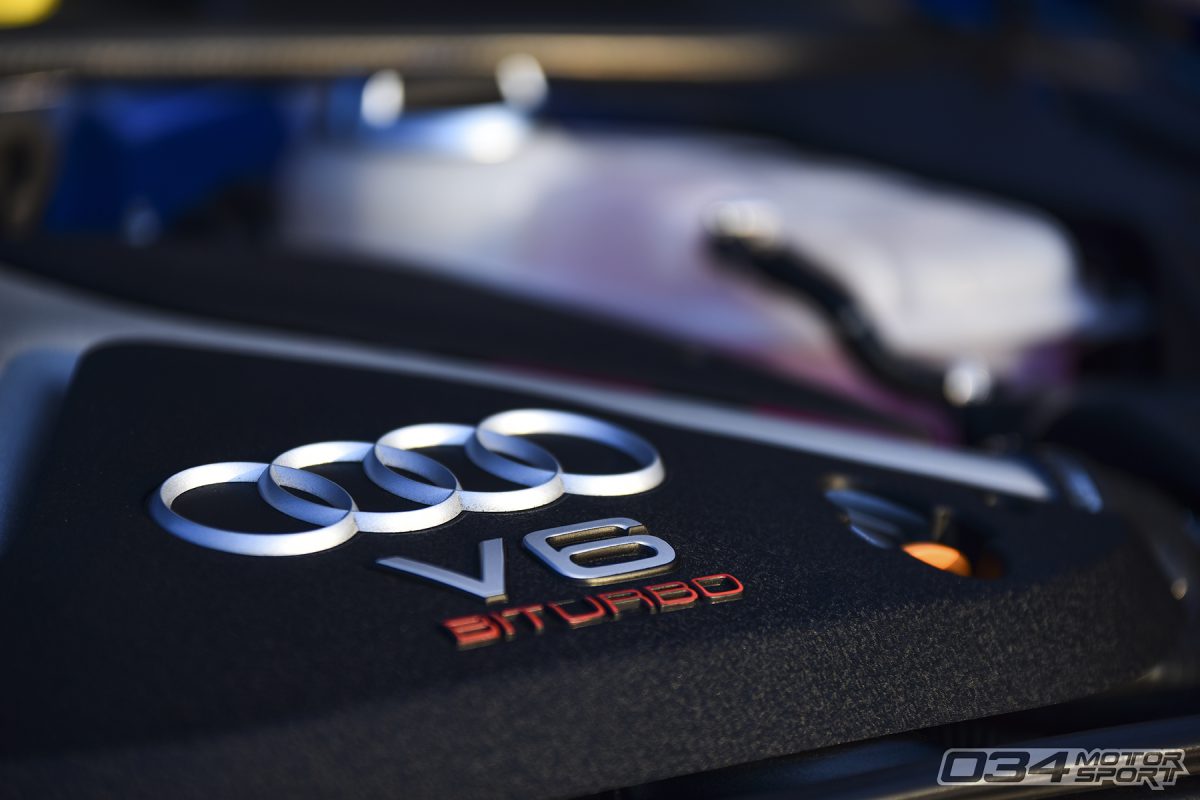 If this were MTV Cribs, under the hood would be the equivalent to the bedroom because this "is where the magic happens." The motor has been completely rebuilt from the ground up with no bolt left un-turned. The block, manifolds, and valve covers were brought back to original condition or painted while internally the 2.7T saw new IE H-beam rods with Calico coated bearings and pistons. In search of power and OE driveability alike, Keith opted for our Stage 3 Borg Warner K04 Turbo Kit including RS4 Inlet Pipes, 550CC EV14 Injectors, 85mm Hitachi MAF Housing. Once the boost was turned up, a Carbon Fiber X34 Cold Air Intake and High-Flow Stainless Steel Bipipe Set was installed to keep up with the added flow.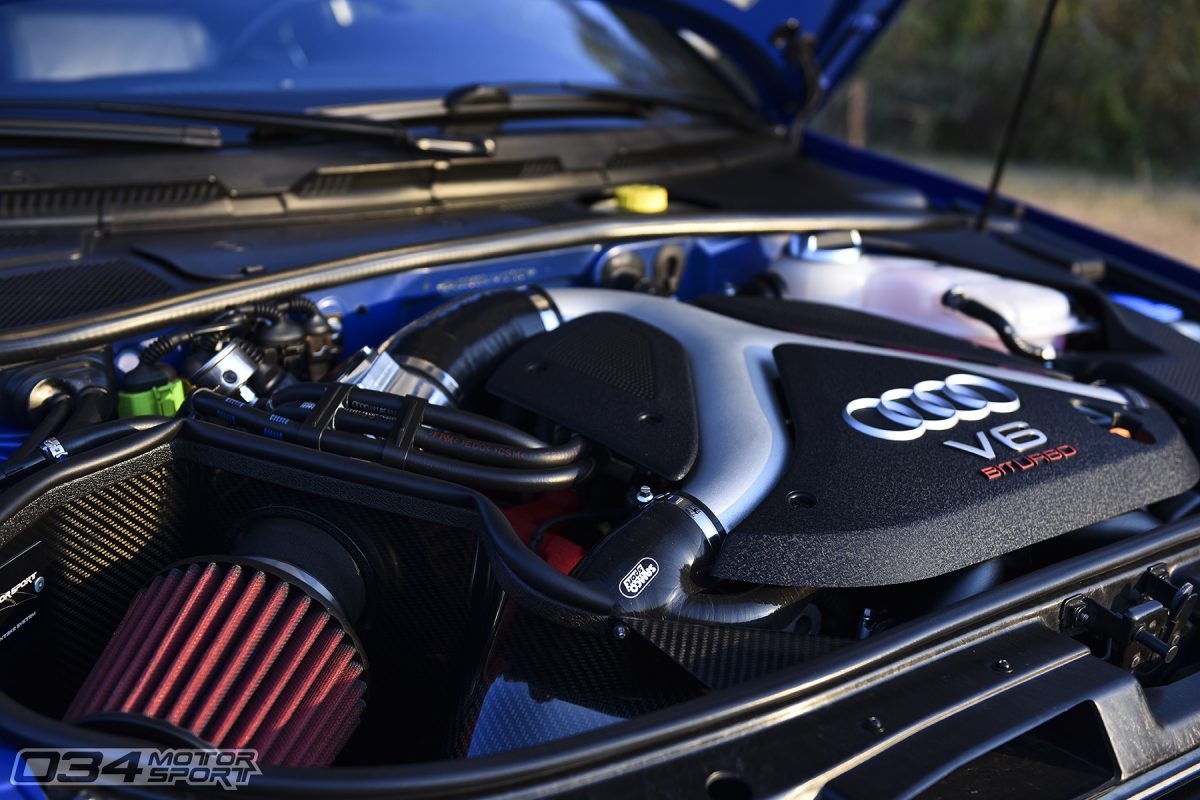 Power is useless when unable to put it to the ground however. In this case, a Spec Stage 3+ Clutch and Lightweight Aluminum Flywheel help transfer the K04 power through Audi's legendary Quattro all-wheel drive system. Ensuring the car goes where Keith wants, an Adjustable Solid Rear Sway Bar and array of Density Line Drivetrain Mounts are fitted in the name of improving driving characteristics. Similar to the cosmetics of the car, what you see is a mechanically well-sorted car strictly aimed to provide an OEM+ experience.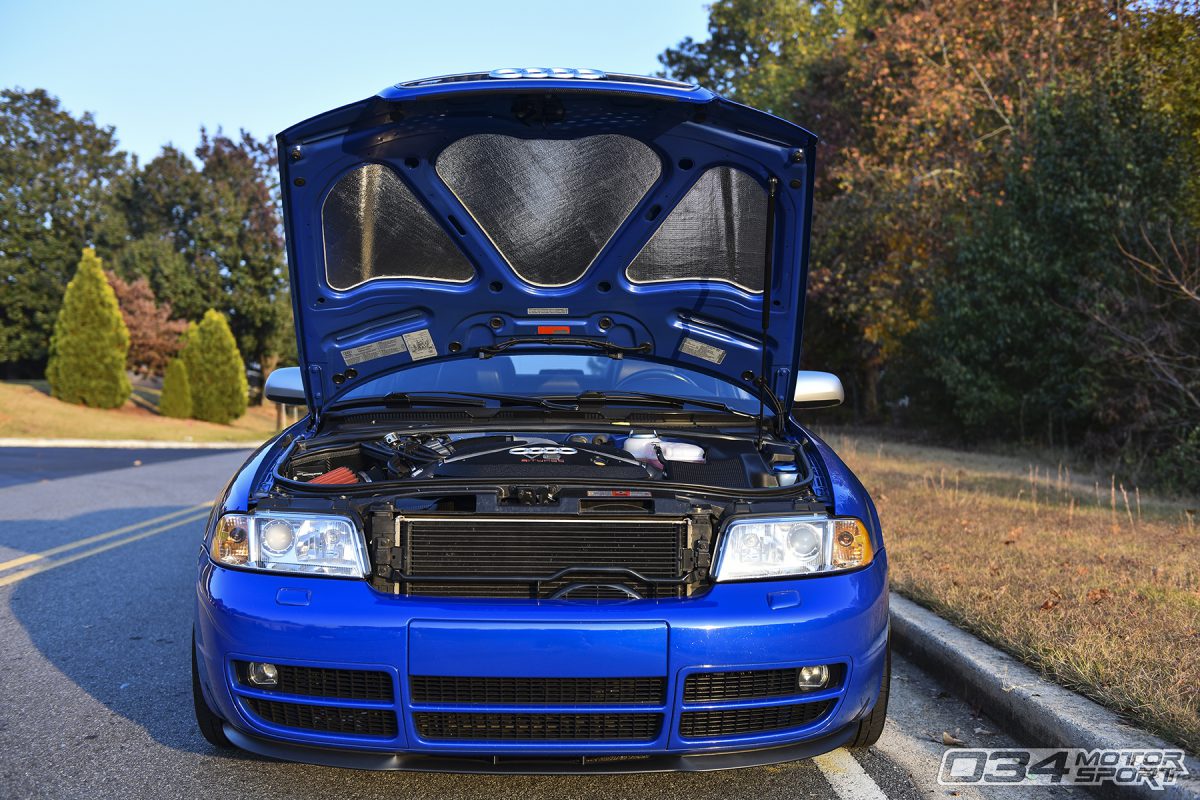 In the aftermarket world today, Keith's meticulously maintained S4 stands out amidst a new generation of enthusiasts where questionable mods are validated by the new motto, "respect the build." However, this in fact, is a build to respect. The seamless incorporation of aftermarket parts and factory originality will leave you wondering what's original and what isn't. A supreme attention to detail has helped this heavily modified S4 blend in to any surrounding. This is what qualifies it as a true OEM+ car. We applaud you Keith, and are happy to know you will keep this car forever.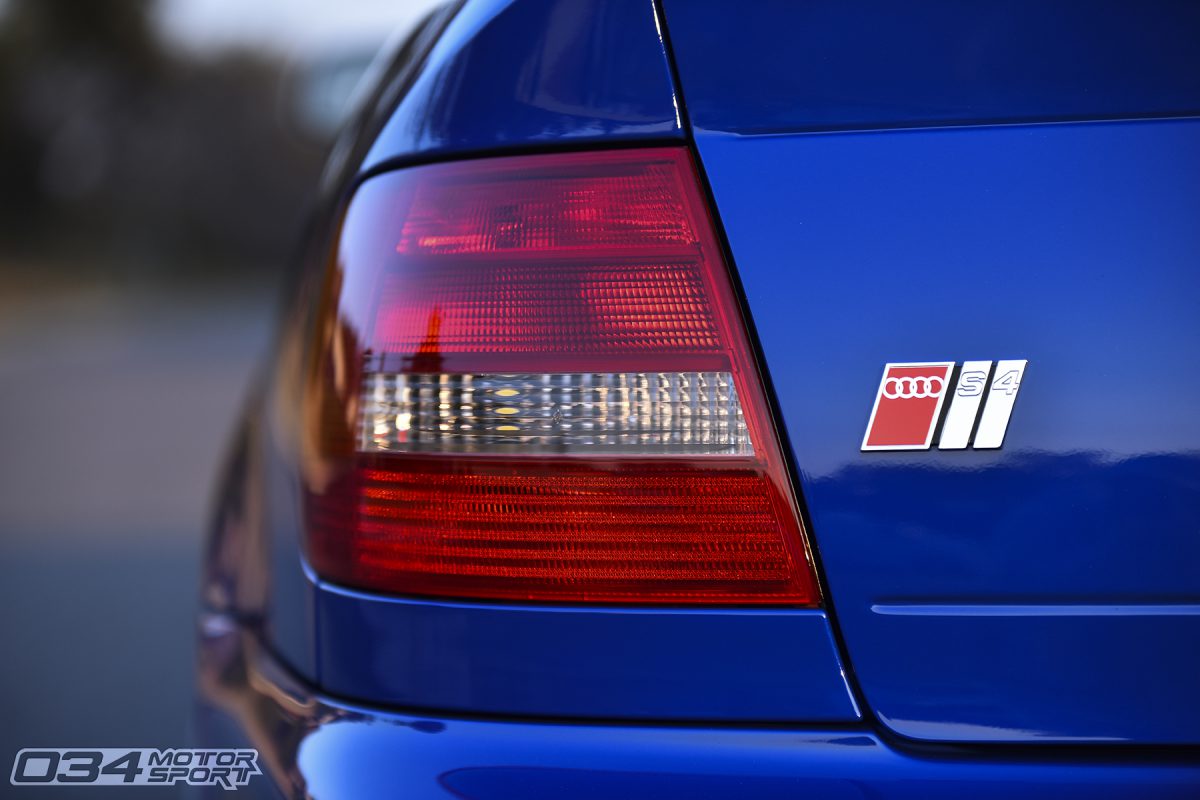 FEATURED PRODUCTS | KEITH'S NOGARO BLUE STAGE 3 B5 AUDI S4
034Motorsport Coil Conversion & ICM Delete Kit For 2.7T To 2.0T Coils
JH Motorsports B5 Audi S4 "Trio" Short Shifter & Linkage Package
A special thanks to Keith for sharing his car with us, and Foster Peters for the photos.