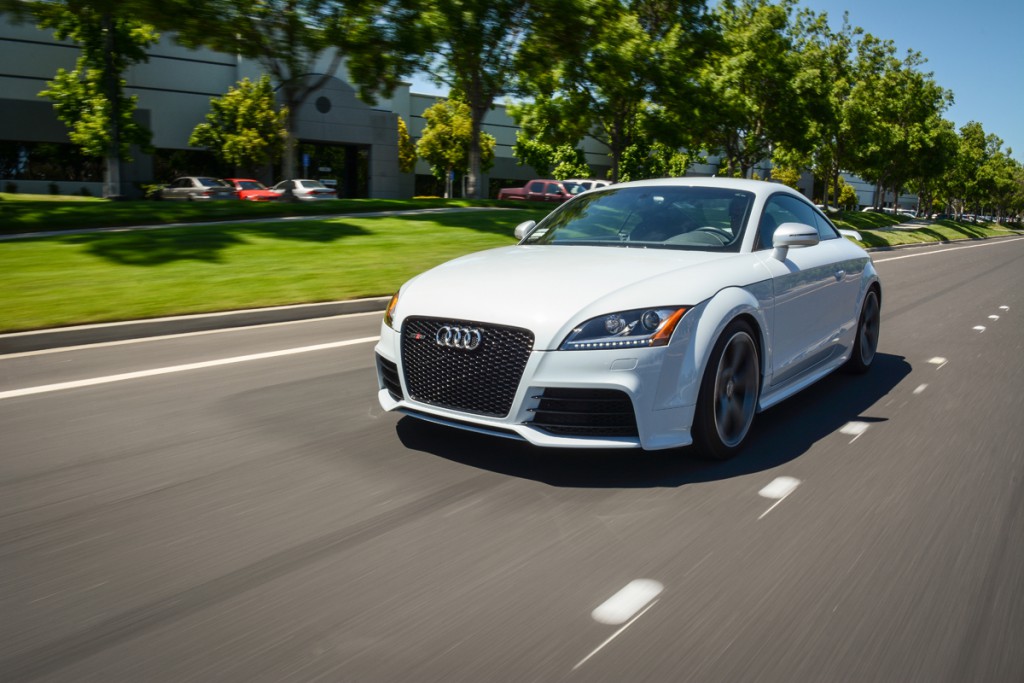 The Audi TT RS's 2.5 TFSI turbocharged inline five cylinder is a fantastic engine, even in stock form. Rated at 360 crank horsepower and engineered by Audi's quattro GmBh department, it was voted the "International Engine of the Year" for six consecutive years. Despite all of the accolades and press, for some (including Sean) the factory power levels just aren't enough. That's where 034Motorsport's RS500 Turbo Kit comes in.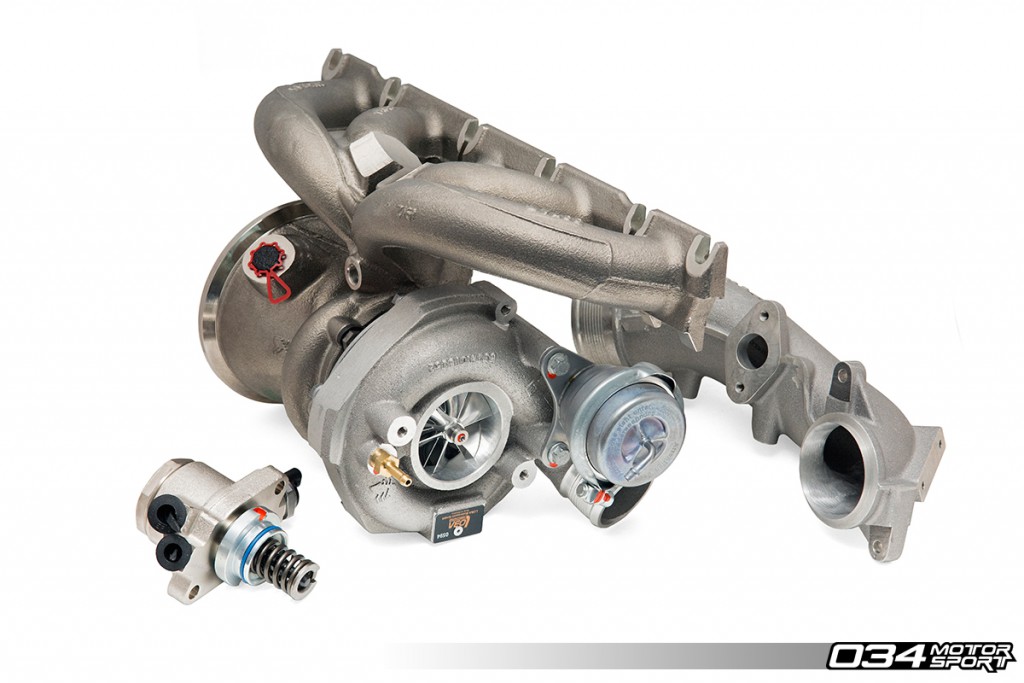 034Motorsport has had extensive experience racing both their factory Audi TT RS 2.5 TFSI and the Audi Sport TT RS SP4T VLN Race Car. These combined racing efforts contributed heavily to the development of 034Motorsport's line of performance suspension, drivetrain, and engine upgrades for the Audi TT RS. In the course of campaigning a stock-turbo endurance race car and big-turbo street car, it became apparent that there was a missing piece in the puzzle.
This middle ground is exactly what Sean was looking for when he came to 034Motorsport with his Suzuka Grey Audi TT RS. Sean's desire for a more usable powerband at the track, without sacrificing response and reliability, made his Audi TT RS the perfect candidate for 034Motorsport's RS500 Turbo Kit & Tuning Package. Centered around a LOBA LO500P Hybrid Turbocharger and 034Motorsport's proprietary ECU Software, RS500 is a complete tuning package which overcomes the main shortcomings of the factory turbocharger (including backpressure issues and power drop-off past 5,500 RPM) without the expense and lag associated with aftermarket big-turbo kits.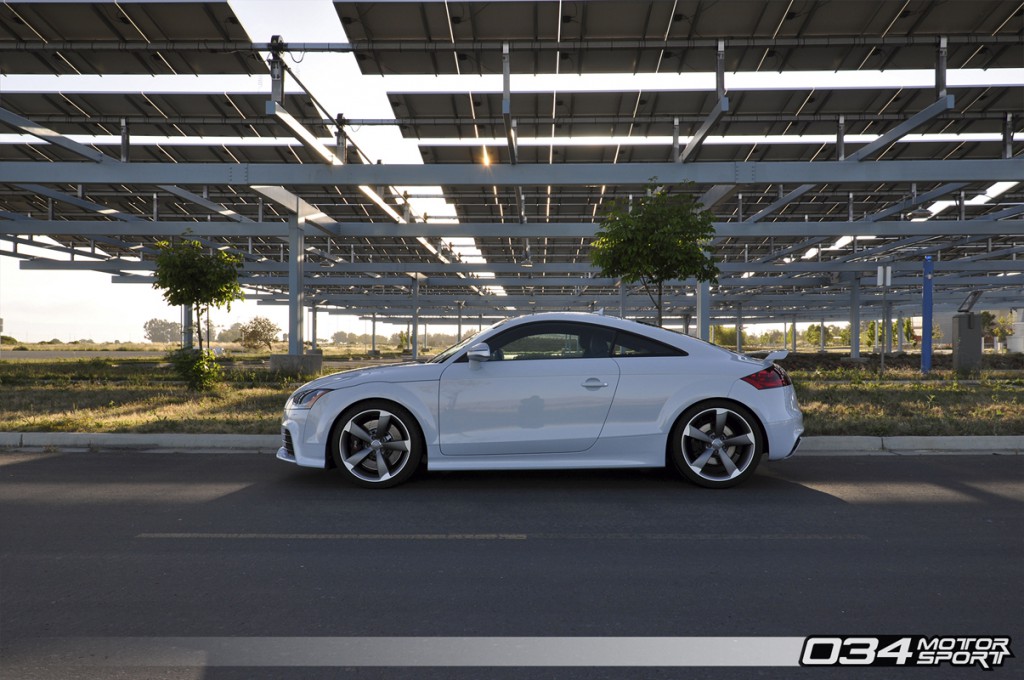 Once Sean's Audi TT RS was at 034Motorsport's Fremont, CA Performance Facility, the LO500P Turbocharger, LOBA 2.5 TFSI HPFP Upgrade, and CNC-Machined Inlet Pipe were installed along with fresh gaskets and hardware. All of these components are included with the RS500 Turbo Kit, and are direct, drop-in replacements for the factory parts.
034Motorsport chose the LOBA LO500P for the RS500 Turbo Kit as it provides increased top end power over the factory turbo, and simple, bolt-in installation with the included CNC-machined inlet pipe. The turbocharger itself is a factory Borg Warner unit that is modified with a state-of-the-art billet compressor wheel and clipped turbine wheel to allow for higher flow. The backplate, compressor housing, turbine housing, and exhaust manifold are also CNC-machined for optimal flow and reduced backpressure. In addition, the LO500P was tested (with excellent results) and approved by Audi Sport during the SP4T TT RS VLN Race Car's development.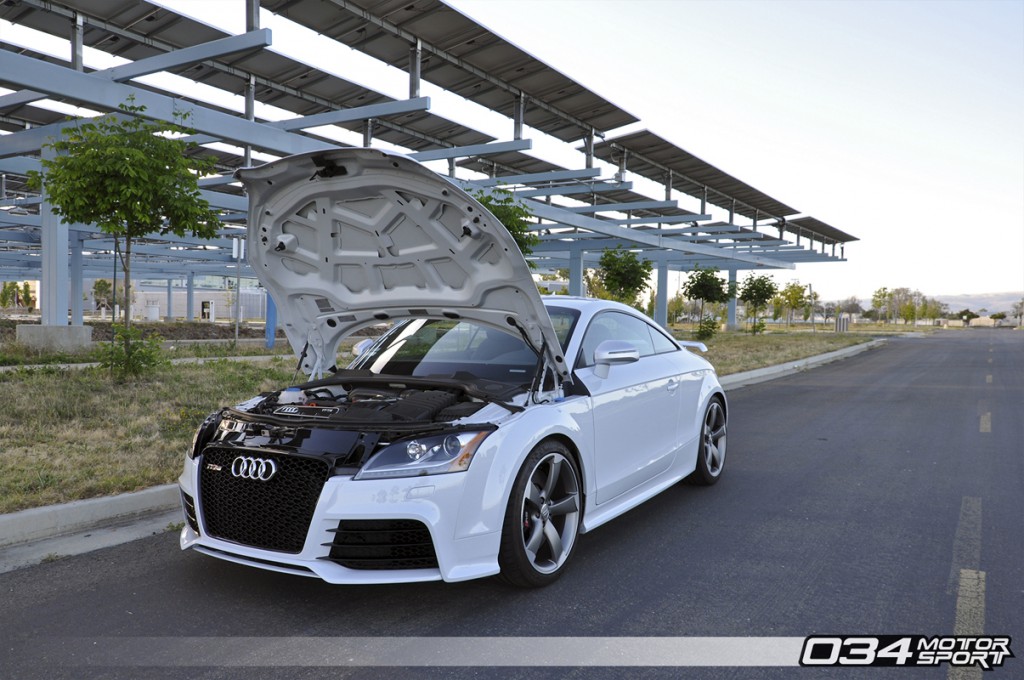 With the newly-installed hardware, Sean's TT RS was dialed in on 91 octane and 100 octane fuel by 034Motorsport's ECU Calibrator on a Mustang AWD dyno, which recorded impressive gains in horsepower and torque versus stock. The RS500 Turbo Kit put down substantial power, especially in the top end, where this RS engine spends most of its time on track. Some additional optimizations were made to the factory drive-by-wire throttle mapping and boost control strategies to improve the driving experience and on-track consistency. To make track-day excursions as painless as possible, 034Motorsport's RS500 ECU Upgrade allows for switching between  91 octane, 93 octane, and 100 octane tunes using the PL34 Hand-Held Flash-Loader.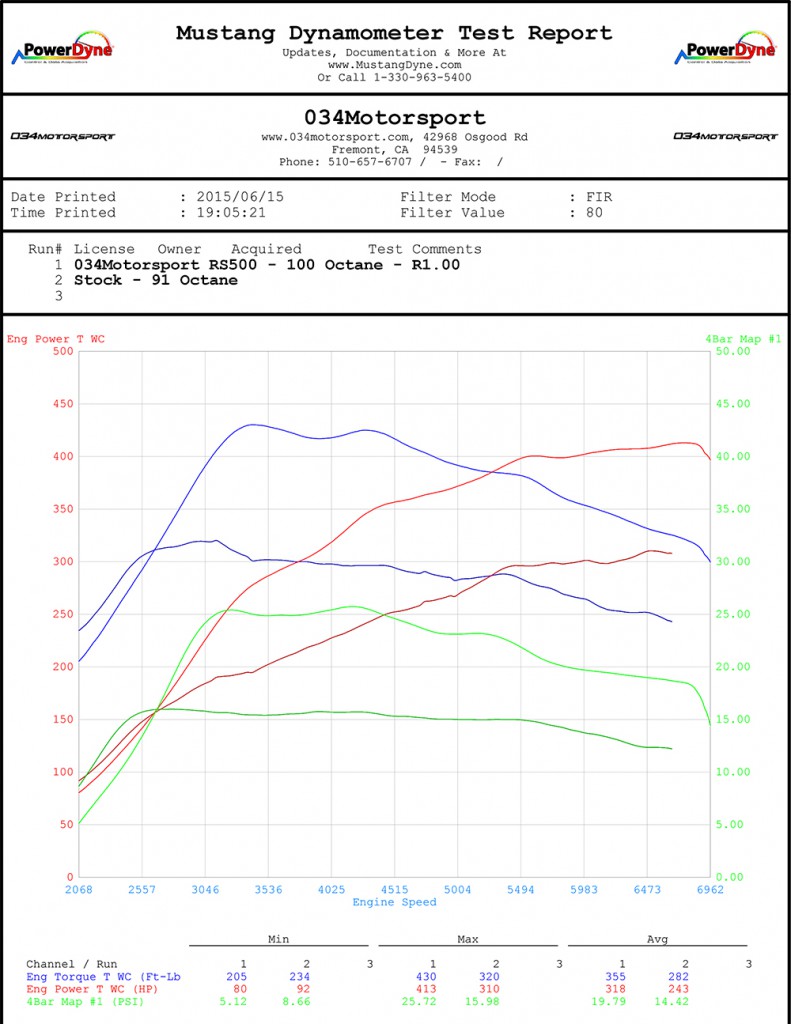 Finally, Sean's TT RS was road-tested and logged extensively to ensure everything was running optimally, and that his freshly-tuned setup was performing as expected. Sean's car was delivered to him with a clean bill of health and plenty more power, making him a very happy RS driver once again. Keep an eye out for him and his RS500-Powered Suzuka Grey Audi TT RS at your next Audi Club track day!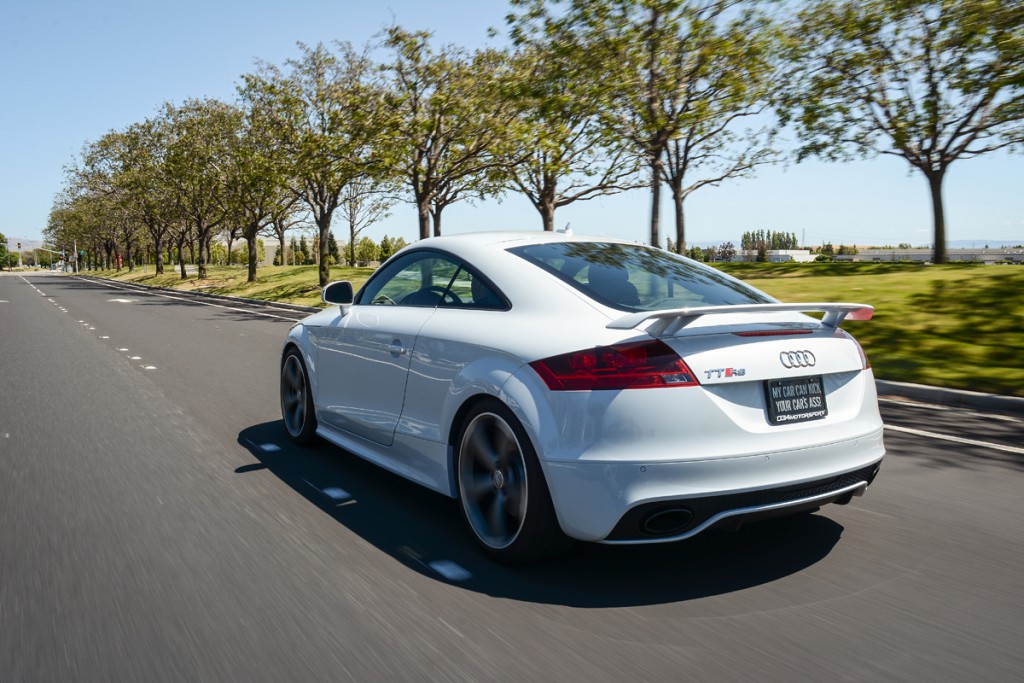 Featured Products | Sean's Suzuka Grey Audi TT RS 2.5 TFSI with RS500 Turbo Kit
Milltek Race Exhaust (Non-Resonated)
APR Front-Mount Intercooler Upgrade
BMC Drop-In Panel Air Filter
HPA Performance Haldex Controller
MSS Adjustable Sport Springs
SPEC Lightweight Single Mass Flywheel (Steel)
SPEC Stage 3 Clutch Kit
Track Wheels & Tires:
TSW Nurburgring 18" x 9.5" +53
Hoosier R6 275/35/R18
More Pictures | Sean's Suzuka Grey Audi TT RS 2.5 TFSI with RS500 Turbo Kit