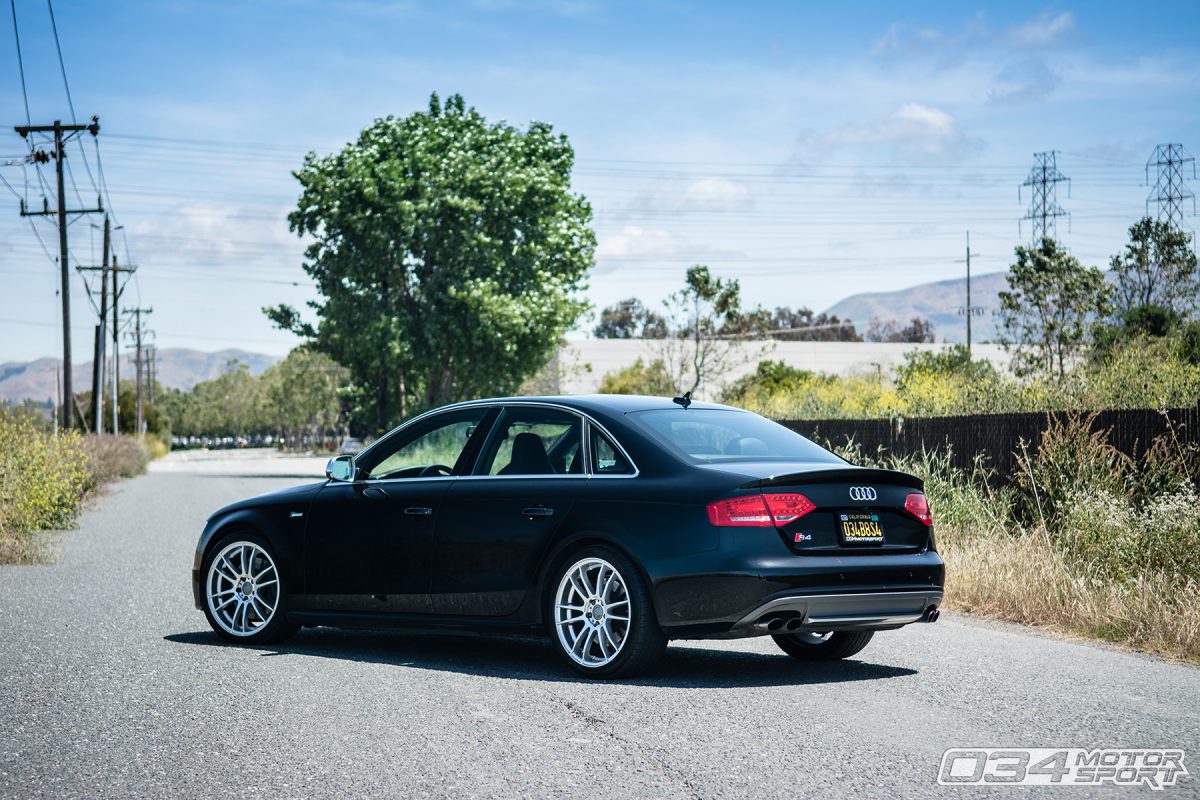 The B8/B8.5 Audi S4 is no slouch by any standards. It wears a classic German sports-sedan shape, characterized by a sleek yet unassuming exterior. Audi has an uncanny ability to design cars that stand out when desired, but can blend in when attention is not what you're seeking. With 4 doors to carry your friends and family wherever they need to go, and a now legendary Quattro all-wheel drive system, the S4 is a true do-it-all car that just seems to work well in any scenario. Mate this winning package to the increasingly popular 3.0 TFSI supercharged V6 and your choice of a 6-speed manual or DSG transmission and you have a winning recipe for endless fun with everyday drivability.
While the B8/B8.5 Audi S4 is a wholesome car from the factory, it can feel soft and somewhat numb to those with a keen sense on performance. Frankly, if you're reading this article, you're likely already looking to improve upon the base performance of the S4. And if you're like us, you can't leave anything alone, and are always seeking to improve you car and make it faster. Good thing you're here! After living with our B8 Audi S4 Performance Development Vehicle for the last few years, we've gotten to know these cars inside and out, and had the opportunity to engineer plenty of world-class performance upgrades to bring the fifth generation of S4 to the next level. Read along, and see what we think are the best 8 upgrades to transform your B8/B8.5 Audi S4 from a docile sedan into a honed, canyon-carving and track-tearing machine.
First Things First: More Power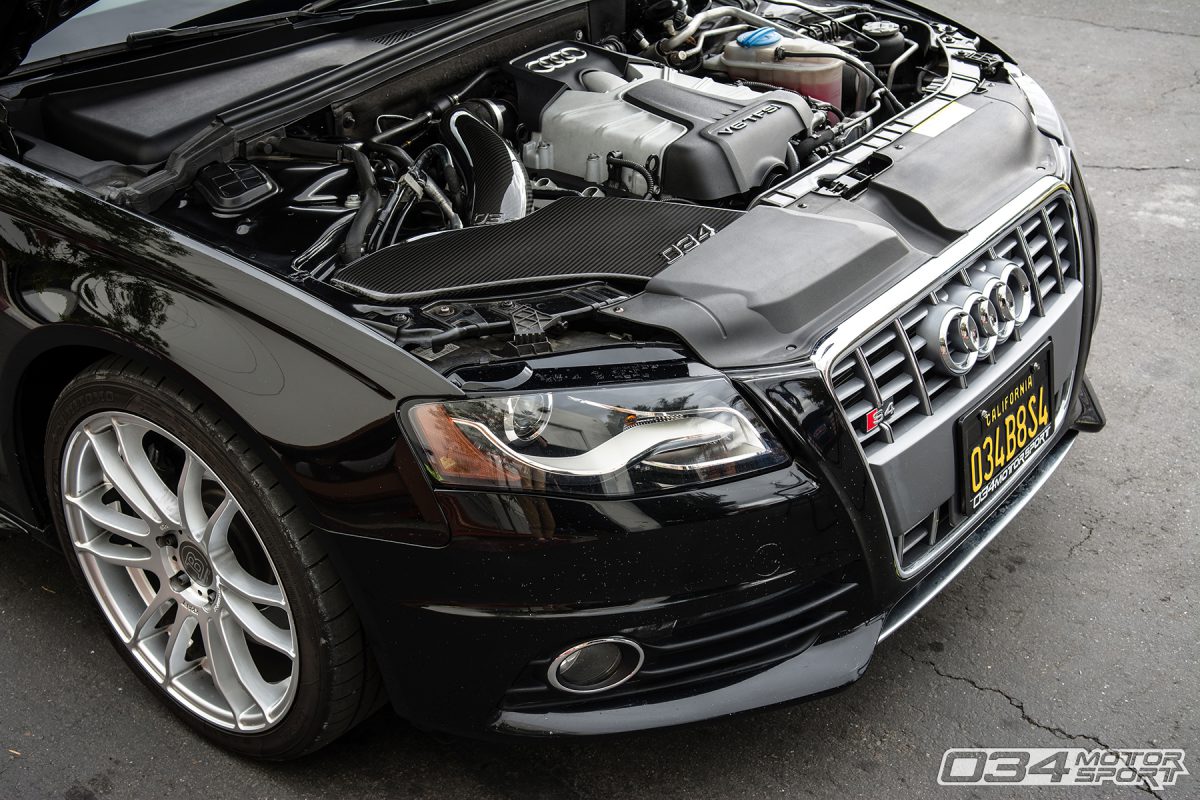 When looking to squeeze more power from your forced induction motor, the first step (and easiest step) these days is a performance ECU tune. By reflashing the factory ECU alone with an optimized file containing new timing and fueling maps, the car is able to produce significantly more power without any additional modifications required. A new tune (or flash) is by far the best "bang for your buck" mod for any modern, forced induction car.
034Motorsport's Stage 1 Performance Software was developed entirely in-house for the Simos 8 ECU using proprietary calibrations to safely increase boost by controlling the supercharger bypass. The rev limit is raised to 7,200 RPM, resulting in a broader powerband with peak horsepower increased to 432 HP and 382 FT-LBS (on 93 Octane) at 7,100 RPM. That's a gain of 99 HP and 73 FT-LBS over the factory power levels!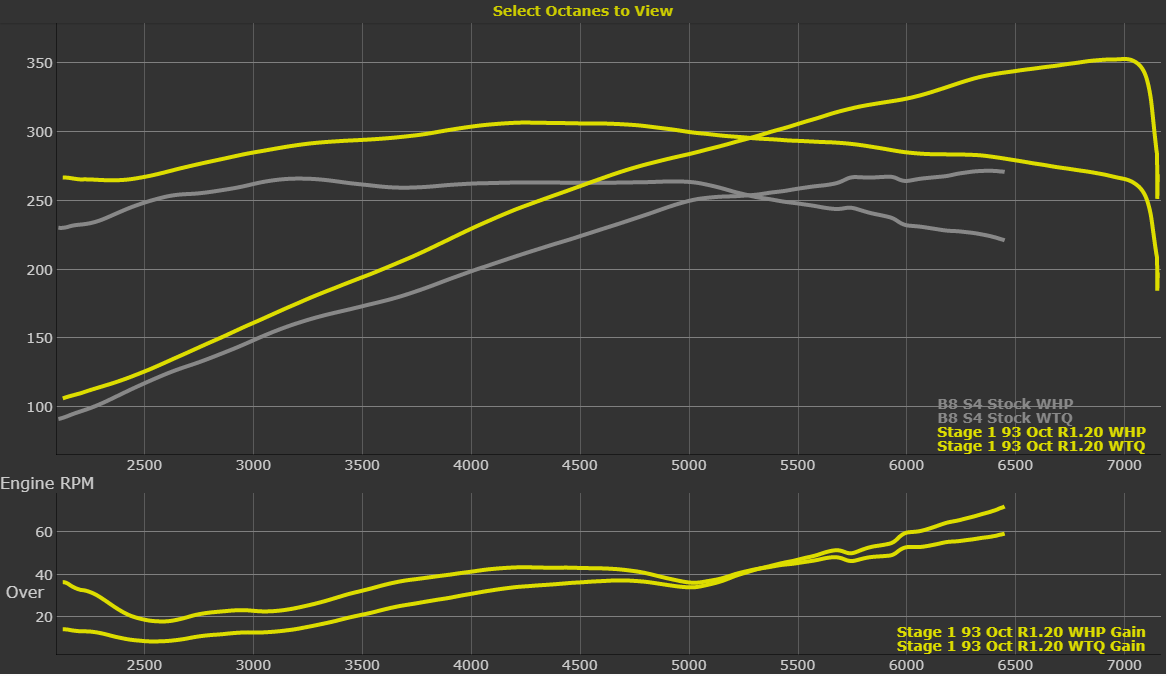 Beyond the sheer power increase, 034Motorsport's engineers made sure to improve overall driveability, taking time to refine throttle response in both Comfort and Dynamic driving modes. Power is only as good as it's delivery, and the precision throttle modulation available through the 034Motorsport Stage 1 3.0 TFSI Performance Software ensures the car will always behave in accordance with the inputs received from the accelerator. Left foot braking is also enabled, offering more control when on the track and further transforming the overall driving experience.
Next Step: Handling & Chassis Dynamics
It all began with the B8 Audi Billet Aluminum Transmission Mount Insert. 034Motorsport engineers developed this easy-to-install billet aluminum insert in an effort to limit drivetrain movement and reduce slop associated with the factory transmission mount. Once proven in effectiveness and durability, this single transmission mount insert led to a complete product line of billet aluminum mount inserts created to tighten up the chassis of Audi & Volkswagen vehicles without introducing any additional Noise, Vibration, or Harshness (NVH) into the cabin.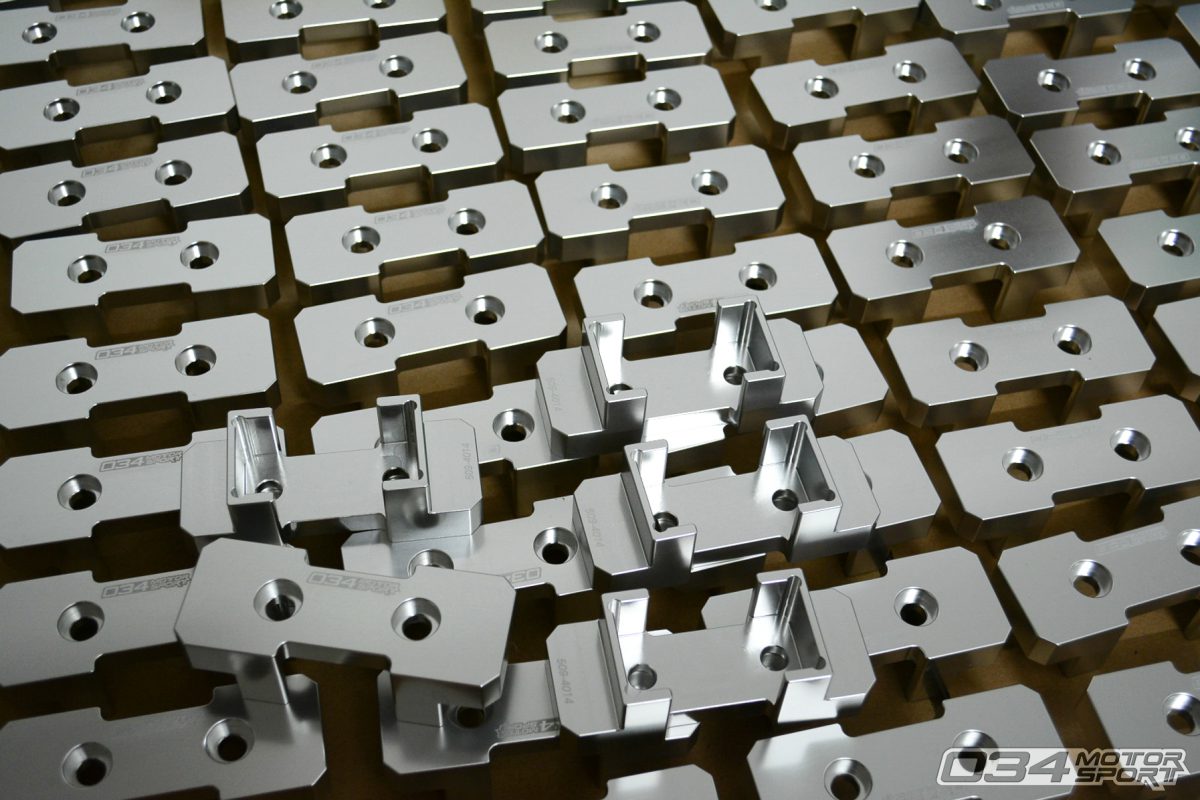 In the past, polyurethane and delrin were the popular materials for performance mounts looking to reduce movement under load. With the rubber removed in favor of these stiffer materials, the dampening properties were lost and as a result, so was comfort. Significant NVH was added to the cabin and made for rather loud and uncomfortable conditions to drive on the street, leaving only die-hard track enthusiasts happy.
Instead, 034Motorsport takes a different approach to locking down the drivetrain. By keeping the factory mounts and engineering specific inserts contoured to the OEM rubber, the dampening properties of the rubber mount remain, while the insert acts to limit movement and reduce deflection, effectively tightening up each component fitted with a 034Motorsport insert. The anodized, billet aluminum construction ensures lifetime durability, so the insert will always maintain the proper geometry and never pack out like polyurethane options.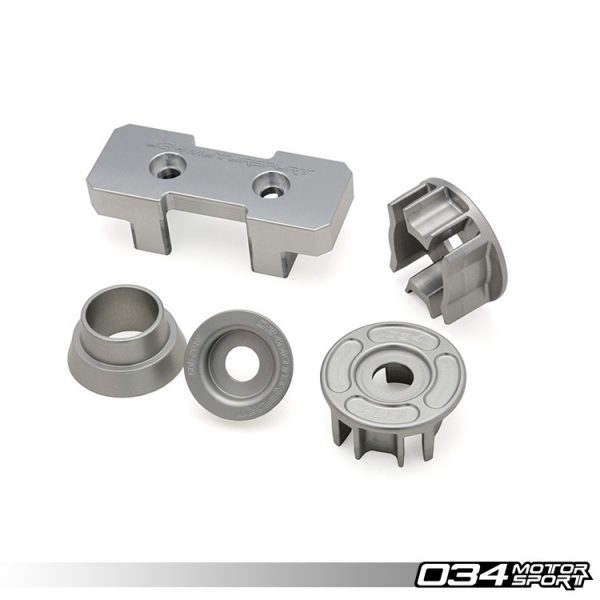 The 034Motorsport Drivetrain Insert Package includes 3 separate billet aluminum insert kits, locking down the transmission mount, rear differential mount, and rear differential carrier mount. This trifecta of drivetrain mounts ensures that you experience crisper shifts, harder launches, and an overall tighter feeling chassis than ever before.
With the engine hanging completely over the front axle, Audi Quattro cars have been carrying a lot of weight around up front since their debut in 1980. Over the past few decades, Audi has found ways to bring the engine closer to the firewall and reduce weight, however the core configuration of the motor in front of the axle hasn't changed, lending to understeer when the car is pushed to its limit. The B8/B8.5 S4 is no different. Even with the significantly improved Sport Differential in the rear working hard to maintain handling neutrality, these cars will push.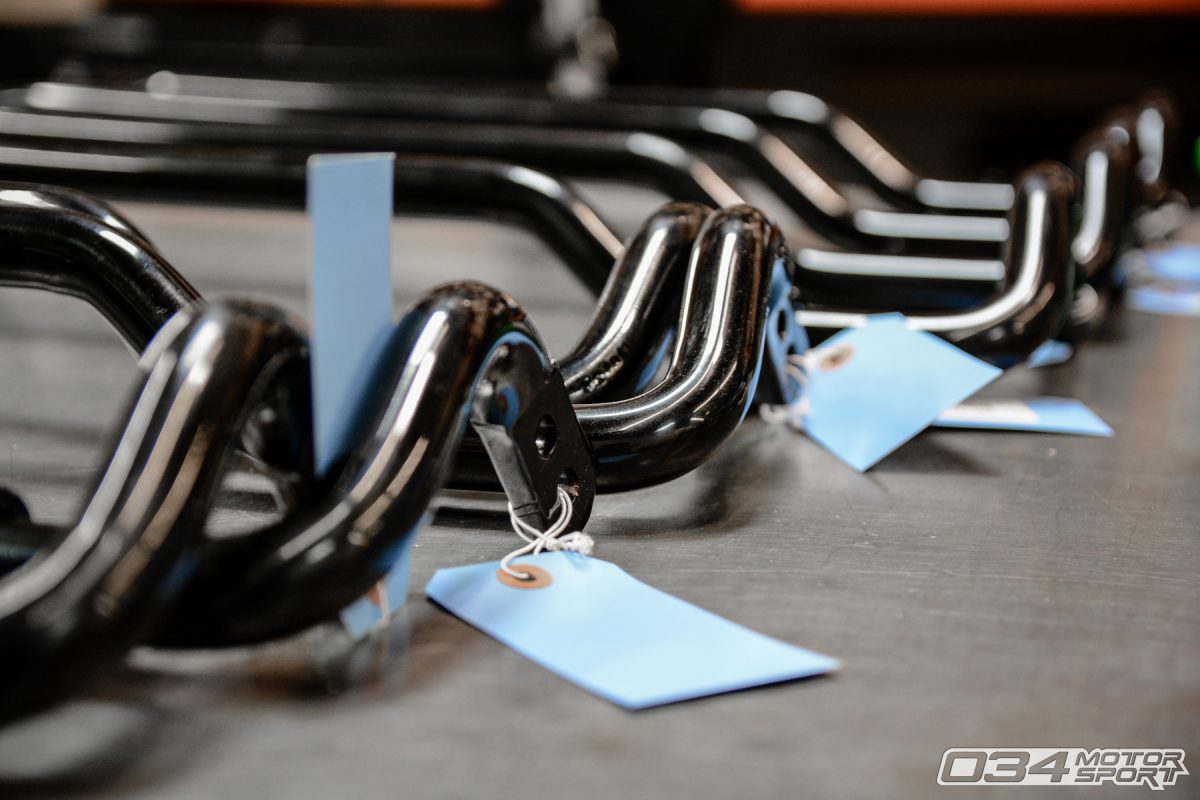 Whether you enjoy taking your S4 to the track for limit-testing conditions, or simply ripping down a twisty road or freeway on-ramp, an upgraded rear sway bar will make a world of difference. The 034Motorsport Adjustable Solid Rear Sway Bar was designed in conjunction with the factory front sway bar, meaning there's no need to purchase an expensive sway bar pair. Simply upgrading the rear bar will reward drivers with drastically reduced body roll and improved rotation (or oversteer), bringing the B8 chassis alive through the corners.  Constructed from a single piece of 25.4mm thick solid spring steel, the 034Motorsport Adjustable Rear Sway Bar is built to withstand a lifetime of abuse underneath the car, ensuring you stay on the road and enjoying the drive.
It's almost a shame the 034Motorsport B8/B8.5 X-Brace is perpetually hidden underneath the car, because it's hands down one of the most beautiful products machined from 034Motorsport. We typically recommend buying 2, so one can be installed on the car and another can be hung from the wall as an accent piece in your home. If 2 is a bit of a stretch for you, then simply installing one X-Brace under the car (for performance reasons of course) will suffice.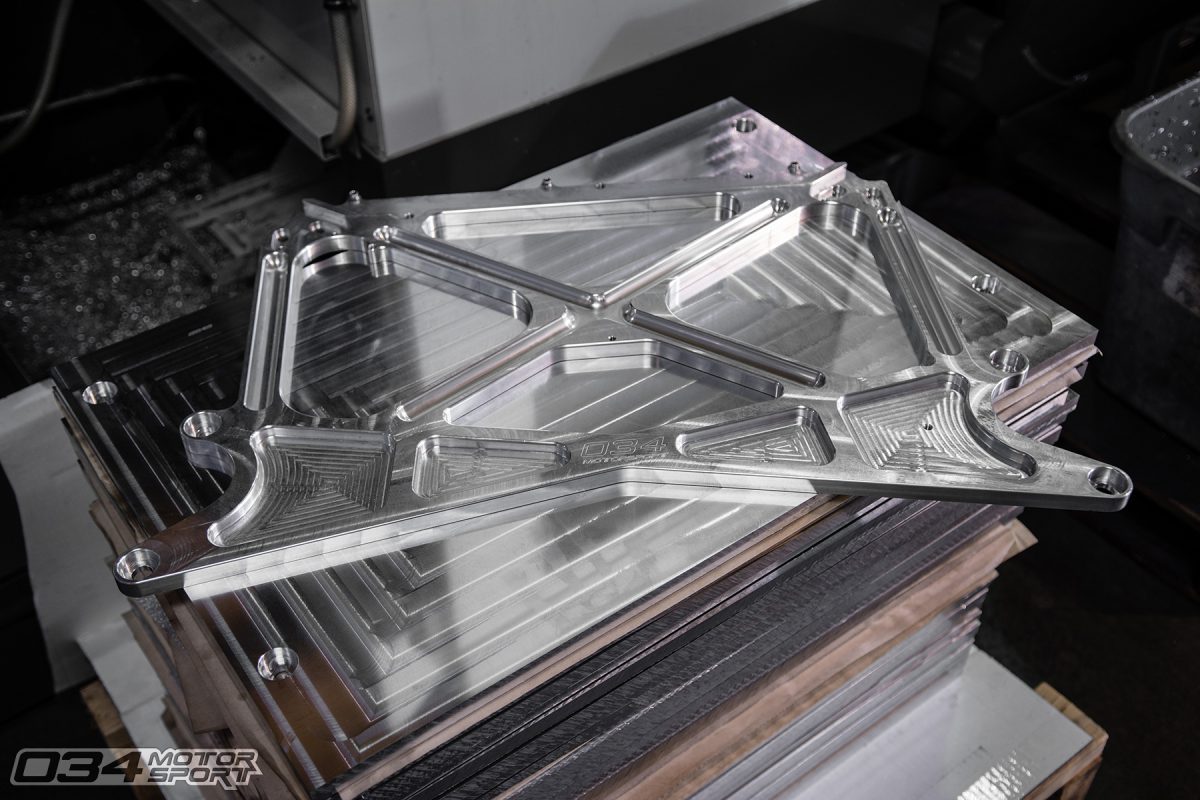 034Motorsport engineers designed the X-Brace from a solid piece of billet aluminum for maximum rigidity. Through testing on the street and track, they determined the factory stamped steel brace allowed for unwanted chassis flex, leading to a vague steering feel and incorrect suspension geometry when pushing the car to the limit. In an effort to keep weight down but strength at a maximum, the billet aluminum X-Brace only weighs 8.2 LBS, or a negligible 0.4 LBS more than the factory unit but packs a whole lot more strength. The result of this solid construction is improved steering feel, consistency, and precision with drastically improved torsional rigidity.
Many B8/B8.5 Audi S4 owners look to upgrade their suspension for both handling improvements and an overall more aggressive look to the car. Changing the suspension from Audi's heavily researched and optimized spring rates and dampening is no small feat however, and some aftermarket suspension "upgrades" can in fact ride worse than the factory equipment.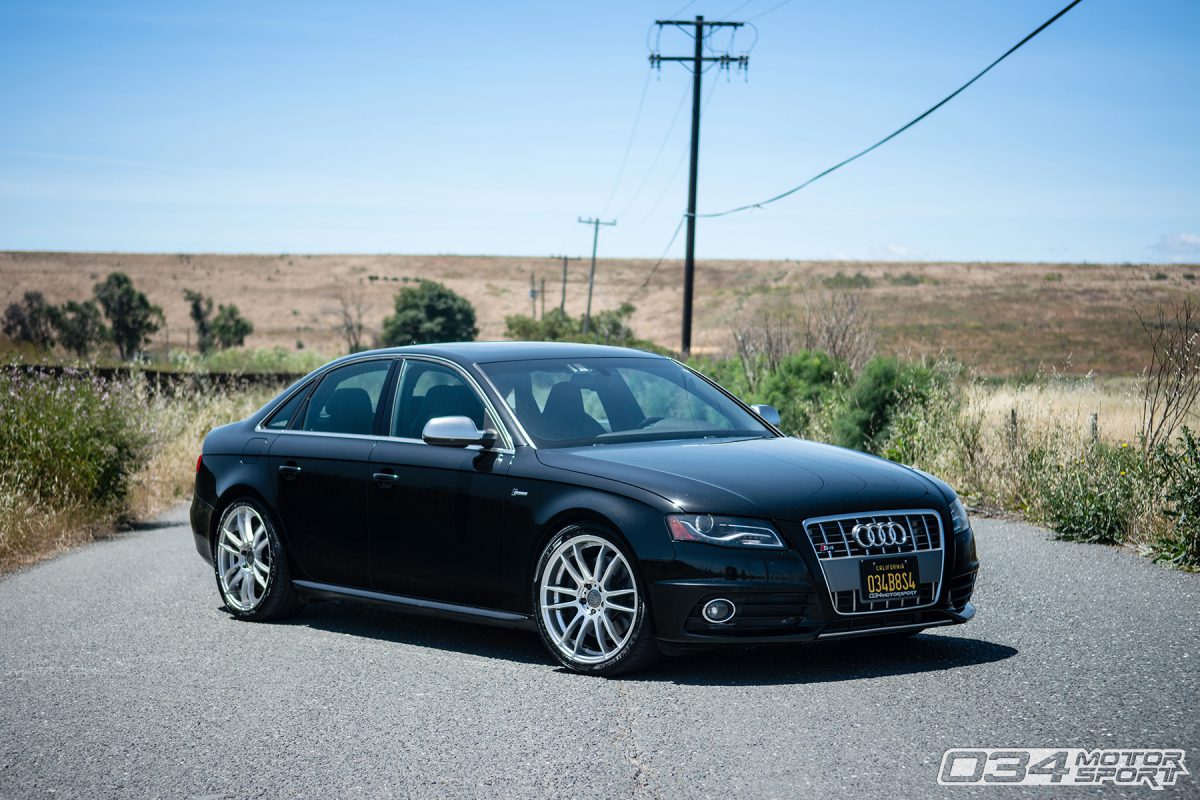 034Motorsport has been developing suspension components for over a decade, and is no stranger to improved handling dynamics. When our engineers set out to create a lowering spring kit for the B8/B8.5 S4, they had a very specific criteria to meet, and anything less would not be considered. The B8/B8.5 Audi S4 Dynamic+ Lowering Springs must improve handling, reduce understeer, offer OEM+ ride quality, and be compatible with Audi Adaptive Suspension. After careful calculations and thorough evaluation on the street and track with our B8 S4 Development Vehicle, the Dynamic+ Lowering Springs had excelled in every category.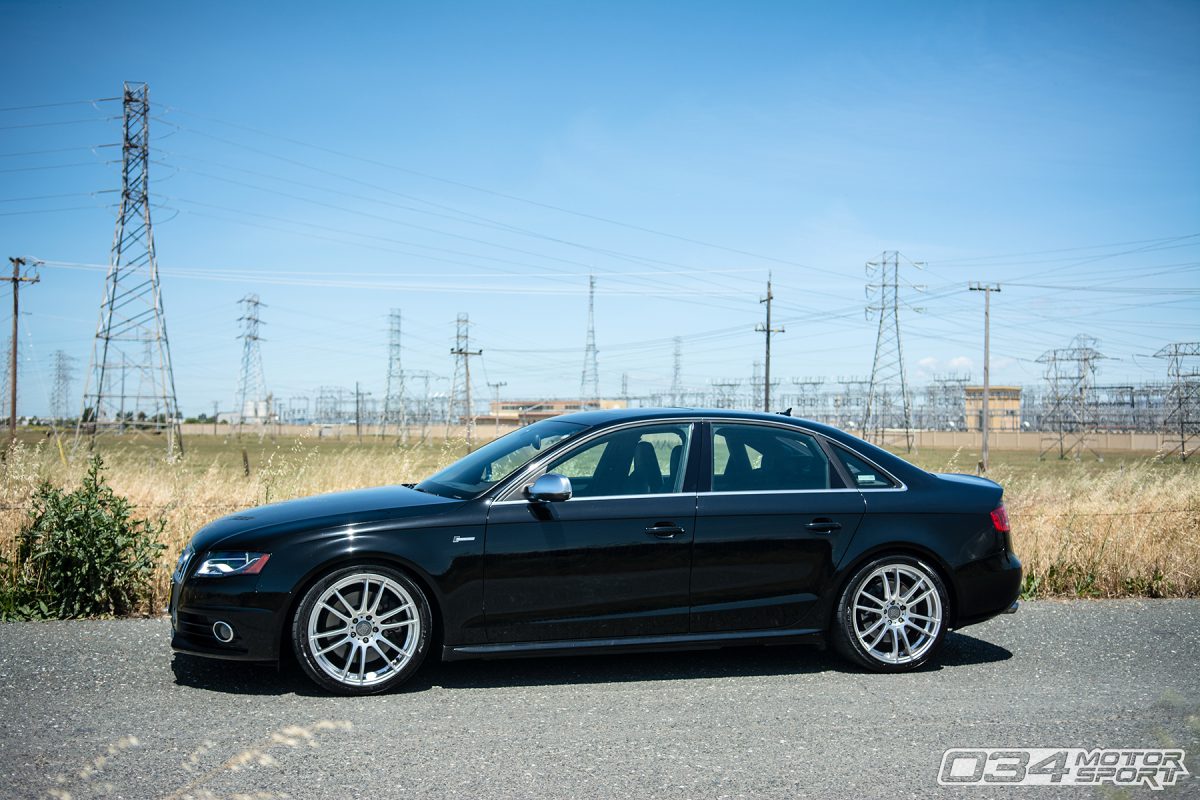 Dynamic+ Lowering Springs for Audi B8/B8.5 S4 feature a unique dual-rate spring design with effective rates of 370 lbs/in for the front, and 220 lbs/in rear. This delivers incredible compliance on the street while reducing body roll and understeer when testing the limits in the corners. Beyond the OEM+ ride quality and handling, the Dynamic+ Lowering Springs drop the car an even 1.0" lower in the front and rear for an aggressive yet functional look. Best of all, these springs are compatible with Audi Adaptive Suspension! Win - Win - Win.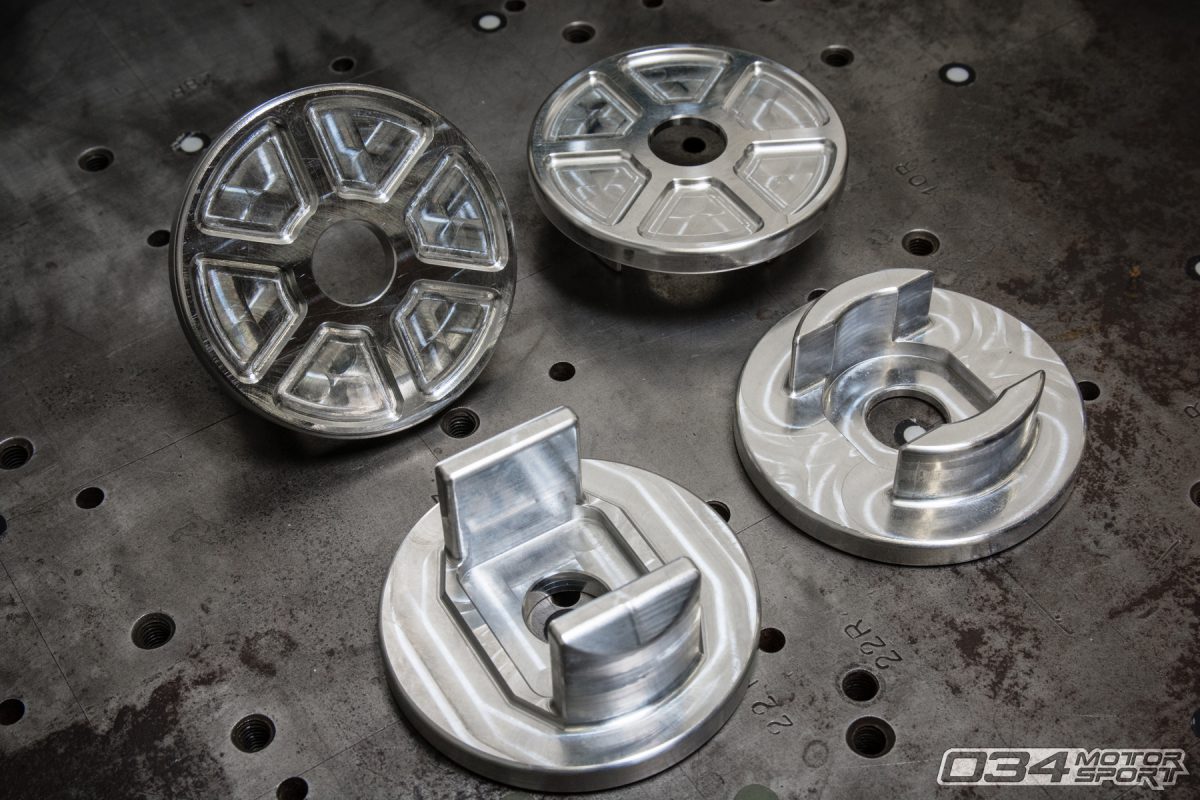 Following the success of the Billet Aluminum Drivetrain Insert Package, 034Motorsport engineers wanted to further tighten up the drivetrain and determined there was room for improvement in the factory rubber rear subframe bushings. The flex from the soft rubber bushings supporting the entire rear subframe led to incorrect suspension geometry and the plague of understeer, an Audi's worst nightmare. By precision-machining a billet aluminum insert for each rear subframe bushing, there is significantly less movement and shifting under load from the rear subframe. The result? Proper suspension geometry in all conditions, improved shifting feel and reduced drivetrain slop. The Rear Subframe Insert Package also makes for an excellent complementary upgrade to an upgraded Rear Sway Bar, increasing the effectiveness of the bar and removing any delay from transitional weight shifts.
Finally, More Power!
By following the upgrade path above, your B8/B8.5 S4 should be pulling strong and more importantly, handling like a neutral and well-balanced sports car! Enjoy the consistent response and improved road feel for some time, and once you find yourself itching for the next upgrade, look for adding a little extra punch to the 3.0 TFSI powerplant.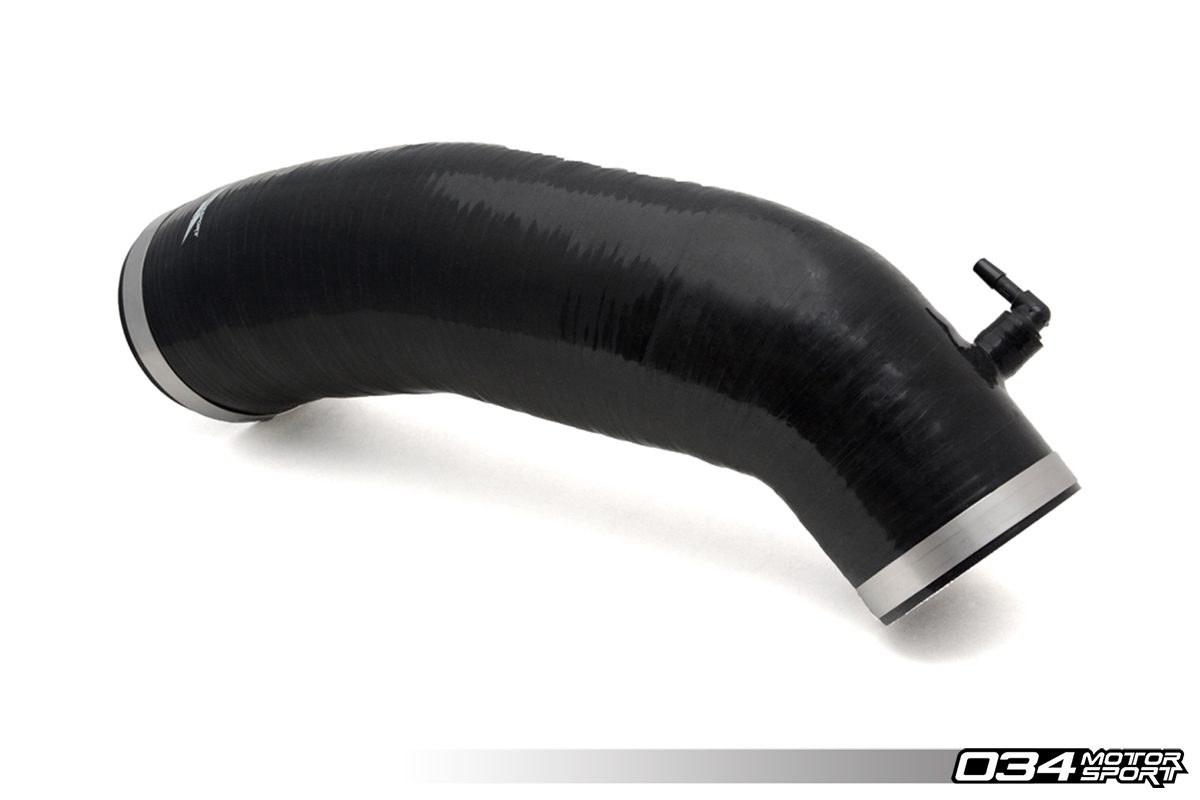 This High-Flow Throttle Body Inlet Hose was modeled directly from the factory inlet hose to ensure precise fitment on the B8/B8.5 Audi S4. By replacing the OE corrugated plastic inlet hose with a smooth silicone unit, you gain higher flow and less turbulent air in the intake tract. The larger internal area of the 034Motorsport Throttle Body Inlet Hose means when you're ready for Stage 2 power, the intake will not hinder the newly gained performance whatsoever.  As a bonus, the factory intake muffler is eliminated and more of the intoxicating supercharger whine can be heard for your audible pleasure!
Now, to squeeze a bit more from the factory Eaton TVS 1320 supercharger with the help of 034Motorsport's 3.0 TFSI Supercharger Pulley.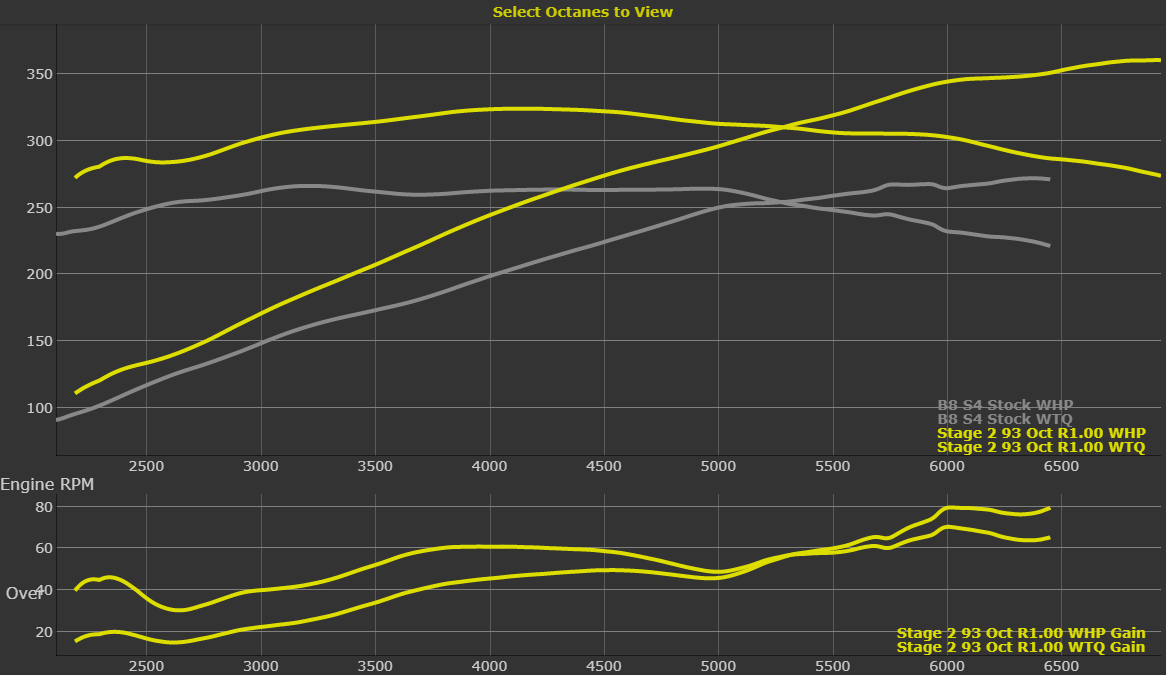 Featuring a 57.70mm diameter, the 034Motorsport Supercharger Pulley is significantly smaller than the factory unit, therefore increasing the drive ratio of the supercharger. 034Motorsport engineers developed the upgraded pulley to keep the Eaton supercharger within its maximum speed while offering increased boost pressure. A Stage 2 ECU Tune is required with the installation of the pulley, providing optimized timing and fueling maps and yielding significant gains across the powerband. With a 034Motorsport Stage 2 Performance ECU Tune and 034Motorsport 3.0 TFSI Pulley, peak power gains of 109 HP and 81 FT-LBS (on 93 Octane) are realized over the stock configuration.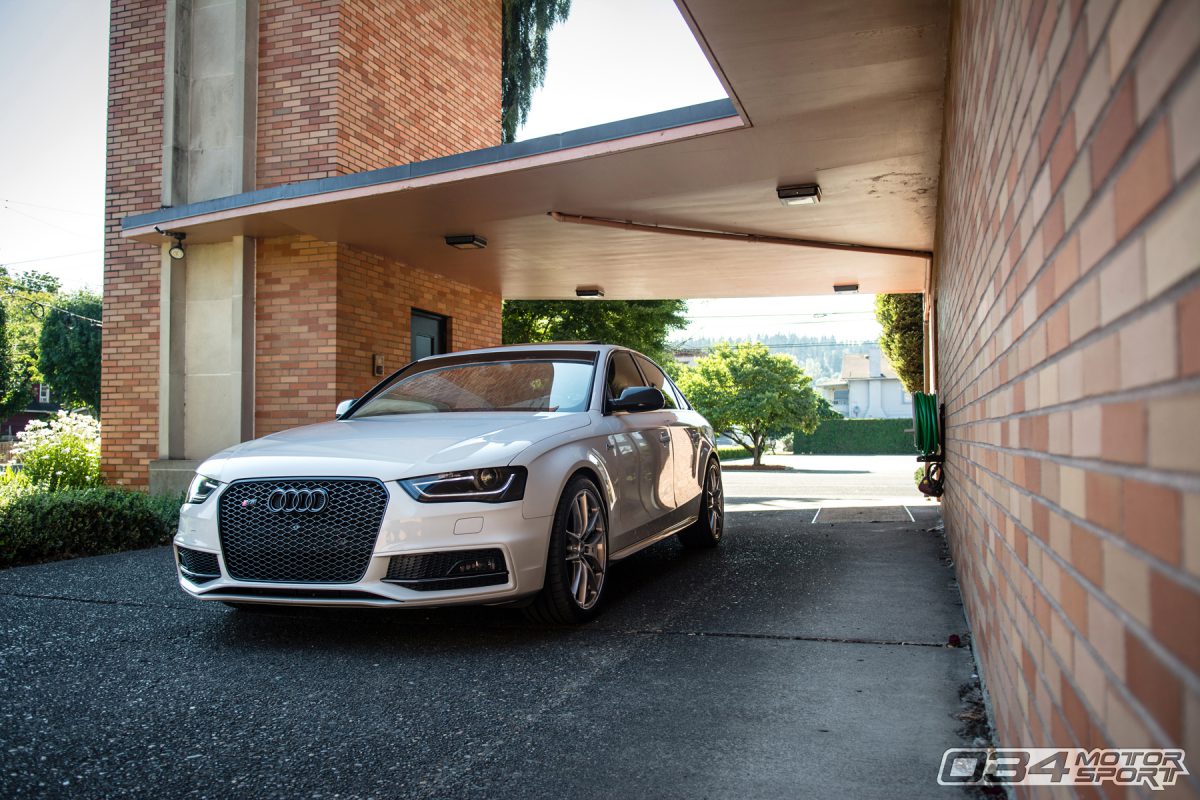 Now that it's been out for the better part of a decade (hard to believe right?), there is an endless number of products available for the B8/B8.5 Audi S4. It can be difficult knowing where to start, or which performance upgrades will suit your needs. Are you looking for a refined daily driver, or do you prefer a ballistic, razor-sharp track weapon? We manufacture products for both schools of thought, so be sure to check out our entire B8/B8.5 Audi S4 Catalog at 034Motorsport.
Click Here to Learn more about the 034Motorsport B8 Audi S4 Performance Development Vehicle