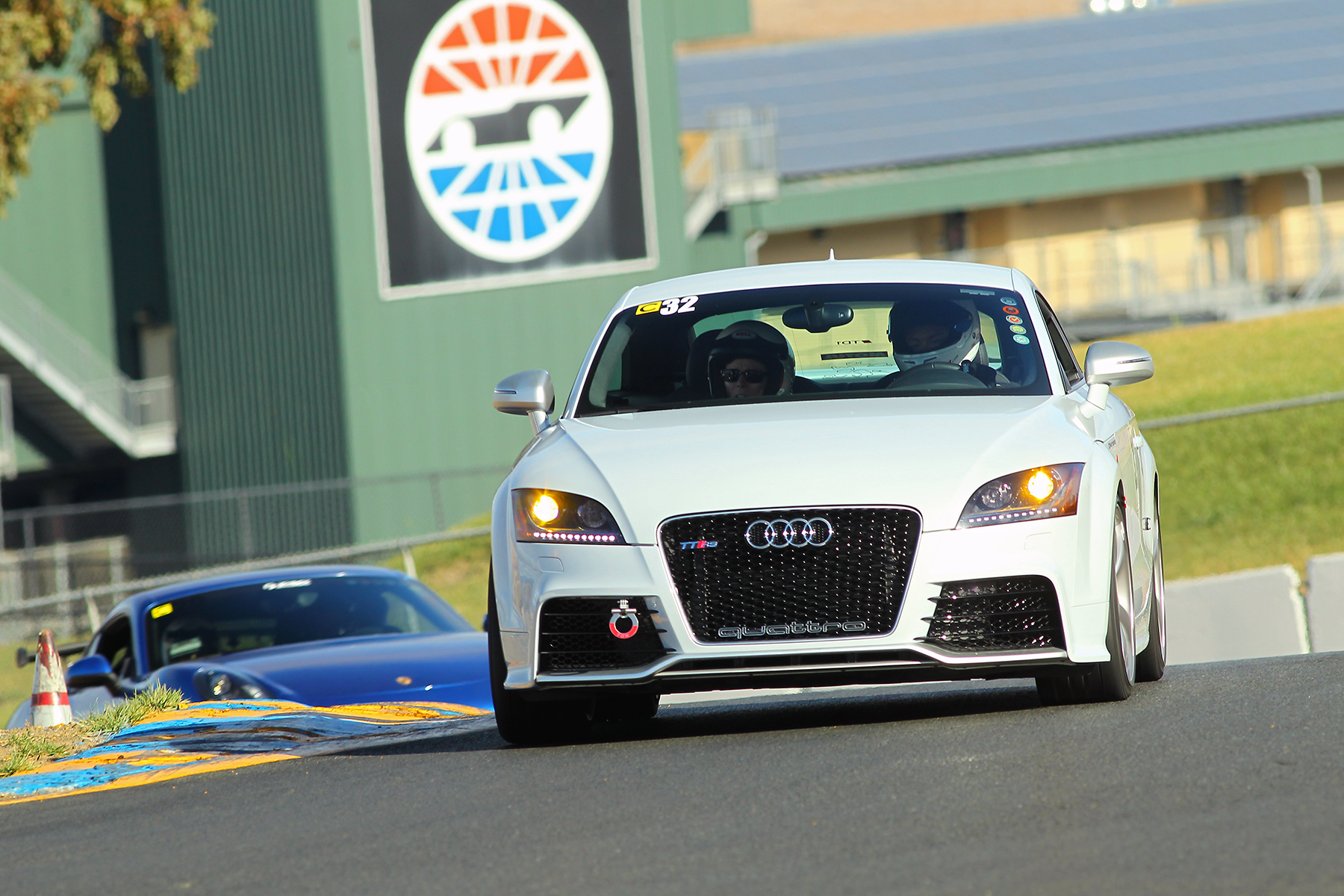 Troy is a longtime Audi enthusiast and member of the Board of Directors for Audi Club North America's Golden Gate Chapter, and he likes to go fast! Luckily his 034Motorsport Stage 2 Audi TT RS helps him do just that at local tracks, while maintaining a high level of refinement and reliability for everyday driving.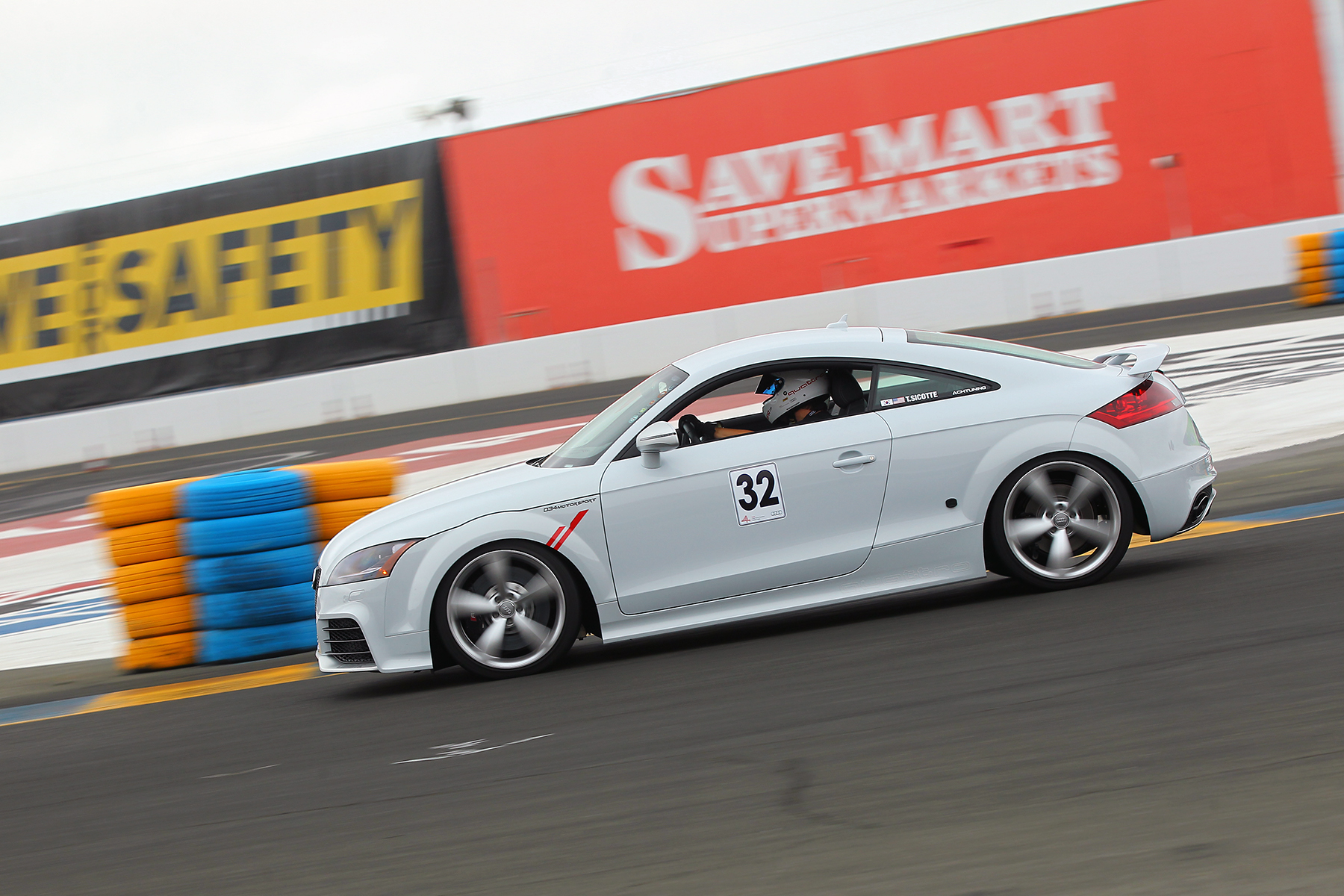 Stage 2 or Stage 2?
Troy's Suzuka Grey TT RS started out its modded life with an APR Stage 2 v2.1 ECU Upgrade and 034Motorsport Audi TT RS Downpipe & Midpipes, but Troy wasn't completely satisfied with its drivability and performance. Ability to smoothly modulate power delivery with the throttle was diminished after the APR tune, and the car struggled to deliver power consistently. Even after the addition of an upgraded front mount intercooler, power figures were lower than expected, and the throttle mapping issues lingered.
Earlier this year, Troy had the chance to experience our newly-released RS500 Audi TT RS Turbo Kit, and was very impressed with how smooth and consistent the power delivery was. His TT RS also went for a spin on our Mustang AWD Dynamometer, which allowed him to see what kind of numbers his APR-tuned car was putting down in comparison to equally-modified cars with 034Motorsport Stage 2 Performance Software. While Troy wasn't ready to commit to the hybrid turbocharger upgrade just yet, he was sold on the improved driving characteristics and safe power delivery of the 034Motorsport Stage 2 Audi TT RS Performance Software.
Troy made an appointment to switch tunes, and hasn't looked back since! His TT RS is putting down substantially more power on less boost, and throttle modulation is much smoother and more consistent than it ever was - even when compared to the factory tune. A back-to-back dyno comparison of the two tunes on Troy's car (without any hardware changes) is available below. By switching to 034Motorsport's Stage 2 Tune, Troy safely picked up an extra 20 horsepower and 15 foot pounds of torque at the wheels, on 3-4 PSI less boost.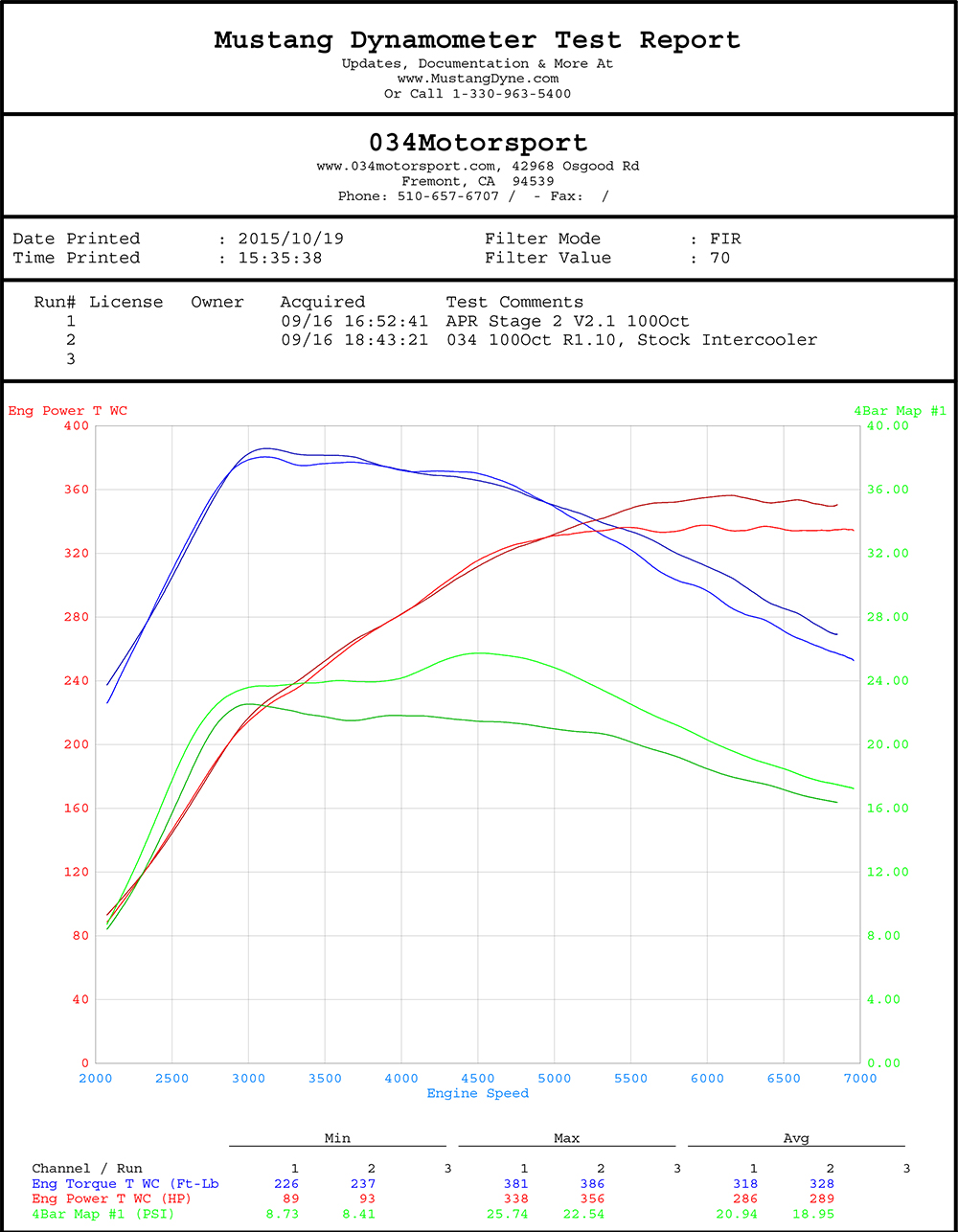 Troy was also one of the first people to receive the newly-released 034Motorsport Audi TT RS 2.5 TFSI Carbon Fiber Cold Air Intake System a few weeks ago, which means his car is now making even more power than shown in the above dyno.
Track-Friendly Upgrades
Since Troy frequently takes his TT RS out on track, it needed more than just extra power to deliver the performance he wanted. A set of Cobalt XR-2 Front Brake Pads were installed along with a Cantrell Motorsports Front Brake Duct Kit to cope with the rigors and high temperatures of track driving. The factory brake dust shields were also removed.
Troy also fitted an MSS Kits Sport Adjustable Spring Kit onto the factory MagRide dampers to improve handling dynamics and reduce body roll, without negatively affecting ride quality. Finally, a 034Motorsport Dobgone Mount Bushing Pair was installed into the factory subframe to reduce unwanted drivetrain movement and allow for crisper shifts and more direct throttle inputs. After a proper alignment, Troy's TT RS was ready to hit the track, and has performed flawlessly since.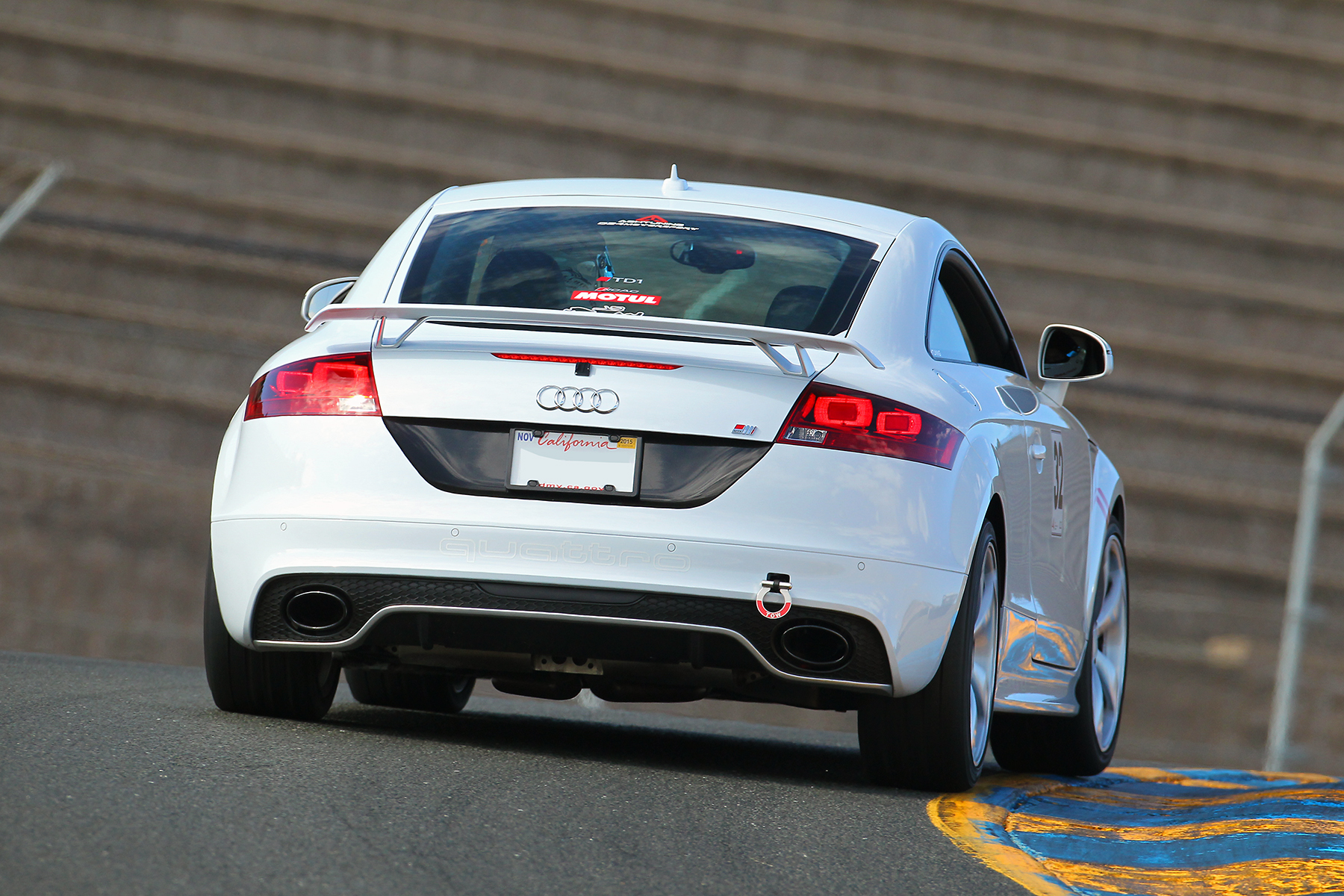 More to Come...
While his TT RS is already plenty fast around the track, Troy already has more upgrades planned for the future. He plans to start the next round of modding with a set of dedicated track wheels and tires, as well as some improvements to the factory suspension and brakes. Of course, a 034Motorsport RS500 Turbo Kit rounds out the list, as Troy's TT RS made some new friends at Sonoma Raceway a few weeks ago, and wants to be able to keep up!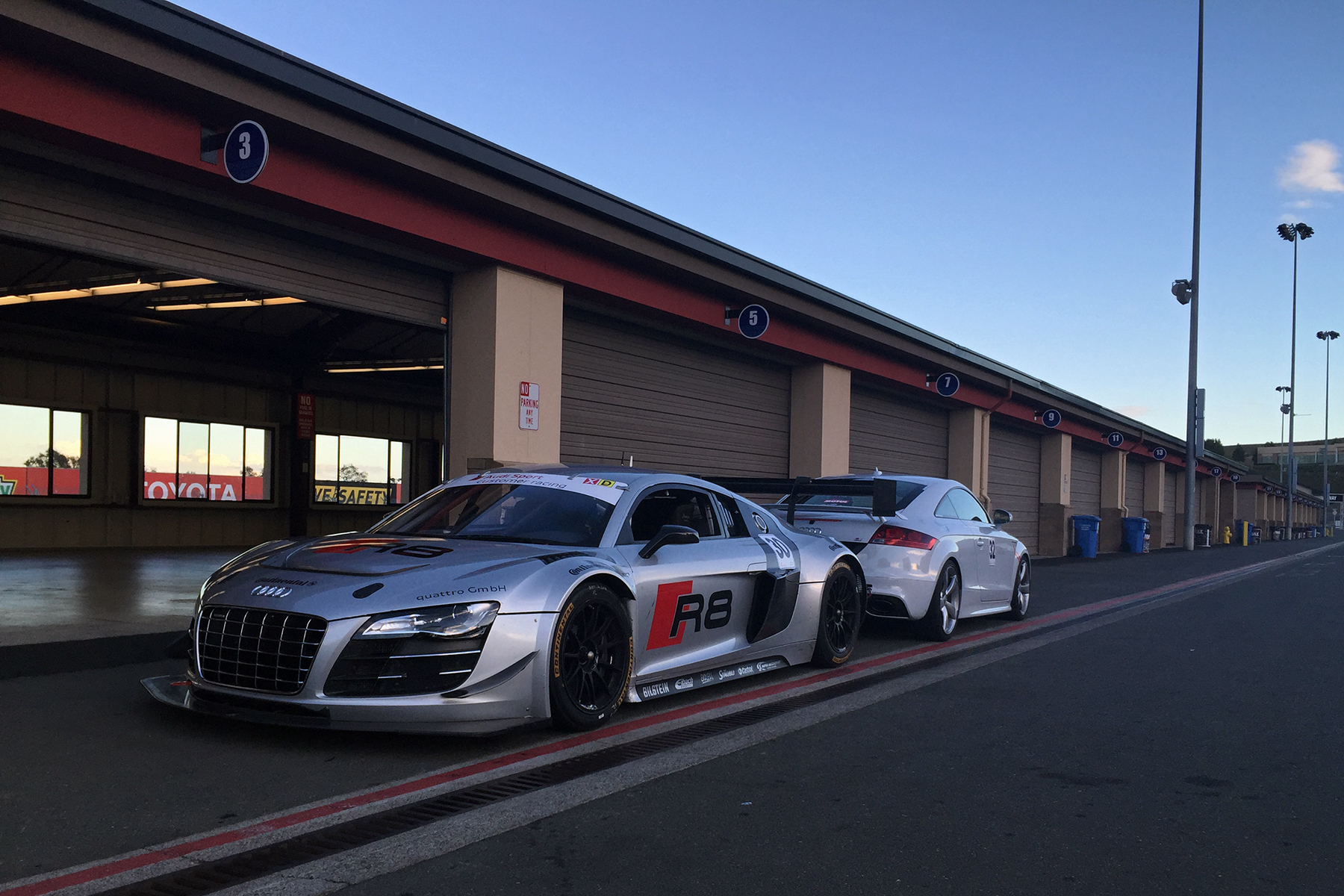 Want to learn more about Troy's project? Learn more about how he first got into the Audi scene, and what his favorite mods are on his TT RS in the brief Q&A below!
Why did you decide to purchase a TT RS?
"I've been an Audi loyalist since my first one, a 1984 Coupe GT (a narrow body, non-quattro, ur-quattro coupe). That car had a 2.2liter 5-cyl, and I fell in love with the 12453 firing order and resulting exhaust warble, and overall quality of the marque. After that vintage Audi, I moved up to a 2008 A3 3.2q VR6 that was highly track prepped, then added a 2002 6MT allroad that had a few go fast bits by 034 and APR.
Back in 2012, I was in the process of putting in a custom order for a new TT-RS, but got cold feet on the price-point for a weekend track car, and instead bought a low mile 2007 BMW Z4 M-coupe, a car I always admired from afar. That car taught me a lot about driving dynamics, being RWD, and a pure sporstcar experience with little to no electronic nannies and an amazing 6MT and 8200 rpm redline.
But, I missed quattro and the overall satisfaction I got from Audis. I also kept on reading about how the TT-RS was a great track car, and reacted to mods with amazing results. In November 2013, while travelling for work in Detroit, I was searching a well-known online car website and came across a CPO TT-RS the exact way I had my order in back in 2012: Suzuka Grey, Alu Optics, Alcantara interior, Tech and Sport Exhaust. The car also only had 450 miles. Within 24 hrs, I had sold my Z4M coupe for top dollar, and put a deposit via phone, site unseen, on the TT-RS. I was obviously convinced it was meant to be!"
What do you use the car for? (Commuting, Track Days, Professional Getaway Driving, Formula D, etc.)
"This car isn't my daily driver (that's a 034 modded B8.5 allroad), and is primarily used for HPDE track weekends with Audi Club and Hooked on Driving, with the occasional Sunday drive or show and shine event. In fact, it got 1st place in it's class at Monterey Car Week's 'Legends of the Autobahn' this past summer."
What are your favorite upgrades so far, and why?
"I must say, outside of the 034 ECU tune, the 034 Catless Downpipe and Midpipes make such a huge difference to the car, both performance and sound. It's like the beast is just unleashed, and I love how the turbo spools with a sound reminiscent a big turbo diesel truck. Onlookers usually look after hearing the car at part throttle, and get a confused look on their face at the small sports car in view instead of truck. The exhaust system is hilariously loud, thanks to (or is that in no thanks to?) the Borla Cat Back system."
Do you have any future plans for the TT RS?
"Overall, I want to continue to hone my skills with the car, while making careful mods since that's half the fun for me. I'm more than happy with the power, and just need to learn to use as much of it as possible on the track. So the future mods will be directed at harnessing the power better with chassis improvements, vs making it faster in a straight line."
Troy's Stage 2 Audi TT RS | Featured Upgrades
MSS Kits Sport Adjustable Springs
034Motorsport 2.5 TFSI Catless Downpipe
034Motorsport Secondary Cat-Delete Midpipes
Borla Atak Cat-Back Exhaust
Cobalt XR2 Front Brake Pads
Removed Brake Dust Shields
Cantrell Motorsports Front Brake Ducting Kit
Troy's Upgrade Wishlist (In Planned Order)
Track Wheel & Tire Setup - 275/40R18 Nitto NT01 Tires on 18x9 Motorsport Wheels
Girodisc Front & Rear Motorsport Rotors
Raeder Motorsport Rear Spoiler