034Motorsport 8J Audi TT RS RS500 Development Vehicle
034Motorsport 8J Audi TT RS Performance Development Vehicle
034Motorsport has a great deal of history with tuning turbocharged Audi 5-cylinder engines. Javad Shadzi (034Motorsport's Founder & President) created 034EFI in the early 2000s to provide standalone engine management solutions for fellow I5 enthusiasts. His own project, 80tq, was powered by this new ECU, and went on to be one of the most followed builds of its kind.With 034Motorsport's Audi I5 roots, Javad was thrilled to hear of the TT RS coming to North America, and picked up this Phantom Black example in October of 2011. Since then, Javad's car has served as the test bed for countless 034Motorsport Audi TT RS Performance Parts & Upgrades, including the Carbon Fiber X34 TT RS Intake System and RS500 Audi TT RS Turbo Kit.
Taking the Capable 2.5 TFSI To OEM+ Power Levels
The RS500 turbo kit was designed for the track day enthusiast who desires an improved usable powerband without sacrificing daily-driver reliability. Providing significant increases in horsepower and torque past 5,000 RPM without sacrificing low-end power, the RS500 Tuning Package shines on the street track where the factory turbocharger can't keep up. Consisting of an OEM+ turbocharger upgrade, higher-flow high-pressure fuel pump, and 034Motorsport's proprietary Audi TT RS Performance Software, the RS500 Tuning Package is the elegant, reliable solution for breathtaking performance on the street or track, at an excellent price point.
Aside from being the 034Motorsport development platform, Javad's RS serves as a dual-purpose commuter and weekend toy for Audi Club North America track days, making it the perfect candidate for the RS500 Audi TT RS Turbo Kit & Performance Package. Since RS500 utilizes a hybrid turbo, there was no modification needed to install it with the existing 034Motorsport High-Flow Audi TT RS Downpipe & Midipes, and 
Wagner EVO 3 Audi TT RS Front-Mount Intercooler Upgrade
 that were already on the car.
Javad's TT RS was dialed in on 100 octane fuel by 034Motorsport's ECU Calibrator on a Mustang AWD dyno, which recorded impressive gains in horsepower and torque versus stock. With the 100 octane file, the 034Motorsport RS500 Turbo Kit put down over 430 horsepower through all four wheels! Additional optimizations were made to the drive-by-wire throttle mapping and boost control strategies to improve throttle response, modulation, and consistency. Finally, Javad's TT RS was thoroughly tested on the street and logged to ensure everything was running optimally, and that the RS500 Audi TT RS Turbo Kit was performing as desired.
 The Search for More Power - Continued
Not long after 034Motorsport released the RS500 Turbo Kit, a true, performance-oriented cold air intake system was released in the form of the Carbon Fiber Audi TT RS X34 Cold Air Intake System. Our engineers spent extensive effort developing this intake system to yield horsepower and torque increases on the 2.5 TFSI. During the development process, many iterations were designed, prototyped, and tested, ultimately resulting in this beautifully-manufactured Carbon Fiber Cold Air Intake System.
Preliminary testing on our Audi TT RS for the 2013 European Car Magazine Tuner Grand Prix proved definitive improvements when replacing the factory airbox and intake tube on a big turbo configuration. While it was only a preliminary test with a "dyno queen" style setup, this data helped us shape the design strategy for our production Audi TT RS Cold Air Intake System to come.
The 2.5 TFSI engine utilizes speed-density engine control, which meant that the 034Motorsport Audi TT RS Cold Air Intake System's design would not be limited by a MAF sensor. 034Motorsport's goal was to provide as much volume, cross-sectional area, and flow as possible from the filter all the way to the compressor inlet. Since Audi engineers spend a great deal of time optimizing their components, we thoroughly analyzed the factory airbox design, and took care to not reinvent the wheel in our engineering approach. This mindset helped ensure meaningful improvements resulting from calculated decisions, and ultimately led to this elegant, OEM+ air intake system. In the case of the Audi TT RS, the configuration of the factory lower airbox proved to be ideal, with its forward and side air inlets and secure mounting in the engine bay. The airbox outlet to turbocharger inlet tubing and flex sections, however, were disruptive to flow and a restriction even on stock turbo vehicles.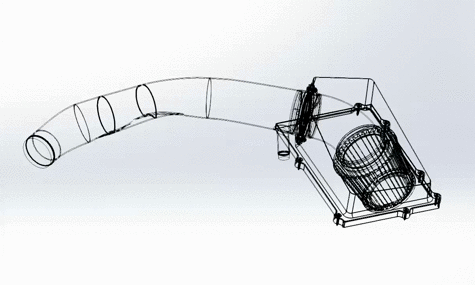 034Motorsport engineers first created a CFD-optimized carbon fiber intake tube, which is a direct, high-performance replacement for the plastic factory accordion hose. Using CAD software and 3D scanning technology, 034Motorsport was able to maximize the cross-sectional area of the intake tube while being mindful of space constraints, including the factory high-pressure fuel pump and firewall. The resulting part is a functional work of art - maximizing performance given the factory space constraints and featuring smooth transitions that ensure optimal airflow to the turbo inlet.
Once the design was finished, the desired aesthetic was carefully selected with a carbon fiber weave on the intake tube and upper airbox heat shield to match the factory carbon fiber engine trim found in the Audi TT RS's 2.5 TFSI engine bay. The 034Motorsport Audi TT RS Cold Air Intake System was designed to fit like a factory part, and mates directly to the turbo inlet pipe and factory lower airbox to provide an OEM+ look. 034Motorsport's engineering and development efforts were validated on multiple vehicles using our Mustang AWD Dynamometer to ensure that the 034Motorsport Audi TT RS Cold Air Intake System provided substantial increases in horsepower and torque on both stock turbo vehicles and ones with upgraded turbo kits alike.
Peak Wheel Horsepower & Torque with Stage 2:
Stock Intake: 377 WHP / 421 WTQ
X34 Cold Air Intake: 390 WHP / 429 WTQ
Peak Wheel Horsepower & Torque with Stage 3:
Stock Intake: 460 WHP / 424 WTQ
X34 Cold Air Intake: 491 WHP / 443 WTQ
Chassis & Suspension Development
 In an effort to create a well-rounded and comprehensive OEM+ car, 034Motorsport engineers set out to improve the nimble 8J TT RS platform. While the TT RS is a capable car direct from the factory, the idea was to better balance the car and carefully refine the handling characteristics for a better overall driving experience through a collection of bolt-on performance upgrades.
One of the biggest improvements we identified for the 8J TT RS chassis was installing an upgraded rear sway bar. The factory suspension set up likes to push the front end and understeer when at the limit. This makes for a lazy feeling front end, and doesn't allow the car to rotate as well as it should through the corners. Through testing in various street and track scenarios, 034Motorsport engineers calculated a 22.25mm diameter solid sprung steel sway bar to offer the perfect amount of rotation and body roll reduction at the limit while still offering a comfortable ride on the street. The 034Motorsport Adjustable Solid Rear Sway Bar features two different settings to dial in the handling characteristics based on your driving style, and offers an increased sway bar rate of a whopping 362% and 423% respectively over the factory rear sway bar!
To complement the upgraded Solid Rear Sway Bar, Adjustable Front and Rear Sway Bar End Links were installed for further improved handling, road feel, and steering response. The motorsport-grade Aurora spherical bearings with threaded heim joints remove any deflection that can occur from rubber bushings, and allow for the ability to remove sway bar preload and corner balance the car. To tighten up the 8J TT RS chassis further and maintain proper suspension geometry under load, Track Density Front Strut Mounts were installed featuring 75 Durometer rubber (50% stiffer than stock) and fully vulcanized to the center cups for additional strength.
034Motorsport understands there can be 2 different types of TT RS owners; Those who want an incredibly fun street car with occasional track time, and those who want every last drop of performance squeezed from the chassis for a no-compromise track weapon. Like any good partner should in a relationship, we patiently listened. For the daily-driven street cars, we developed a Billet Aluminum Dogbone Mount Insert for the factory bushing, and Street Density Motor/Transmission Mount Pair specifically for the 6-Speed 2.5 TFSI TT RS. Alternatively, our engineers developed true motorsport-grade drivetrain mounts offering a robust, no-compromise solution for the track. Our Billet Aluminum Motorsport Engine and Transmission Mount and Billet Aluminum Dogbone Mount remove virtually any engine movement under load and offer improved shifting feel with more direct power transfer.
Once the front end of the car was locked down, attention was turned to the rear to ensure the same characteristics of reduced drivetrain slop and increased suspension accuracy could be had. Rear Subframe Mount Inserts were added to improve responsiveness from the rear differential, and Spherical Rear Trailing Arms along with Adjustable Rear Upper Control Arms were installed to eliminate deflection from the rear suspension during hard cornering. The result is a tight, nimble, and responsive car with neutral handling characteristics and an overall improved driving feel.
The Ultimate OEM+ Audi TT RS
With the combination of 034Motorsport's RS500 Turbo Kit and Carbon Fiber Audi TT RS X34 Intake System, Javad's capable 2.5 TFSI engine had been woken up to new levels of driving pleasure. Once behind the wheel, the audible turbo noises from the free-flowing intake paired with Audi's legendary 5-cylinder engine note singing to redline from the RS500 Turbo Kit make for a borderline existential experience. Live life to the fullest, rev it out to 7,100 RPM, grab the next gear, do it all over again. It's better than any drug on the market, and the lasting grin you'll have on your face from ear-to-ear will hint to everybody else that they're missing out on something seriously good.
2012 Audi TT RS | Hardware & Software Upgrades
Engine & Transmission
Chassis & Drivetrain
Suspension
Brakes
2012 Audi TT RS | Events, Media, Press
Events
2013 European Car Tuner Grand Prix (Streets of Willow)
Drivers
Gary Sheehan
Javad Shadzi
Build Partners
034Motorsport
LOBA Motorsport
Wagner Tuning