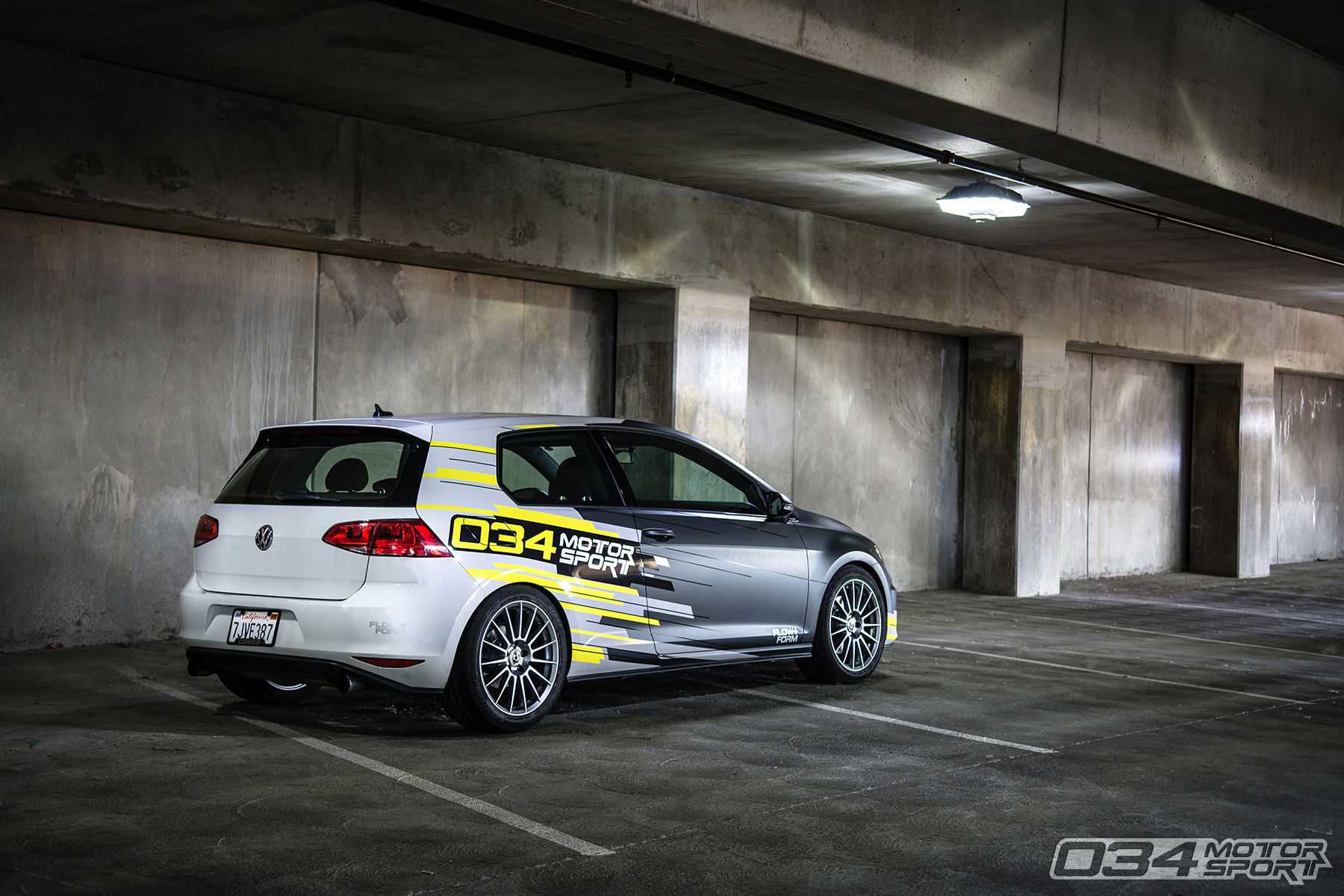 The seventh generation of the Volkswagen GTI marks over forty years of hot hatch debauchery. Volkswagen practically wrote the book on what a "hot hatch" should be, and gave it to the masses for driving enthusiasts across the world to modify and enjoy. Like any model's evolution, the Golf GTI has grown up with each new chassis in size, comfort, and most importantly, power! The MkVII Volkswagen GTI features the 3rd iteration of Volkswagen's EA888 2.0L turbocharged motor, and boy is it a potent one.
Fitted with the IS20 turbo from the factory, a MkVII Volkswagen GTI produces 231 HP and 271 FT-LBS, which is nothing to scoff at when the entire car weighs right around 3,000 lbs. As you'd expect for a GTI however, the aftermarket options for this specific car are abundant, and it can be difficult to navigate which mods are worthwhile and which are more akin to snake oil.
Lucky for you, 034Motorsport has been making world-class performance upgrades for Volkswagens for over a decade, and we know a thing or two when it comes to improving your car. So come along as we explore the top ten modifications for the MkVII Volkswagen GTI!
As Jeremy Clarkson Would Say: "POWER!"
There's no doubt that the IS20 breathes substantial life into the 2.0 liter, four cylinder motor fitted to the MkVII GTI. It feels peppy around town, and is happy to jump into boost rather quickly and pull with the typical turbo fervor. That being said, these modern forced induction motors come fairly detuned from the factory and respond incredibly well to recalibrated ECU programs.
The 034Motorsport Stage 1 Tune for EA888 Gen 3 2.0T was engineered to increase horsepower and torque with no additional upgrades required. This means, you can simply drive your MkVII GTI right off the dealer lot and straight over to 034Motorsport for an almost instant bump in power. 034Motorsport's proprietary calibrations increase boost while optimizing timing and fueling maps to safely increase power throughout the entire powerband to the revised 7,100 RPM redline. This results in peak gains of 69 HP and 66 FT-LBS under the curve.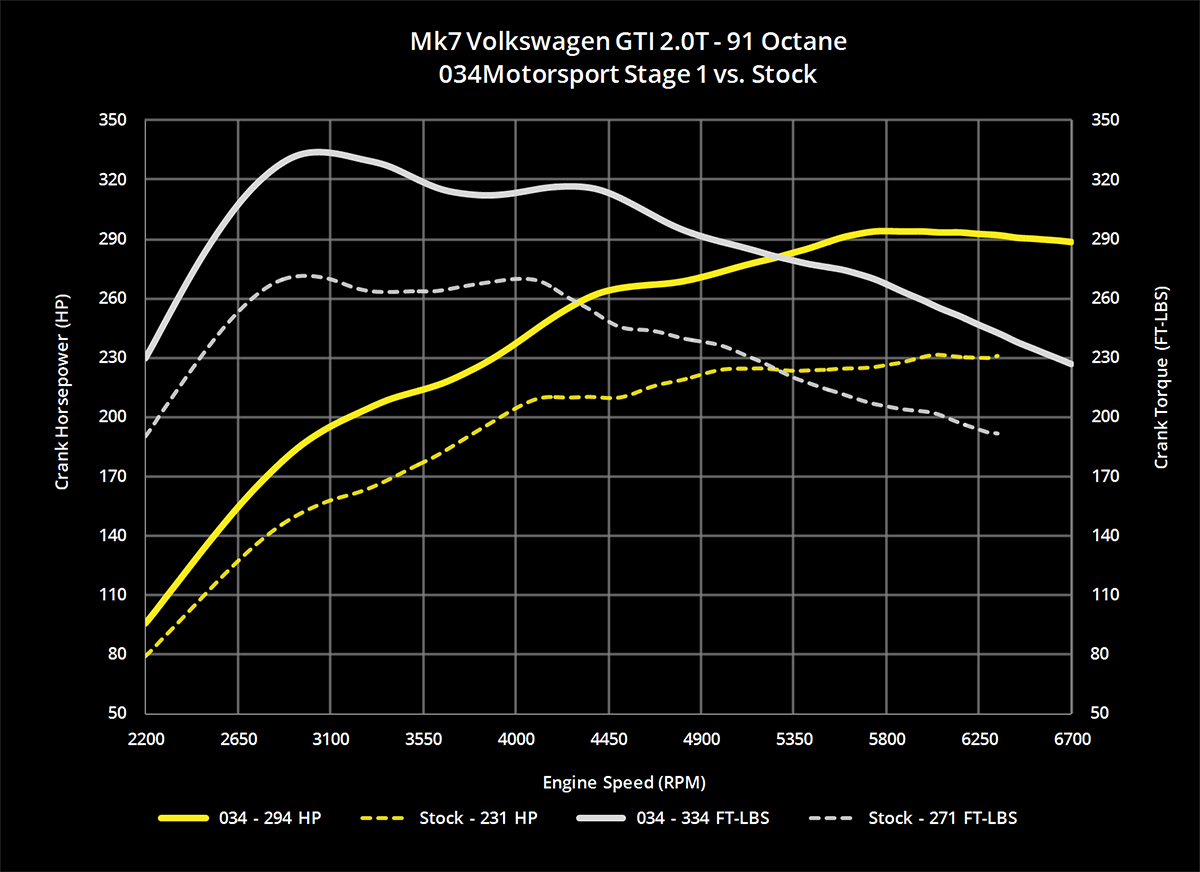 Beyond the power gains from a 034Motorsport Stage 1 Tune however, our Software Engineers took the time to refine throttle response for greater precision and improved driving characteristics. Part-throttle modulation is improved, leading to more control when driving at the limit on track. Overall, the 034Motorsport Stage 1 Performance ECU Tune will "wake up" the car and offer OEM+ power delivery and reliability.
Handle it!
The Billet Aluminum Dogbone Mount Insert is truly a "Must-Have" upgrade for any MkVII Volkswagen GTI owner. At a price point of only $45, it's likely the cheapest, yet highest quality upgrade you will ever buy for your car.
Following the success of the billet aluminum drivetrain inserts for Audi models such as the 034Motorsport B8/B8.5 Audi Transmission Mount Insert, the engineers determined the dogbone configuration on the newer MQB Volkswagen and Audi cars would greatly benefit from a similar product. Using CAD software, the MQB Dogbone Mount Insert was designed to work in unison with the factory rubber mount and refined to provide noticeable slop reduction without introducing additional noise, vibration, or harshness (NVH) into the cabin.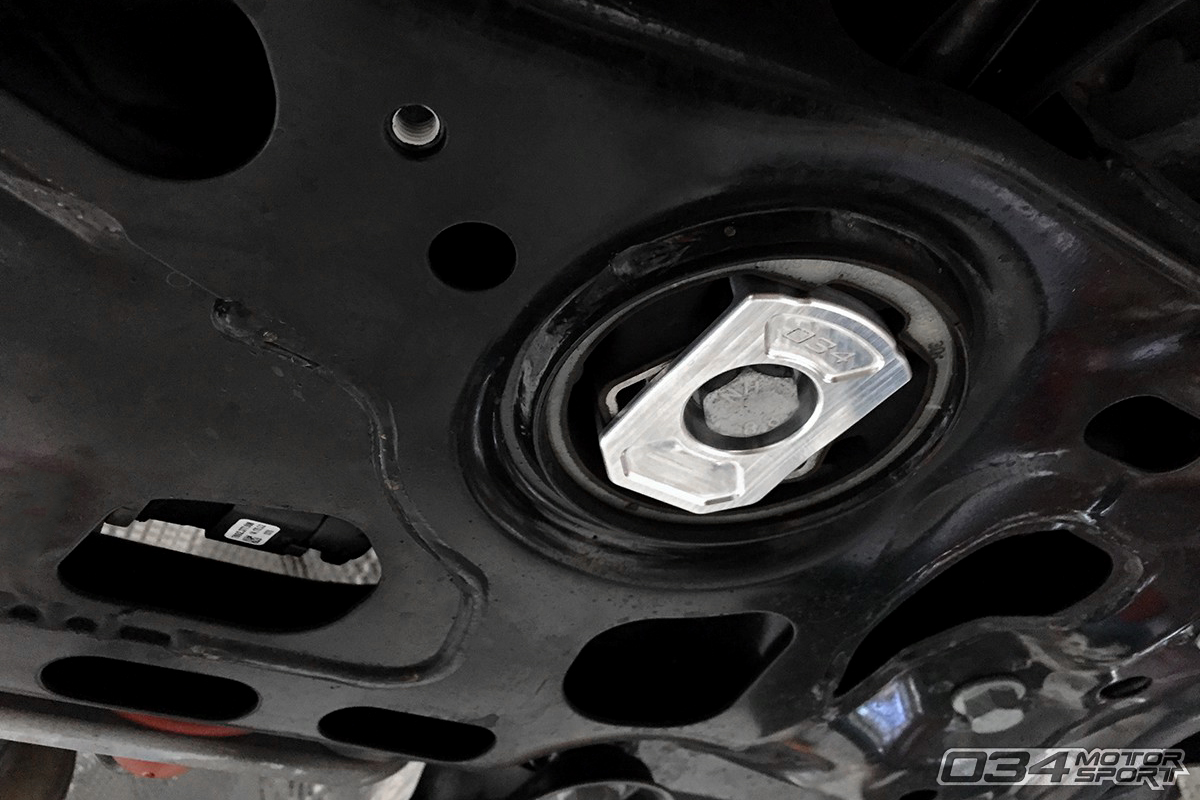 This CNC-machined billet aluminum insert is designed to fill the voids in the factory dogbone mount and limit engine and transmission movement. The result is a more refined, connected feel with crisper shifts and reduced wheel hop under hard acceleration. If you don't believe us, take our customers' words for it and read the forty 5-Star reviews on our product page!
As Jeremy Clarkson Would Say: "MORE POWER!"
After a Stage 1 Performance ECU Tune, the next step in extracting more power from the MkVII Volkswagen GTI comes in the form of a true cold air intake. Depending on your budget and requirements from an intake, 034Motorsport makes two different options to suit any enthusiast's needs.
The P34 Performance Cold Air Intake offers a direct-bolt-on upgrade that provides OEM+ fit and finish. Utilizing the factory lower air box, the P34 Cold Air Intake draws in cool, dense air from the factory inlet and through a high-flow panel air filter. 034Motorsport Engineers were able to drastically reduce turbulence throughout the intake tract and virtually eliminate pressure drop before the turbo inlet.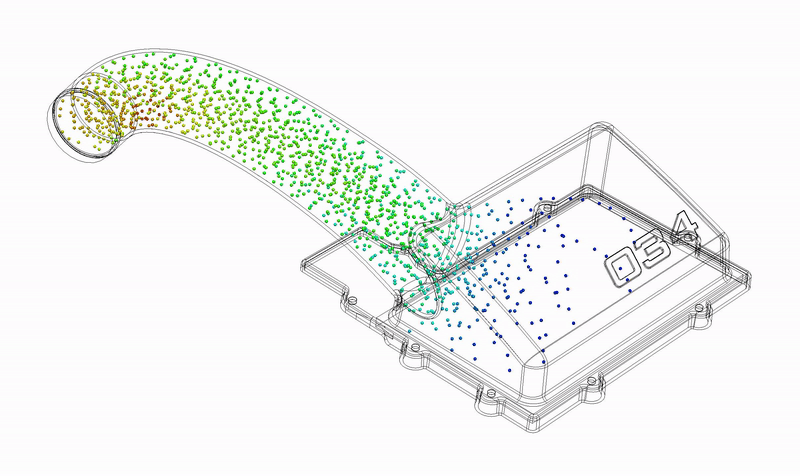 The result is proven power gains of an additional 10 WHP and 12 WTQ on a Stage 1 MkVII Volkswagen GTI! Even further, the plastic chosen for the P34 Cold Air Intake was carefully selected to match the OEM plastic covers found in the engine bay, so the P34 will never look out of place.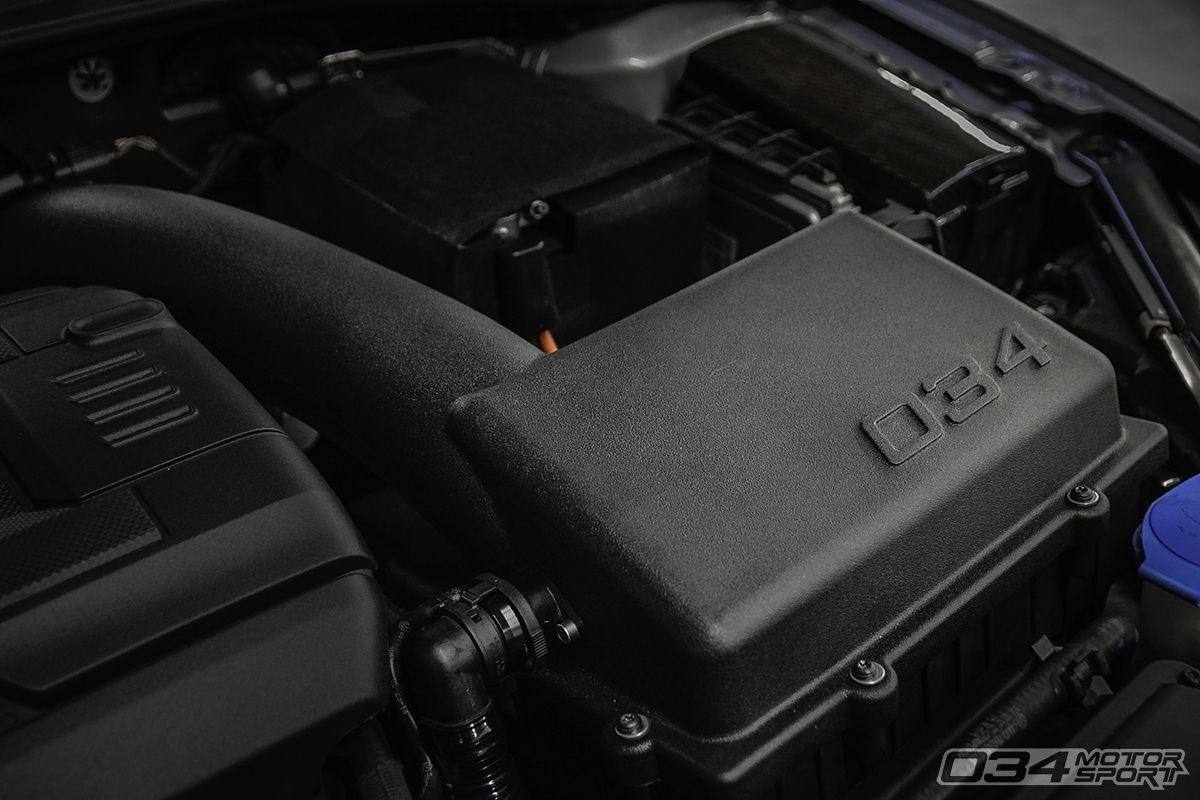 For those who prefer to stand out from the crowd and seek a little more flair from their intake system, the X34 Carbon Fiber MQB Cold Air Intake System is the perfect solution. Designed to be the best performing intake on the market, 034Motorsport's X34 MQB Intake features a huge 4" inlet and a smooth one-piece intake tube all the way back to the factory turbo inlet.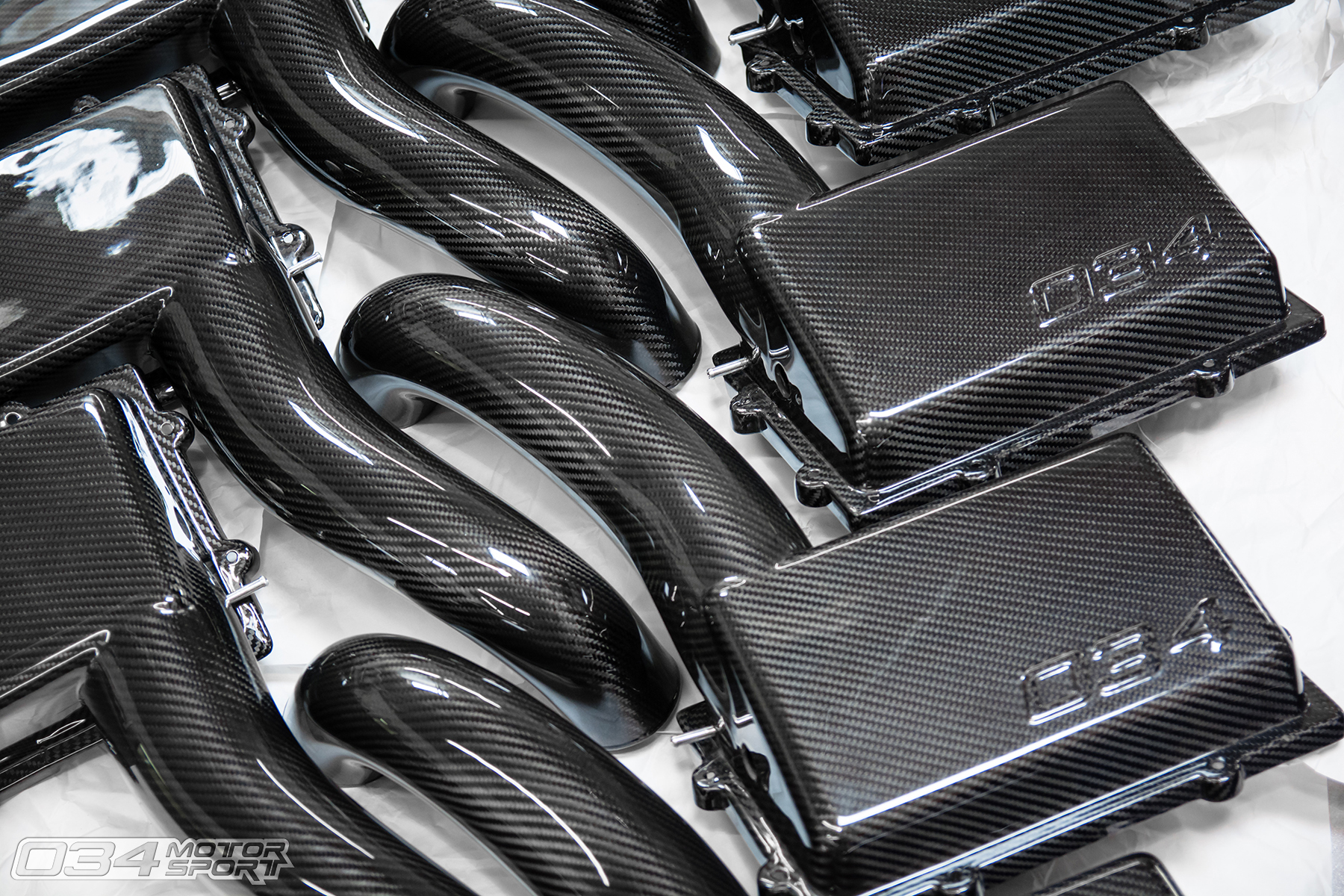 Similar to the P34 Intake, the X34 intake system makes use of the factory lower air box, and utilizes factory mounting points for a true OEM+ fit and finish as well. By fitting a high-flow conical air filter within the enclosed, shielded intake, the MQB X34 is able to produce impressive 31 WHP and 27 WTQ peak gains on a Stage 1 MkVII GTI! Yes, you read that correctly.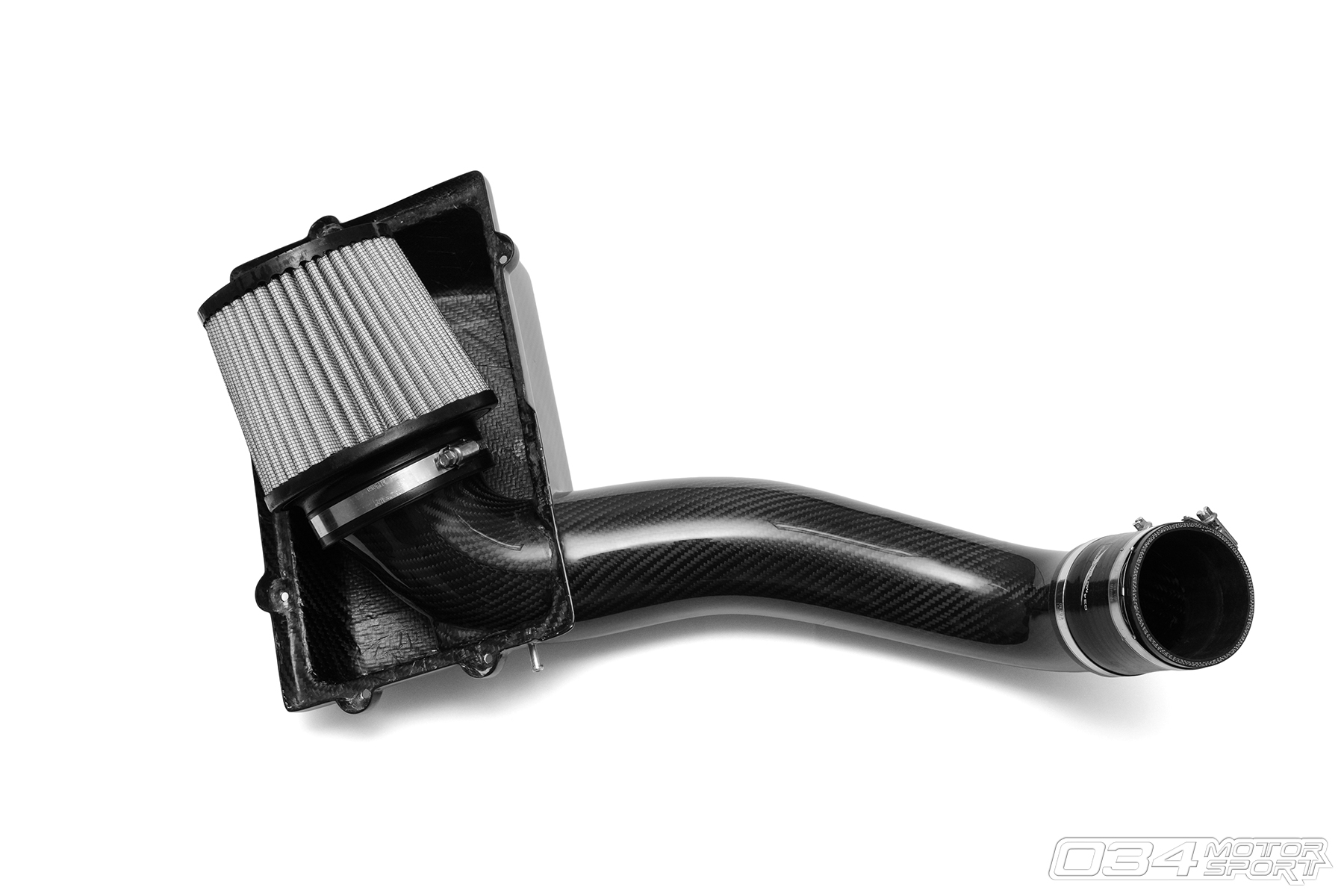 4 | 034Motorsport Cast Stainless Steel Performance Downpipe for MkVII Volkswagen GTI
The next step in the search for performance enhancing modifications leads to an upgraded downpipe. Volkswagen knows how to create an incredibly effective catalytic converter for the GTI that's very clean, but it dilutes the performance the EA888 Gen 3 2.0 TFSI can have. That's why 034Motorsport set out to create the ultimate MQB downpipe solution and return the robbed horsepower back to the enthusiasts.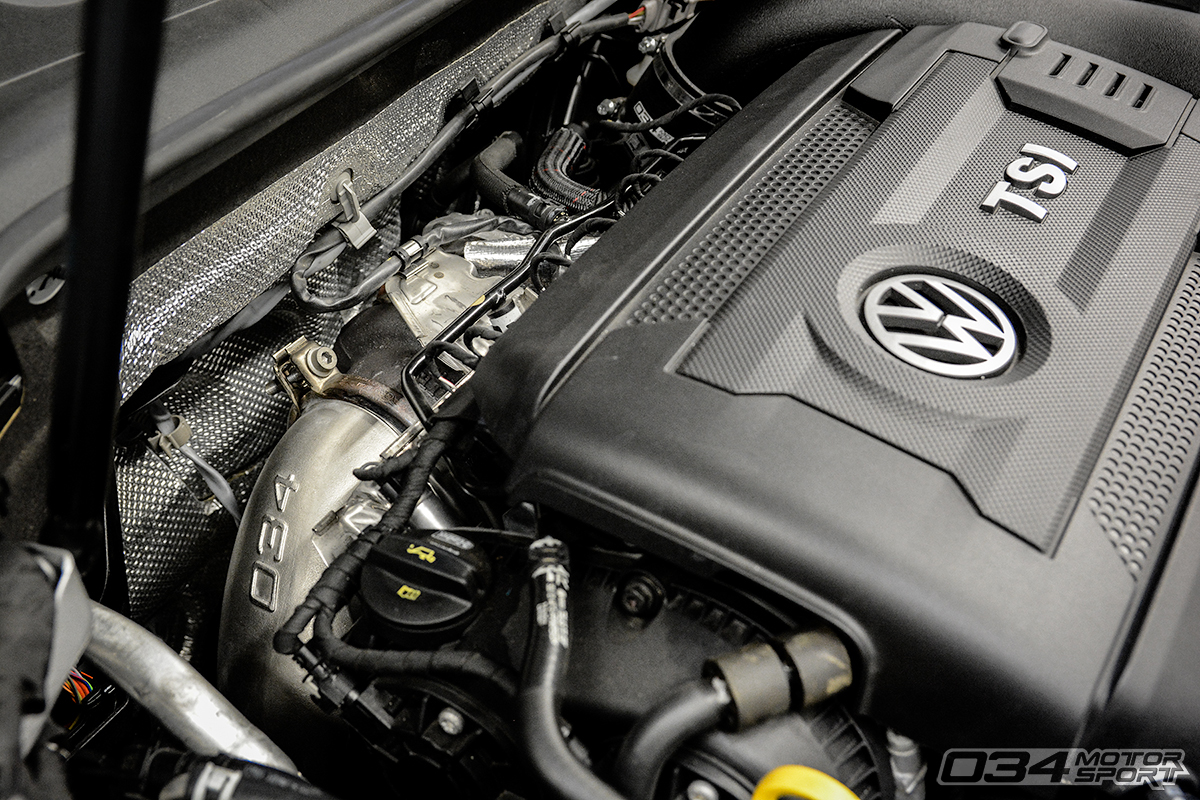 Behold, the Cast Stainless Steel Performance Downpipe for the MkVII Volkswagen GTI. Optimized for increased flow and maximum performance, the 034Motorsport Downpipe features a massive 101.6mm diameter Euro 3 racing catalytic converter in the factory location. This means less restriction compared to the factory cat and roughly 300 RPM quicker turbo spool with faster transient response. An OEM-style corrugated flex below and integrated exhaust hanger ensure perfect fitment underneath the vehicle along with integrated V-Band flange and O2 sensor bung for a true bolt-on installation.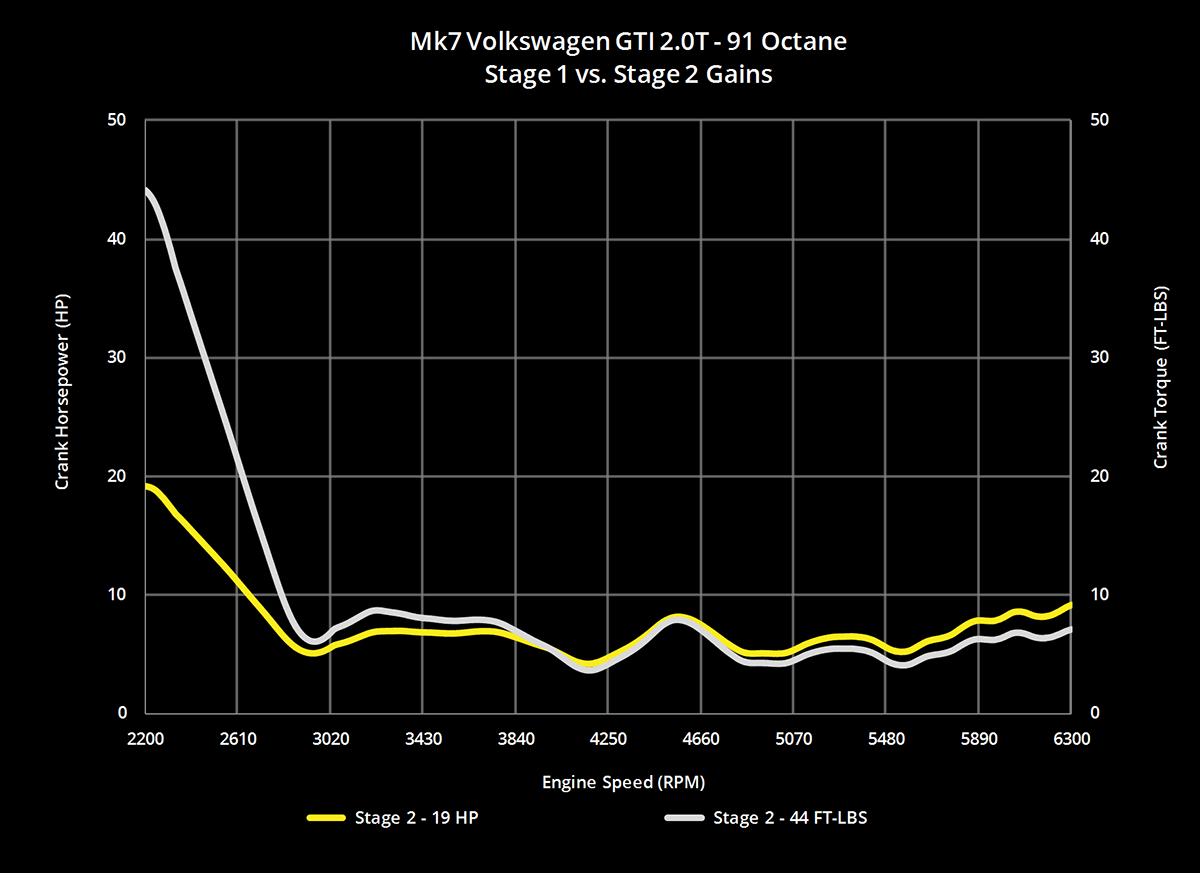 When paired with a required Stage 2 Tune, the Cast Stainless Steel Performance Downpipe offers gains of 19 HP & 44 FT-LBS over a Stage 1 MkVII GTI to a total output of 302 HP and 341 FT-LBS respectively!
With Power, Comes Great Handling Responsibility
Alright slick, now that you have all this power in your 3000lb hot hatch, it's all too easy to misjudge your entry speed into a corner and plow straight instead of rotating through like you meant to. Don't worry, an upgraded rear sway bar can help you with that.
The 034Motorsport Adjustable Solid Rear Sway Bar for the MkVII Volkswagen GTI was tested thoroughly on the street and track using our 2015 GTI Development Vehicle and multiple enthusiast-owned vehicles before release. This ensured ample testing and real-world experience before launching the product. The 034Motorsport Rear Sway Bar is constructed from a single piece of 25.4 Diameter solid spring steel for ultimate rigidity and longevity.


Engineered to be used with the factory front sway bar, the 034Motorsport Adjustable Rear Sway Bar combats understeer and reduces body roll under hard cornering loads. This allows better rotation through a corner and helps make the car more responsive and "alive" through the twisty backroads. Beyond the improved handling, the 034Motorsport Rear Sway Bar features 2 adjustment settings to dial in the desired feel based on your driving habits. The Soft setting is 153% stiffer compared to the factory GTI rear sway bar, and the Stiff setting as 174% stiffer compared to the factory rear sway bar.
To further hone in your GTI's handling, 034Motorsport Dynamic+ Lowering Springs can help by offering precise vehicle control while maintaining OEM+ ride quality.
Dynamic+ Lowering Springs are track tested, yet refined enough for the street by using the 034Motorsport MkVII GTI Development vehicle comprehensively before release. Countless track days are endured along with thousands of miles of commuting and daily driving to ensure we bring you a lowering spring that is perfectly matched to the factory dampers for the MkVII GTI.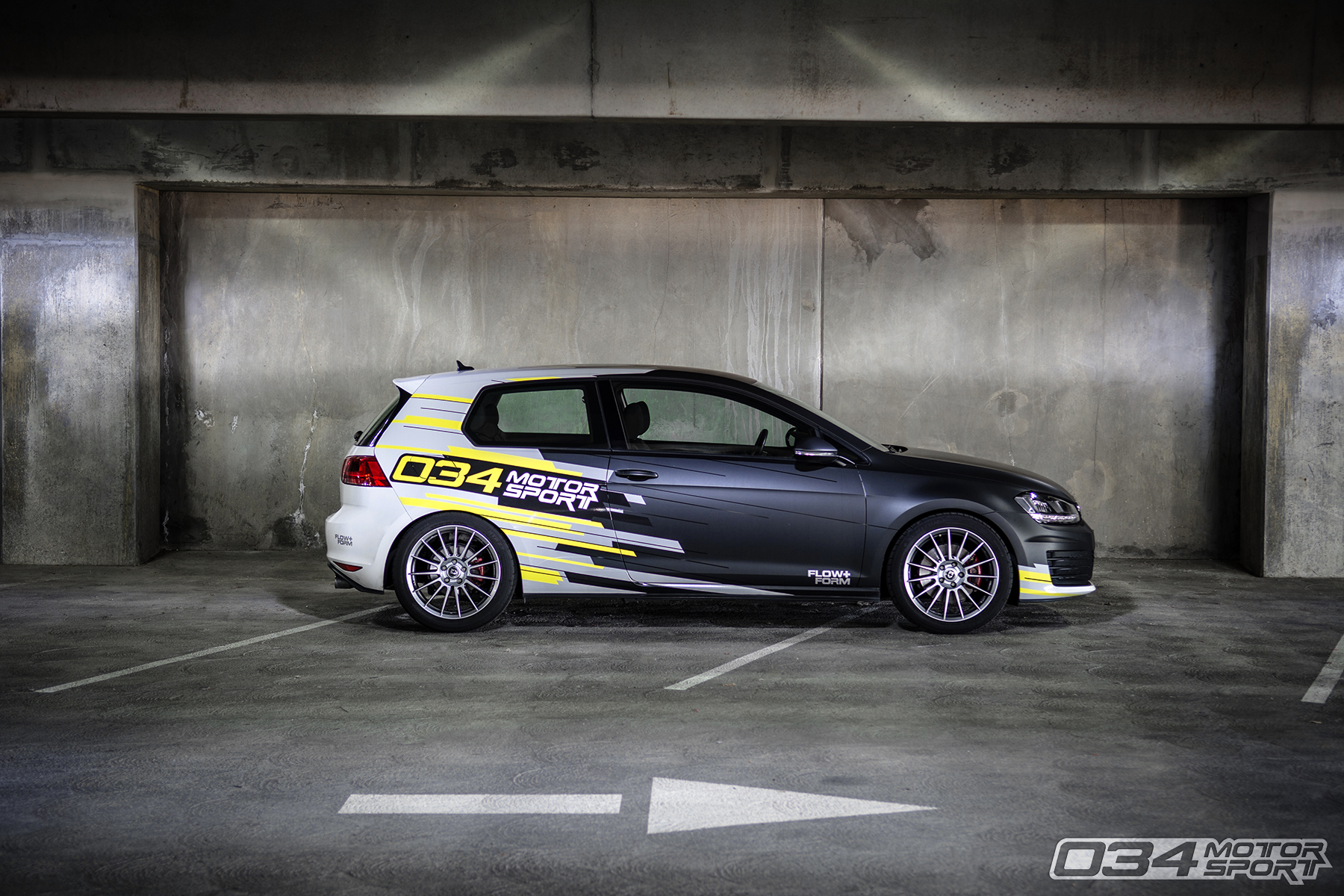 With effective spring rates of 210 Pounds/Inch in the front and 280 Pounds/Inch in the rear and a 1.1" drop in ride height compared to the factory springs, the Dynamic+ Lowering Springs achieve an aggressive yet functional stance with no reverse rake. Further improved handling performance and chassis dynamics are achieved while reducing body roll and understeer. Best of all, these springs are compatible with Dynamic Chassis Control (DCC)!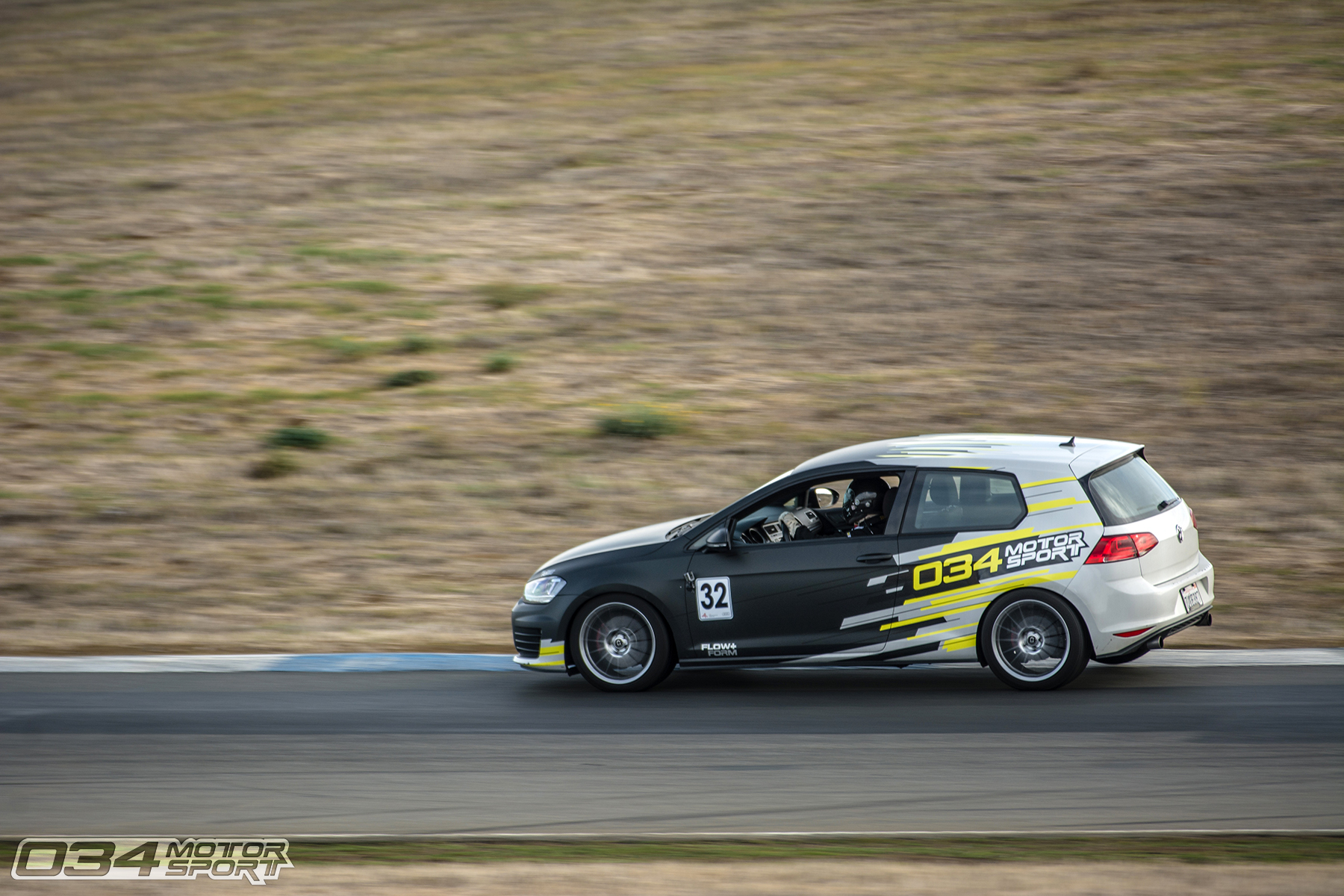 All Dynamic+ Lowering Springs are manufactured at an ISO 9001 Certified facility and shot peened and powdercoated to ensure industry-leading quality and longevity.
After track testing the 034Motorsport MkVII Volkswagen GTI Development Vehicle for some time, handling had been drastically improved but initial turn-in bite still wasn't up to 034Motorsport standards for the engineers. They set off to create a drop-in solution for face-melting turn-in grip with no added complexity like the clunky adjustable camber plates already on the market. And thus, the Dynamic+ Camber Mounts were born.
Dynamic+ Camber Mounts are machined from 6061-T6 billet aluminum and feature a 75 Durometer Density Line center puck to minimize strut shaft deflection under load. By evaluating the desired suspension geometry, 034Motorsport engineers designed the new mount to offer an additional 1.4 degrees of negative camber compared to the factory strut mounts. This additional camber provides mind-bending grip when cornering due to a greater tire contact patch on the ground once the car sets into a turn.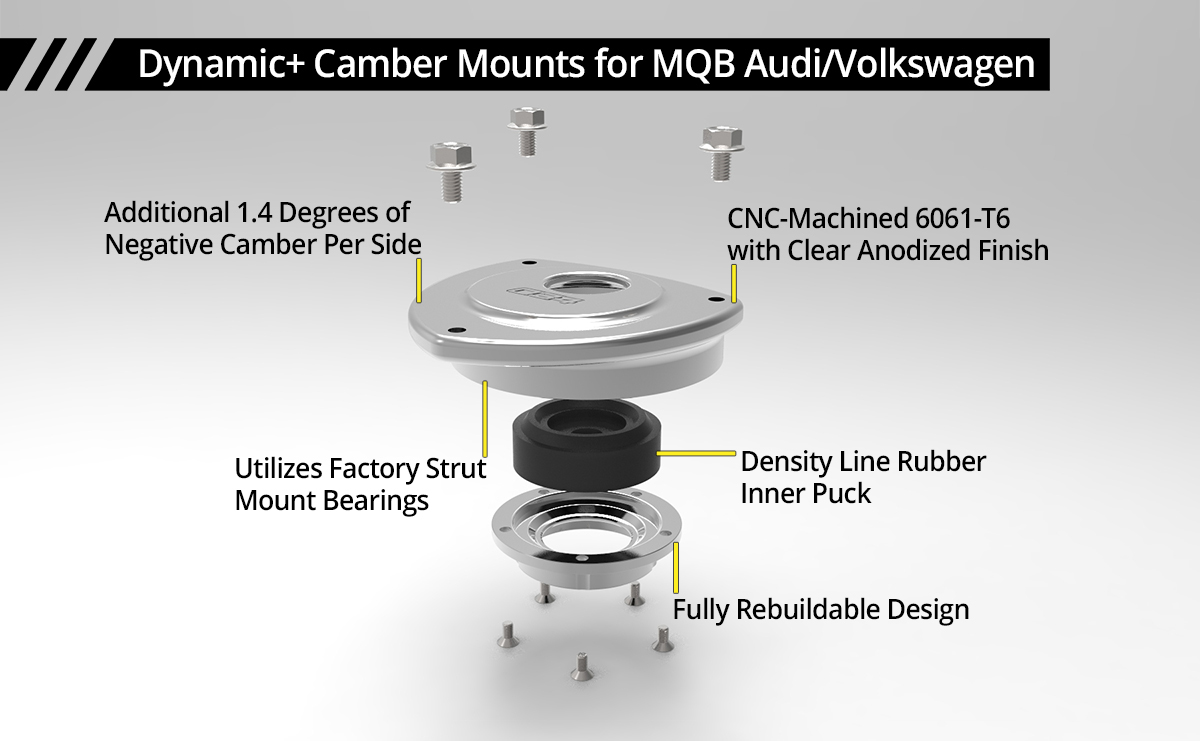 The result is improved steering feel due to less deflection under load, and increased handling response for a car that now feels eager to dive into corners at a moment's notice. Dynamic+ Camber Mounts are comfortable and quiet for daily driving while tough enough to withstand endless track days and abuse, all while making you look like a cornering god.
With significant improvements made toward a neutral handling, flat cornering chassis, it's time to further refine the feel and predictability of the MkVII Volkswagen GTI at the limit. Factory rubber bushings are great for dampening noise and vibration through the cabin, but this comes at a cost to performance. The rubber will flex under load and lead to a vague, unsure feeling behind the wheel and improper suspension alignment at the limit.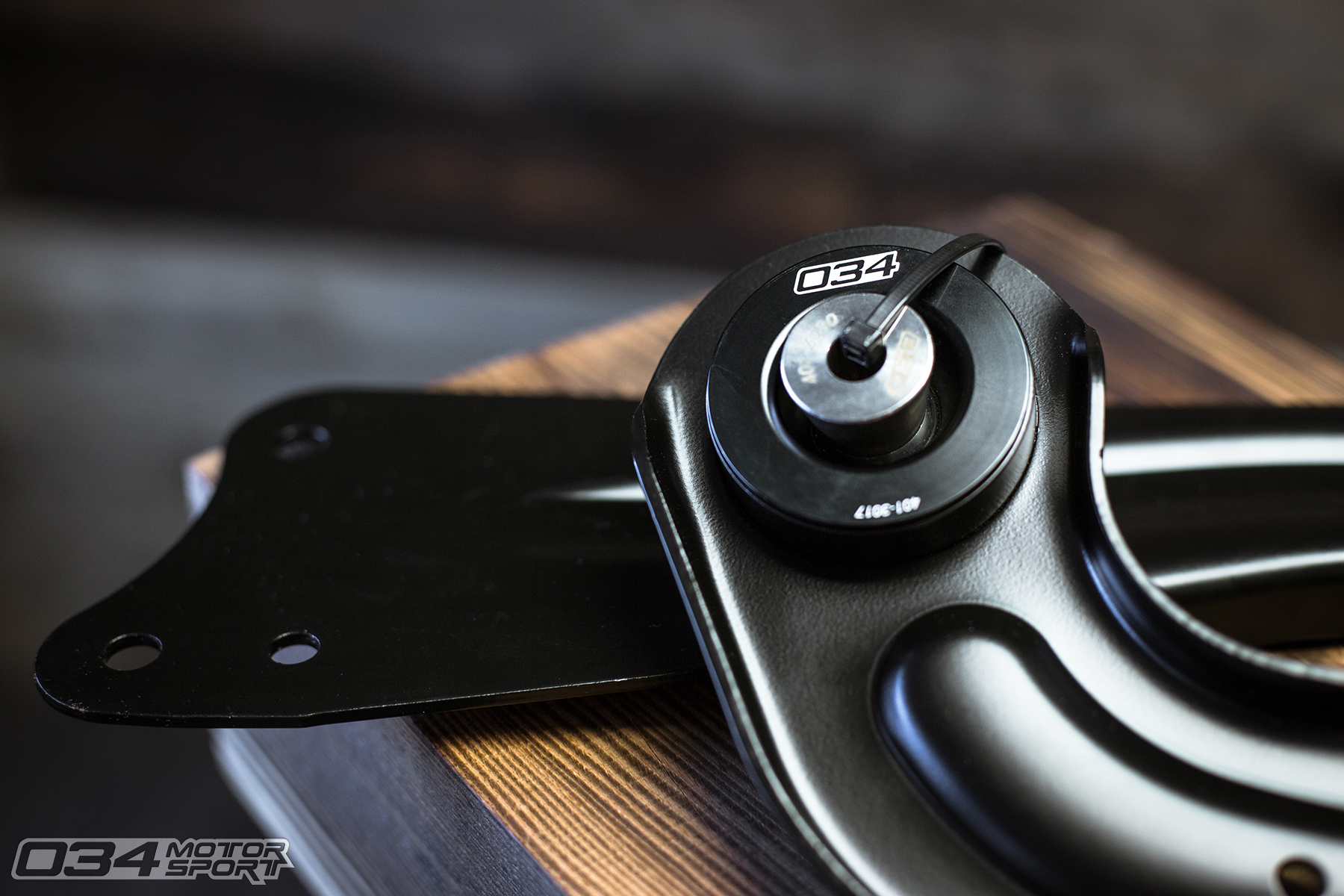 034Motorsport recognized this problem with the MQB chassis and developed a true bolt-in solution for the rear trailing arms. The Spherical Rear Trailing Arm Kit eliminates the soft factory rubber bushings and replaces them with motorsport-quality Aurora spherical bearings. These tough spherical bearings allow for proper suspension articulation without any deflection, resulting in consistent, precise handling and confidence-inspiring road feel. Best of all, the Spherical Rear Trailing Arm Kit comes complete with OE-quality rear trailing arms, so no bushing press is needed. Simply unbolt the factory trailing arms, and bolt the new 034Motorsport Spherical Arms in place and you're good to go.
With all of the added power from a Stage 2 setup, the factory motor and transmission mount will be getting a workout beyond what they were ever intended for. In order to keep the drivetrain happy and drastically reduce wheel hop, a pair of upgraded mounts should be the next modification.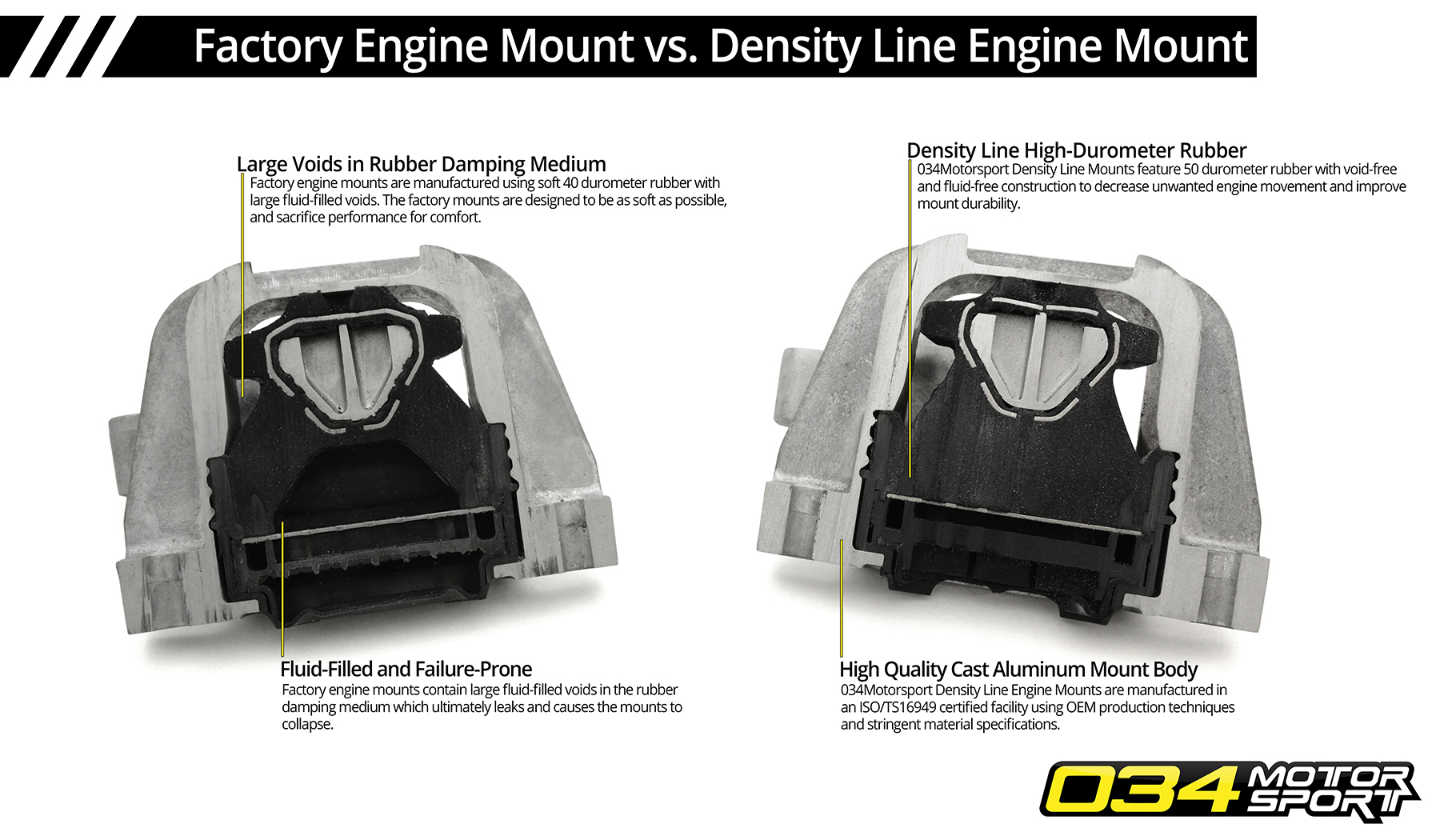 Following the success of 034Motorsport's Density Line product line, the MkVII Volkswagen Density Line Motor Mounts feature 50 durometer and 60 durometer void-free rubber. The result is significantly reduced engine movement under load with crisper shifting and nearly no increase in NVH inside the cabin. Gain better road feel, improve engine response, and experience a more connected drive with drop-in replacement Density Line motor mounts.
Our final upgrade in the Top Ten list for the MkVII Volkswagen GTI is the 034Motorsport Res-X Resonator Delete. After all, modifying your car is about fun, and standing out from the crowd of people who simply view their car as a vessel to get from A to B. In light of the enthusiast's mindset, 034Motorsport set out to create a simple, bolt-in exhaust upgrade that opens up the sound of the MkVII GTI enough to be sporty but not obnoxious.
Constructed from 304 Stainless Steel, the Res-X replaces the factory exhaust resonator, allowing for a deeper, more aggressive exhaust note with no added drone inside the cabin. Lose the heavy factory resonator and replace it with a bolt-in Res-X to unleash the growl of the EA888 Gen 3 motor!

If you've followed our list of Top Ten MkVII Volkswagen GTI upgrades exactly, you undoubtedly have the baddest GTI in your town, and everyone will want to know how you did it. Don't hold out on them. Spread the knowledge and let them know how to achieve a truly stellar performing MkVII while retaining OEM+ driveability. Most of all, get out there and enjoy your refined ride!