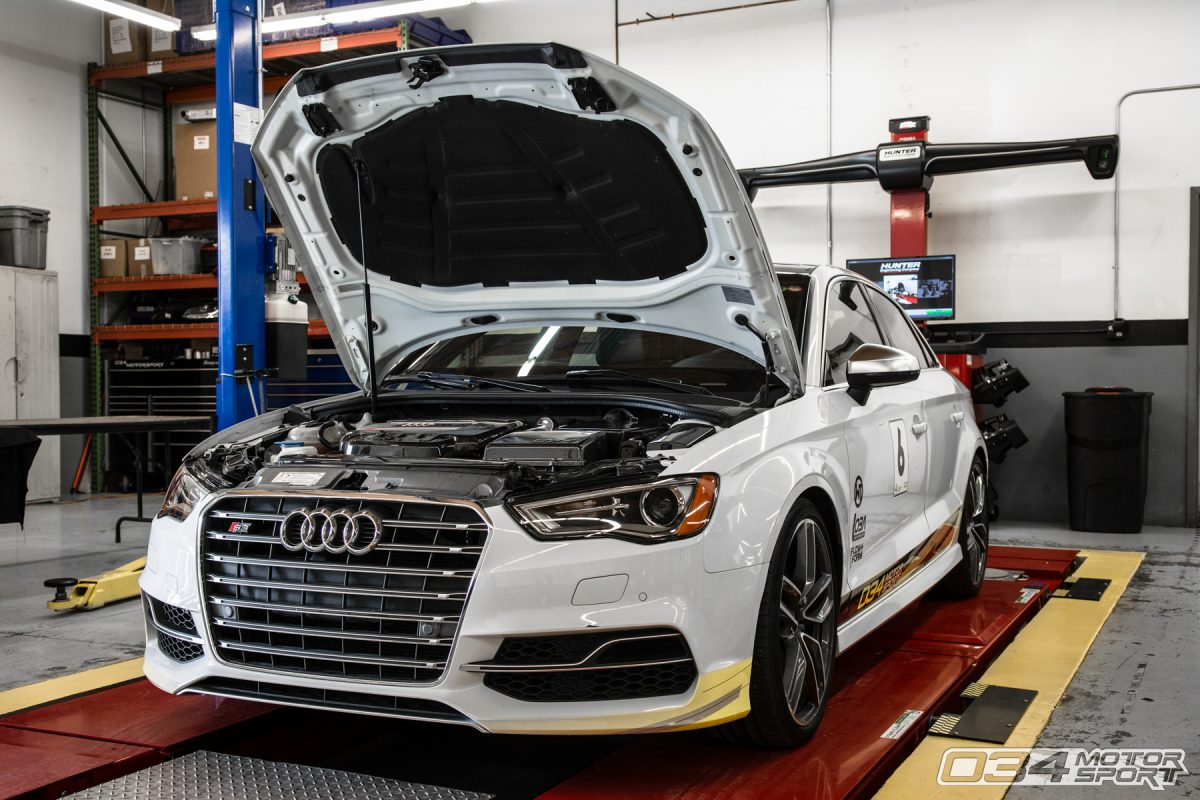 Are you a current or prospective owner of Audi's highly-capable 8V S3 Quattro? Maybe you don't own an S3 specifically,  but a close sibling derived from the same MQB chassis. Perhaps, you answered "No" to the above questions but still love these cars anyway, and are curious how to squeeze all of the performance possible from it!
It can be difficult to know where to start modifying when there are so many enticing parts for this car in the aftermarket world. We're here to help break down the various aspects of tuning an 8V Audi S3, and provide a little insight on what we think makes some of the best upgrades for Audi's modern small-chassis rocket ship. We've categorized the type of mods into distinct areas including drivetrain, suspension, intake, and forced induction.
Drivetrain Upgrades
As it goes when building a car to suit most peoples needs, manufacturers typically err on the side of comfort by installing rubber mounts with voids at any location where suspension or drivetrain components mate to the chassis. This provides a quiet, supple ride down the road, but also creates a more removed driving feel and uncertainty when pushed to the limit. 034Motorsport has inserted themselves (get it?) as one of the premier producers of drivetrain inserts, which effectively reduce drivetrain movement and limit bushing flex without introducing additional noise, vibration, or harshness (NVH) into the cabin. This means the driver experiences a tighter feeling chassis and predictability at the limit without sacrificing ride quality on the street.
The "best bang for your buck" drivetrain insert is by far the 034Motorsport Billet Aluminum Dogbone Mount Insert. The dogbone mount, or torque arm, connects the motor and transmission to the front subframe and exists to limit the amount of "twist" from the motor under acceleration and deceleration. The factory bushing allows for significant flex in the rubber however, so we developed an insert to limit the movement.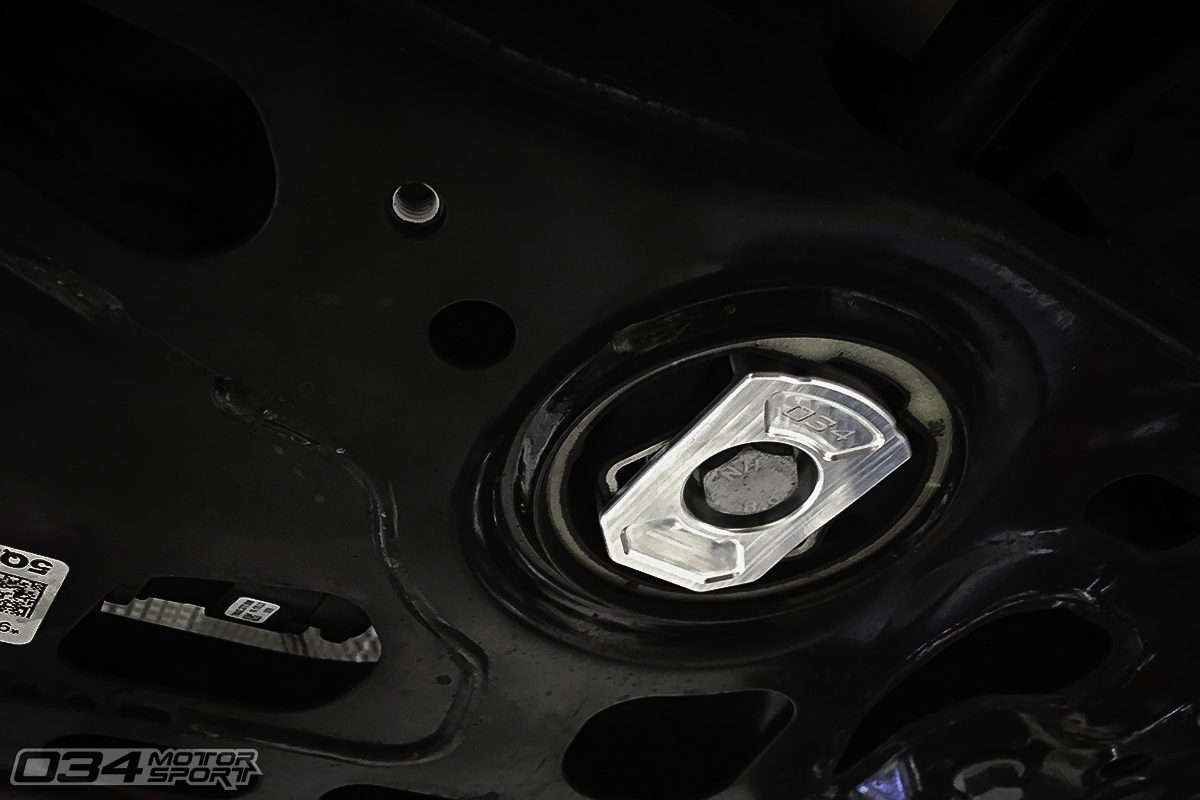 After months of CAD prototyping, real world testing, and revisions, we settled on the optimal thickness and profile for the billet aluminum insert to eliminate slop without increasing any NVH into the cabin. While driving with a 034Motorsport Dogbone Mount Insert, you will experience crisper shifting and less "clunkiness" during on-off throttle transitions.
Once you've begun to lock down your drivetrain with the Dogbone Mount Insert, the addiction to further limit drivetrain movement and develop a more "connected" feeling to the road will likely overcome you. Don't fret however, when that feeling hits, 034Motorsport is here to help.
The next step in eliminating unwanted drivetrain movement is the 034Motorsport Density Line Motor Mount Pair for the 8V Audi S3. Engineered with performance in mind, this MQB Density Line motor mount pair is manufactured from void-free and fluid-free 50 durometer (engine) and 60 durometer (transmission) rubber. The higher durometer rubber is roughly 25% stiffer than the factory counterparts, and solid-filled construction results in significantly less drivetrain movement without being too harsh on the road. With Density Line motor mounts, you will experience crisper shifting, reduced wheel hop, and a more connected driving experience due to decreased engine movement under load.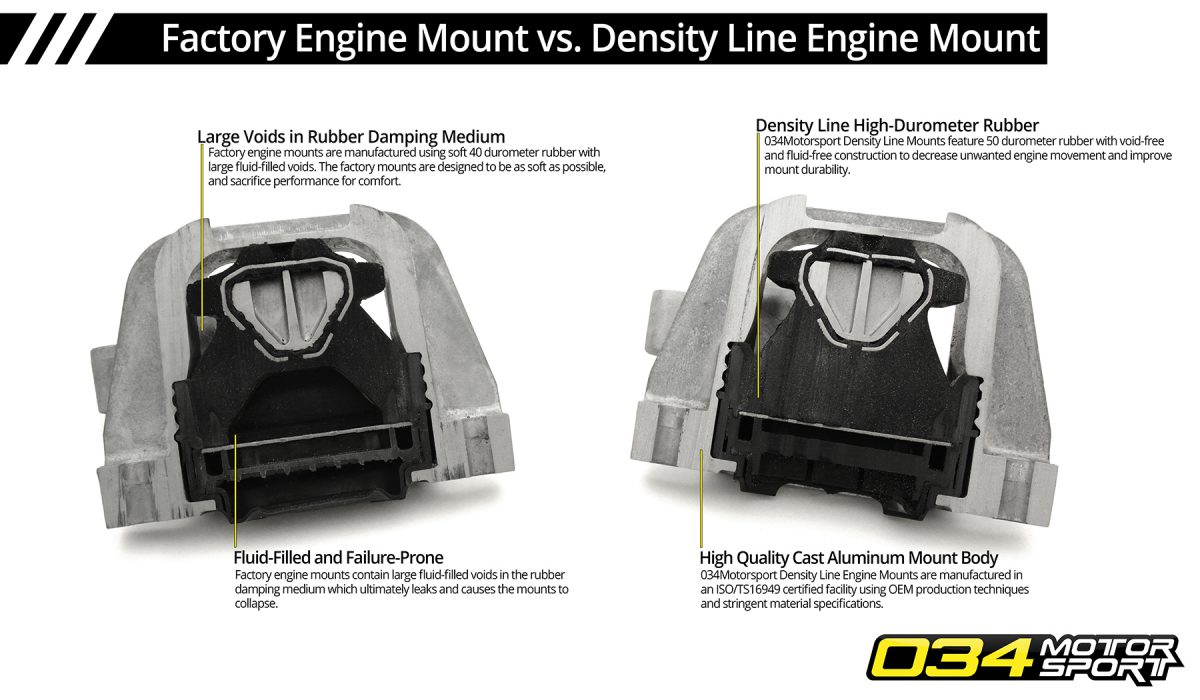 Why rubber instead of polyurethane? Rubber is an inherently better damping medium for mounts and bushings, hence why OE manufacturers such as Audi and Volkswagen use it extensively on their cars. Higher durometer rubber accomplishes the same goal of limiting movement similar to polyurethane, however it is better able to deal with stress under both tension and compression compared to poly. While polyurethane can pack out and wear during use, rubber is more consistent and durable over time, lasting longer for a more reliable component.
Suspension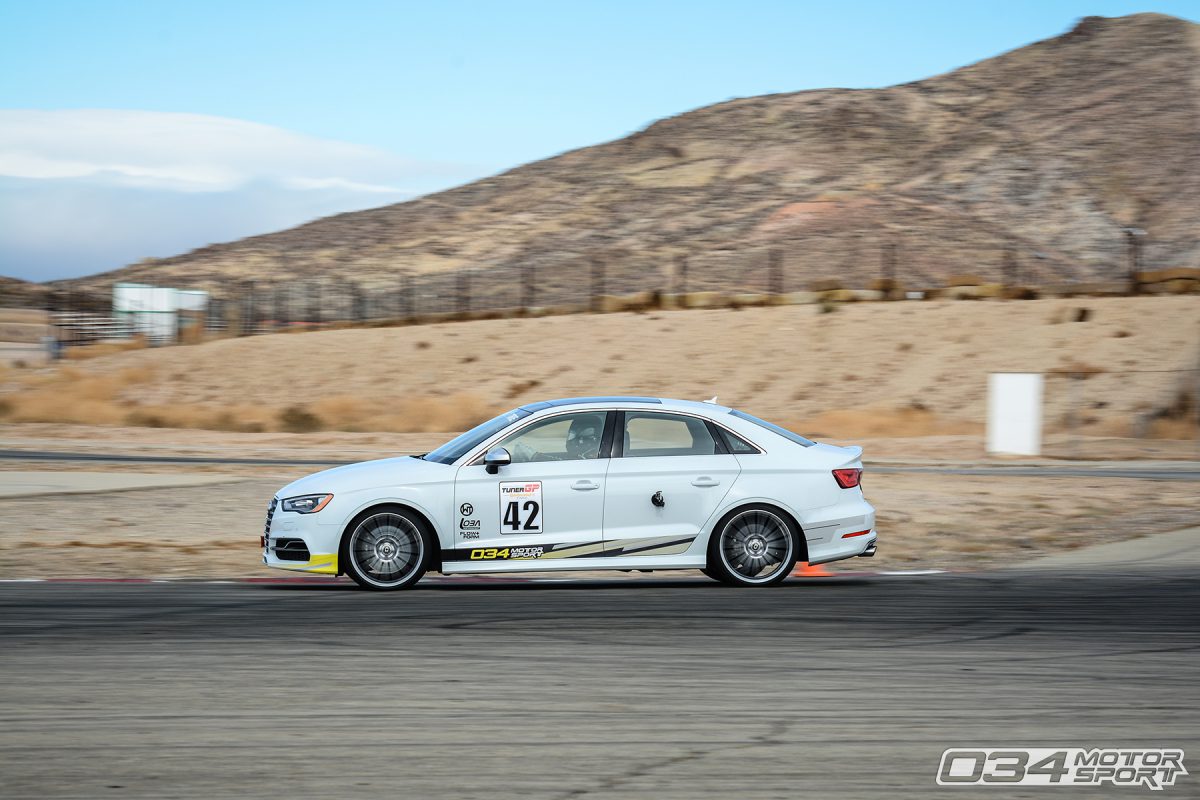 The 8V S3 is a nimble and capable chassis out of the box due to its compact size and all-wheel drive Quattro (dare we say Haldex?) drivetrain. In a typical AWD, front-engine layout however, these cars like to push the front end and understeer at the limit. There are a couple different options when looking to gain a more neutrally balanced car, through different spring rates, different sway bar rates, or a combination of both.
Audi spends significant amounts of money in research and development on their vehicles to create a well performing chassis, and slapping the biggest bar you can find underneath your car can upset the handling characteristics in a negative way. Alternatively, 034Motorsport took various spring rates into account based on available suspension options when developing their own upgraded sway bar, and calculated an optimal sway bar diameter after months of testing different configurations.
034Motorsport spent considerable time on the street and track with the in-house S3 development vehicle to learn the handling characteristics in all different types of scenarios. Altering chassis dynamics is not taken lightly, and 034Motorsport makes sure that any suspension product sold is a true upgrade over the factory unit. In order to reduce understeer, a larger rear sway bar is required to effectively pivot the car better through corners. Biggest is not always best however!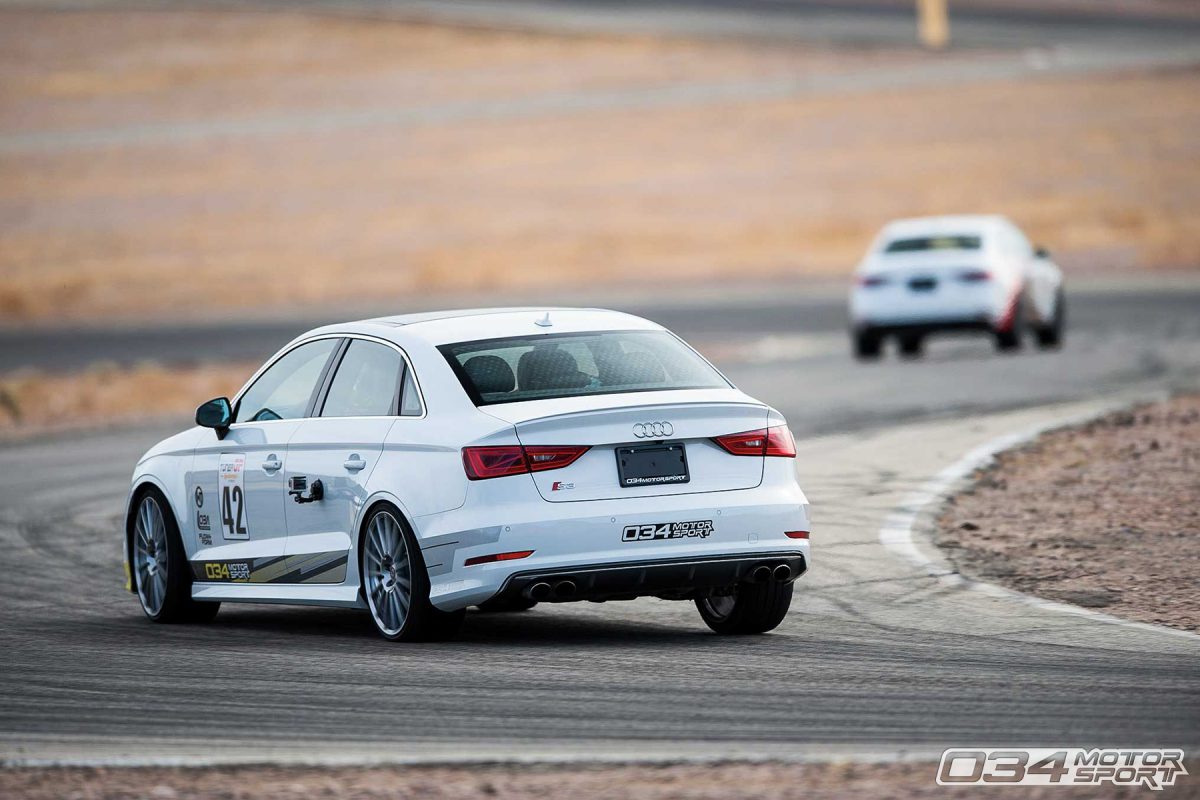 The 034Motorsport Adjustable Solid Rear Sway Bar was thoroughly tested on the street and track with our S3 development vehicle to find the right balance between improved turn-in and reduced body roll while maintaining comfort on the street. Our bar is made from a single piece of high-quality 22.2mm spring steel for ultimate rigidity. The 034Motorsport Solid Adjustable Rear Sway Bar offers a 37% rate increase over the factory S3 hollow rear sway bar in its soft setting, and a 52% rate increase in the stiff setting.
The result is a car that corners flatter, turns in tighter, and feels more agile and responsive through the corners with a hint of oversteer when desired. Canyon carving and track day sessions have never been so fun until you've installed one of these!
The same concept applies to developing lowering springs as it does to sway bars, and that's the notion that every product we sell must be a true upgrade over the factory component. When we stepped into the lowering spring market, we wanted 034Motorsport Dynamic+ Lowering Springs to be different from the rest. We wanted to eliminate the reverse rake typically seen from other spring manufacturers, and we wanted a functional drop that provided an aggressive stance without going stupid amounts of low. Most importantly however, we wanted to improve handling without creating a significantly harsher ride compared to the OEM configuration.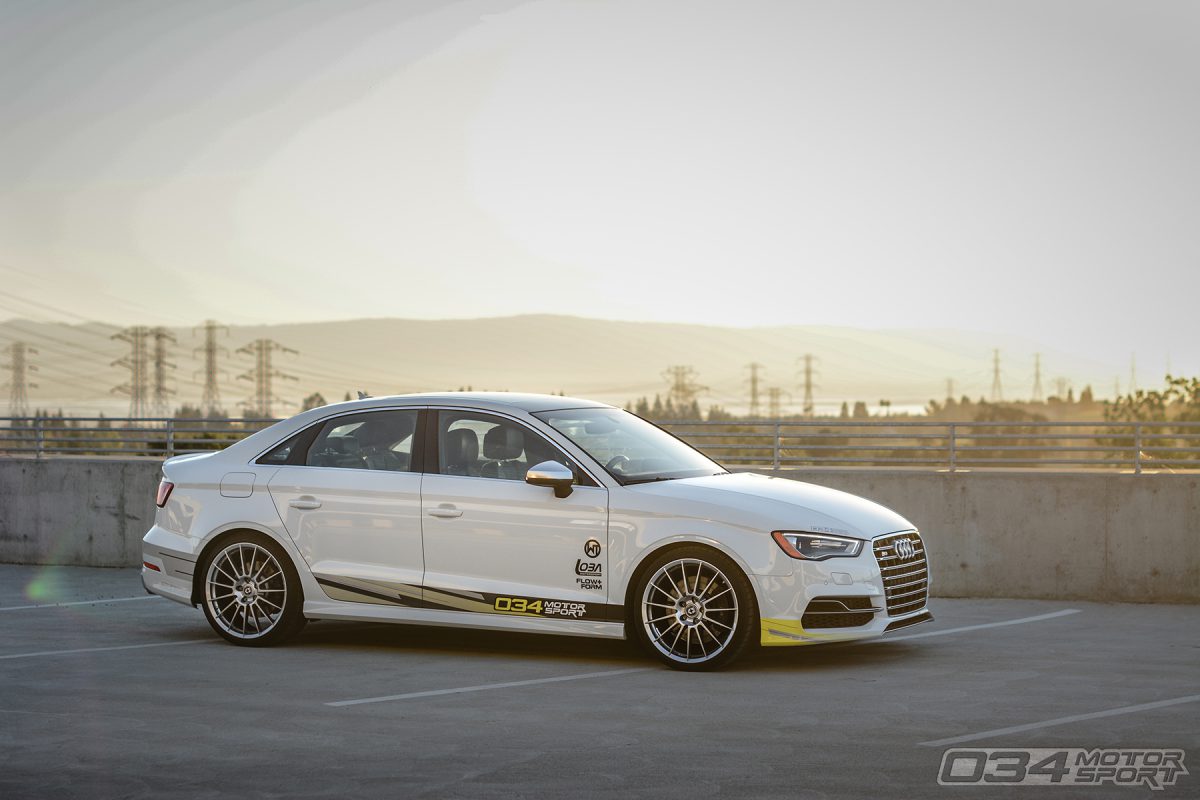 After further engineering and testing on the street and track, we arrived at what we believe to be the ultimate specifications. An even 0.75" drop from factory ride height brings the car's center of gravity closer to the pavement, and accents any wheel choice (factory or aftermarket) quite nicely. The linear 310 lbs/in front and 400 lbs/in rear spring rates help to reduce body roll and combat understeer due to the higher rate in the rear compared to the front. Above all else, 034Motorsport Dynamic+ Lowering Springs were developed with Audi Magnetic Ride in mind and offer a truly OEM+ ride quality with increased precision and handling performance.
With a more neutral handling chassis, it's time to further increase precision and consistency by eliminating bushing flex from the rear end. Factory rear trailing arm bushings are made from a soft durometer rubber to dampen sound and vibrations from the rear wheels, but allow for inconsistency and deflection when the vehicle's weight transfers in corners. The 034Motorsport Rear Trailing Arm Spherical Bearing Upgrade Kit is designed to replace the factory rubber bushings, and allow full suspension articulation without binding.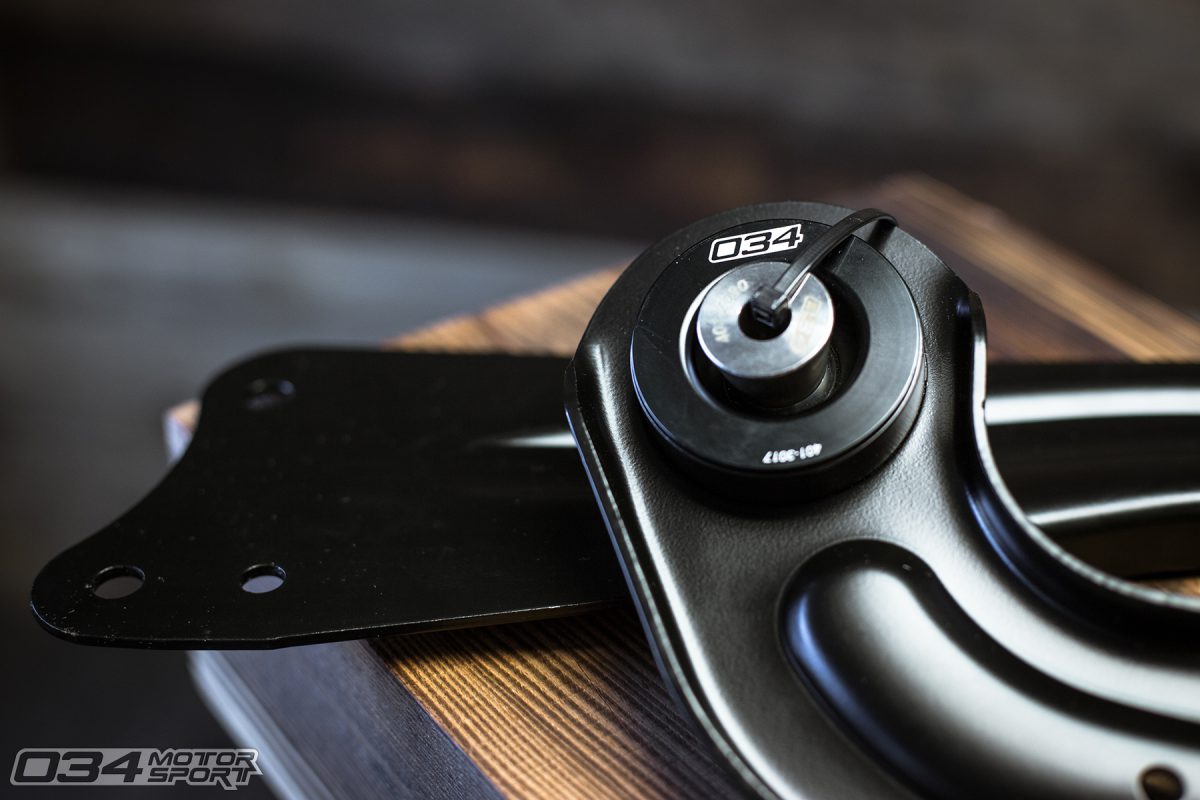 By eliminating the rubber bushings from the factory rear trailing arms, the unsettled and loose feeling from the rear is gone completely! The replacement Aurora spherical bearings eliminate any flex from the trailing arm and still allow the suspension to travel through it's full motion as it should. Instead, a planted, confidence-inspiring road feel takes over and provides precise and predictable handling on any road surface. With the bearings pre-installed in factory replacement arms, the 034Motorsport Spherical Rear Trailing Arm Upgrade is a simple, bolt-in installation with no bearing press needed here!
Intake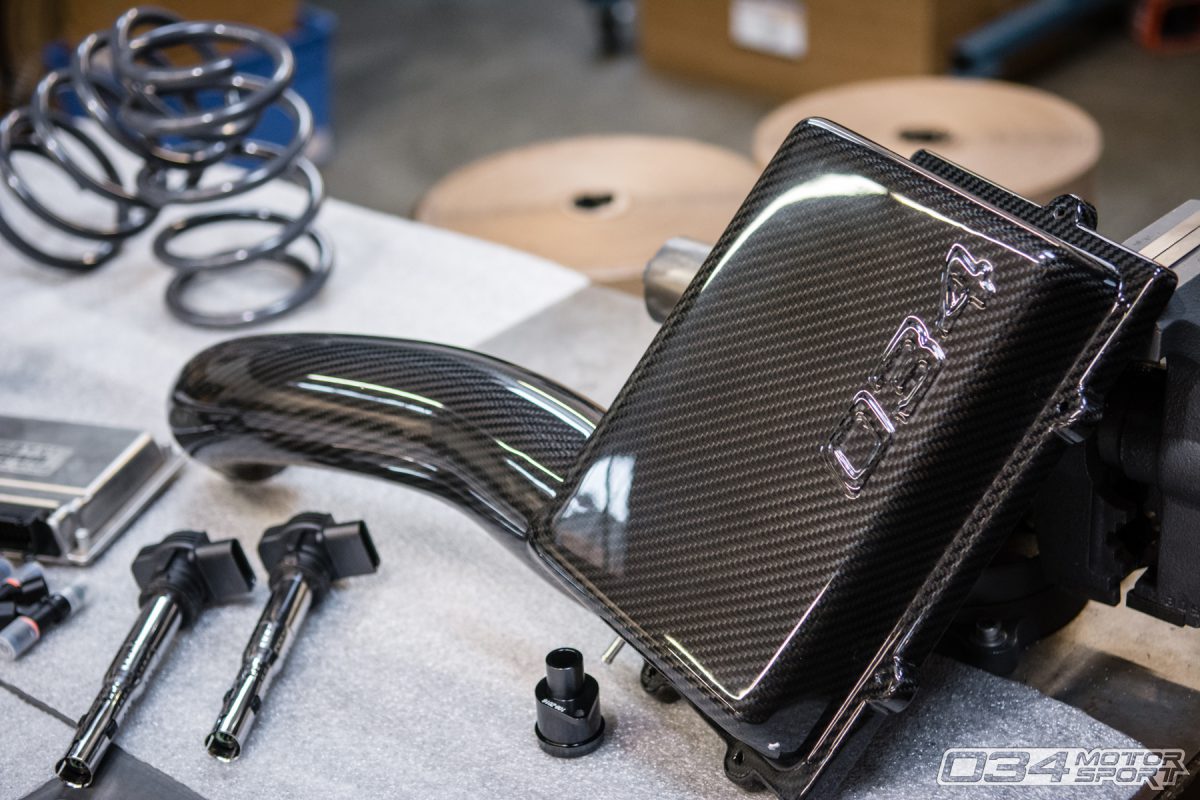 The turbocharged four-cylinder engines of this past decade have proven to be very responsive to aftermarket tuning, and Audi's latest generation of 2.0 liter engines is no different. The EA888 Gen 3 is potent from the factory, but we all know as enthusiasts that we can't leave things alone. For example, the factory airbox on the 8V S3 is decent, but the engineers at 034Motorsport knew they could do better.
Upon initial design, the idea was to create a one-piece intake that provides noticeable gains in horsepower and torque across the powerband over the factory air box. From there, the engineering department at 034Motorsport 3D scanned the factory intake and identified problematic areas to improve upon. They found that even with the stock turbocharger, intake airflow was limited and restrictive.
Having scanned the factory engine bay, a one-piece design was created to eliminate jagged edges and unnecessary couplers within the intake tract. The result is a completely smooth intake tube to the turbo inlet, almost completely eliminating pressure drop in the intake system before the turbo inlet. A 4" inlet diameter cone filter ensures ALL of the air available is drawn into the intake and fed into the compressor side of the turbo.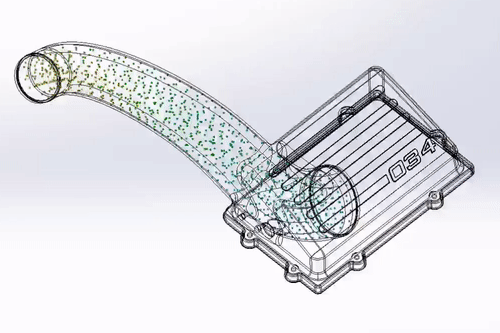 The result of this smooth, one-piece design leads to some staggering power increases on an otherwise stock S3. With the 034Motorsport X34 Carbon Fiber MQB Cold Air Intake System installed on a stock 2016 Audi S3, peak gains of 24 WHP and 20 WTQ were realized on 034Motorsport's in-house Mustang AWD dynamometer! Cars with Stage 1 tunes and alternative engine modifications will notice even greater gains across the powerband.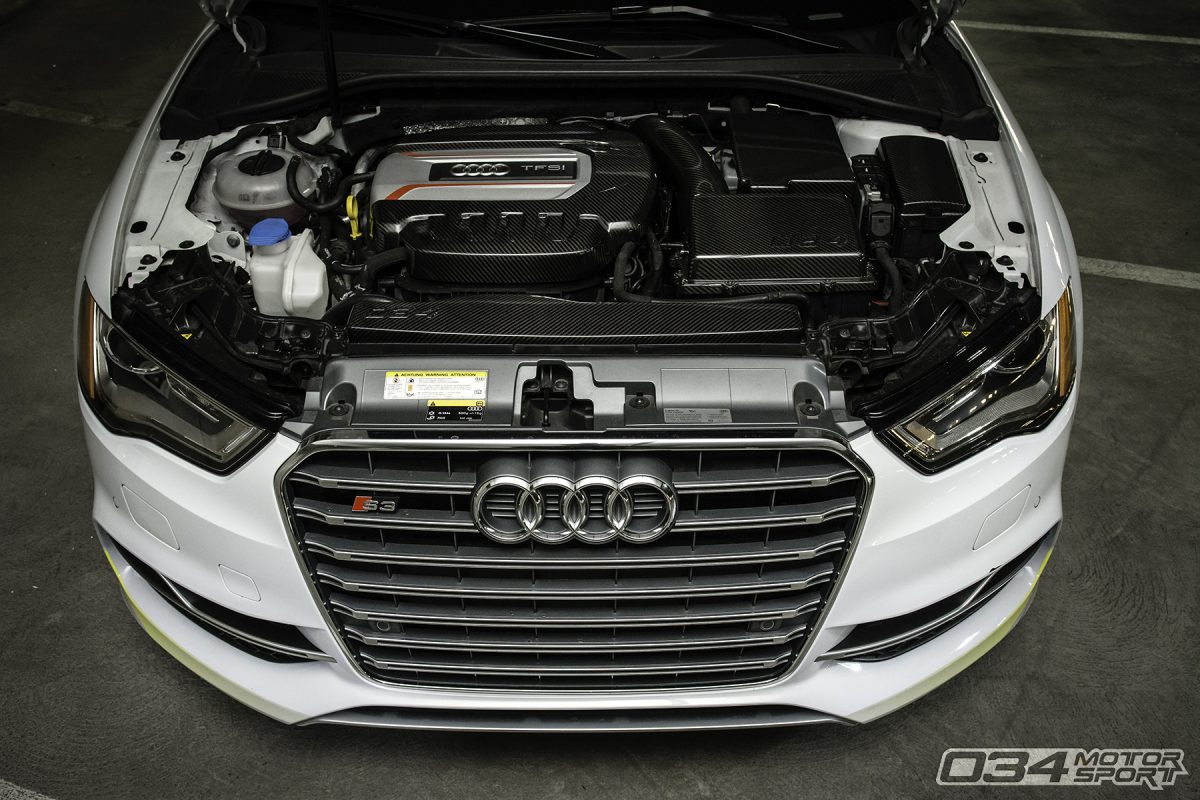 To further set the 034Motorsport X34 Carbon Fiber MQB Cold Air Intake System apart from the rest, a carbon fiber weave was carefully chosen to match that used on Audi's RS vehicles. This gives a true OEM+ look to the engine bay with a one-piece carbon fiber intake system that will only attract positive attention.
Power
Circling back to the original notion the the S3 is already an impressive car in factory form, 034Motorsport intended to keep the lively and eager character of the 2.0 TFSI motor alive, and build from the solid foundation set by Audi. Rather than slap a big turbo on the car and introduce turbo lag for the sake of big hp numbers, 034Motorsport engineers opted for a more elegant, OEM+ solution with lightning fast spool and increased top-end power through the use of a LOBA hybrid turbocharger.
The R460 Hybrid Turbocharger System is a large piece of the winning combination that brought 034Motorsport victory in the 2016 European Car / Continental Tire 2.0T Tuner GP with their 8V S3. The LOBA LO462-EA888 turbocharger features a CNC-Machined billet compressor wheel to allow for higher flow, and a clipped turbine wheel to maintain quick and responsive factory spool characteristics. The backplate, compressor housing, and turbine housing have all been machined as well to eliminate any turbulence and provide optimal flow for the 2.0T EA888 Gen 3 motor.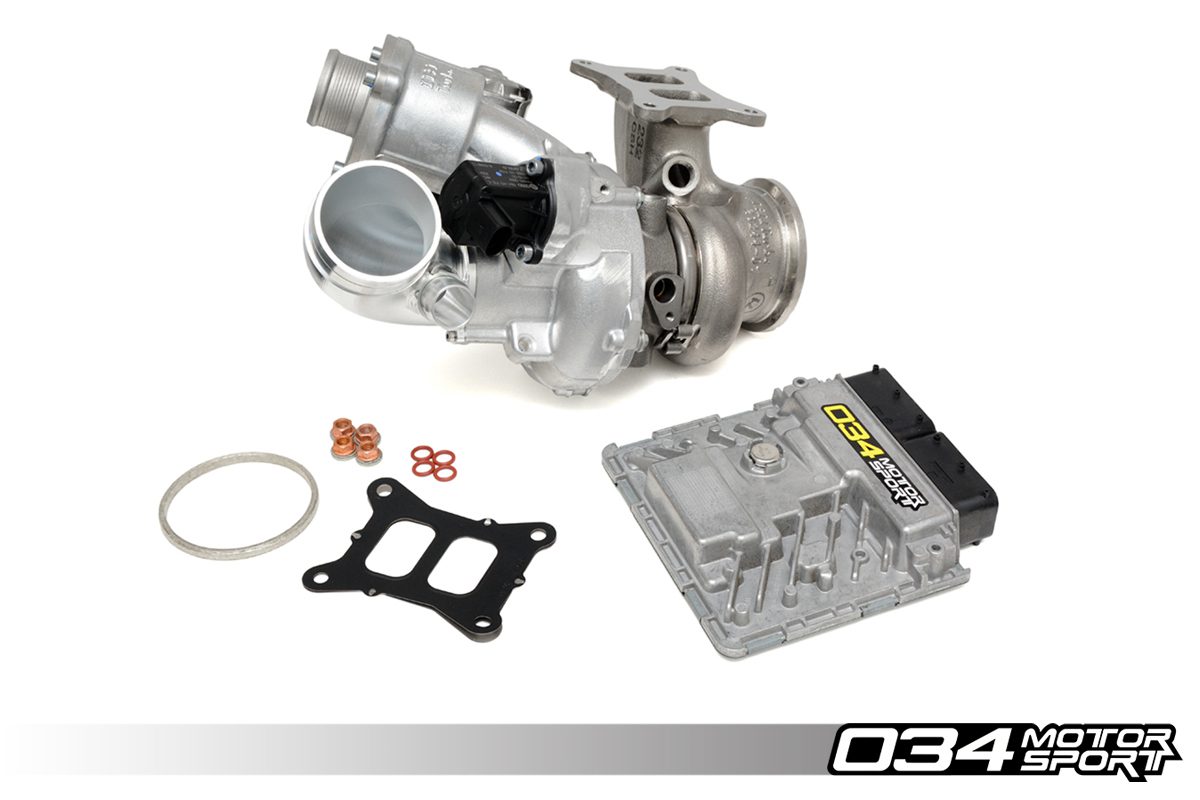 While the turbocharger is an impressive piece of machinery, the real magic comes from 034Motorsport's proprietary ECU tuning to make for the best driving experience possible. By optimizing the factory ECU's boost, fueling, and timing maps, 034Motorsport's R460 Hybrid Turbocharger System provides gains of 133 HP and 110 FT-LBS on 91 octane over the stock configuration, and a neck-breaking 143 HP / 124 FT-LBS gain with 104 octane. Depending on the octane of fuel used, peak boost ranges from 24-26 PSI and tapers to 22 PSI by the new 7,200 RPM redline for optimal turbocharger efficiency.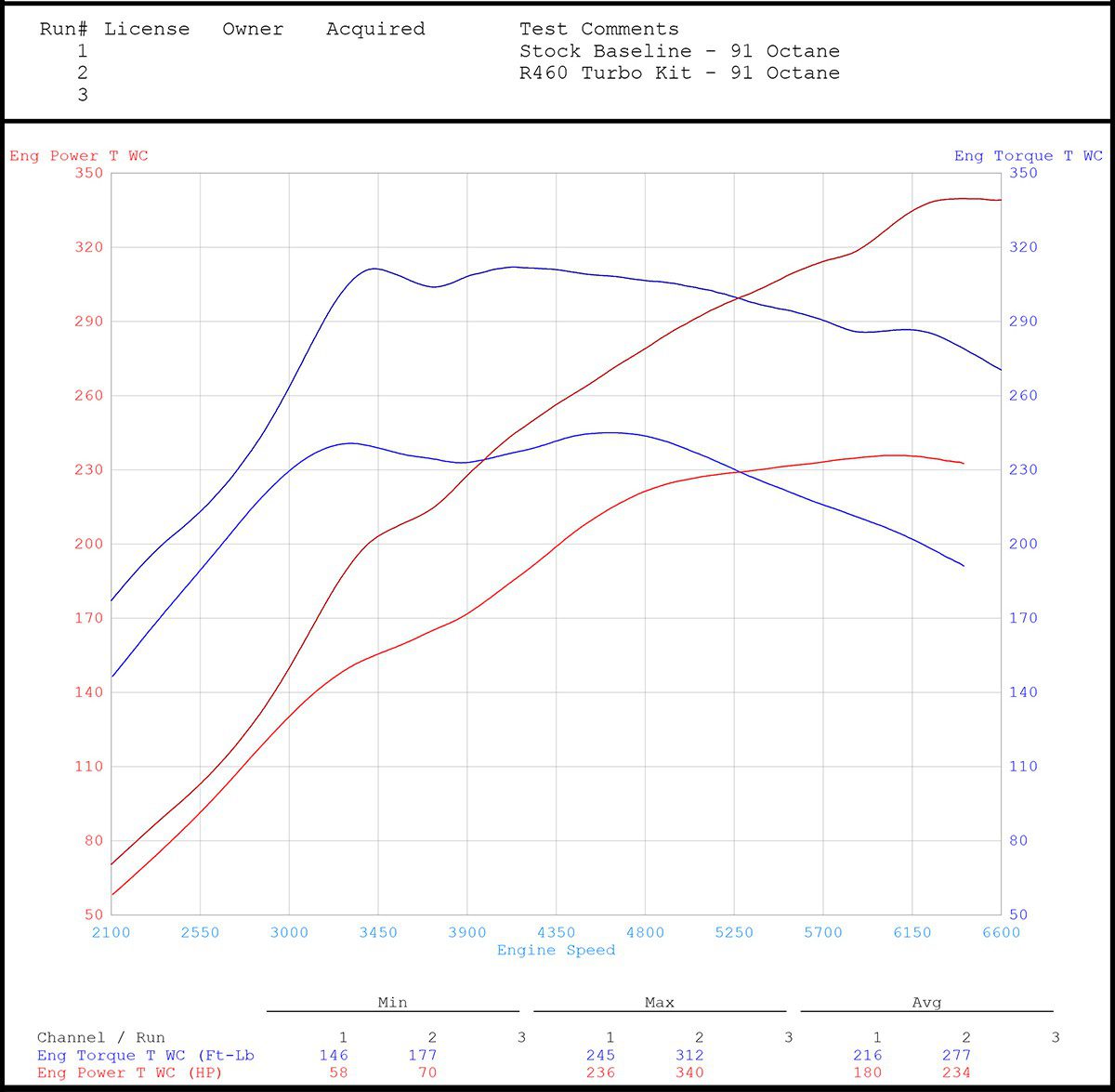 The R460 Hybrid Turbocharger System is a true bolt-on upgrade that offers staggering performance in any scenario. No internal engine modifications or additional fueling components needed here! Simply enjoy breathtaking power and OEM+ driving characteristics whether on the street or track. Improved throttle mapping from 034Motorsport's calibrator allows for precise inputs and better part-throttle modulation for sweeping corners and those tempting, perfectly-banked freeway off-ramps.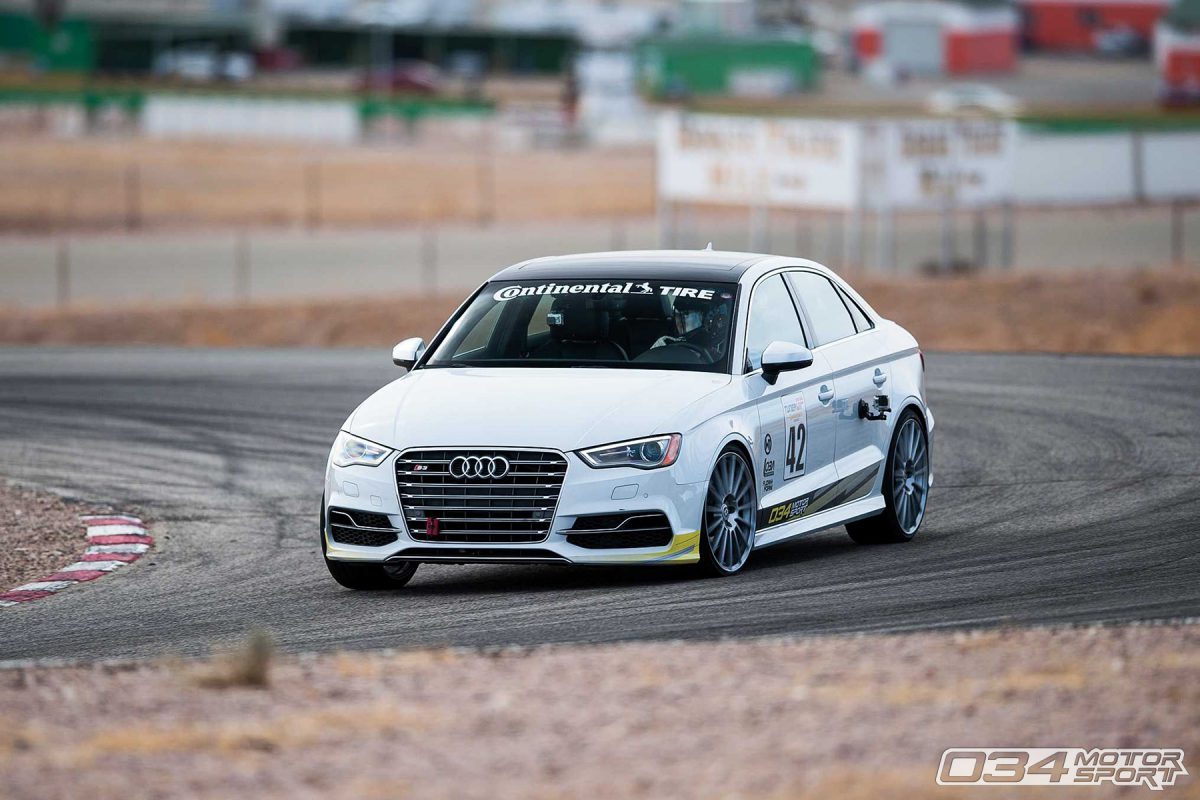 Performance upgrades are plentiful for the Audi 8V S3, and at the end of the day it's up to each owner how they wish to modify their own car. Whether looking to add power, improve handling, or simply look better, 034Motorsport has an extensive catalog of products specifically developed and curated for the 8V S3 enthusiast.
See more on the 034Motorsport R460 8V Audi S3 develoment vehicle here, and check out our entire catalog of products for the 8V Audi S3 below.
034Motorsport 8V Audi S3 Catalog